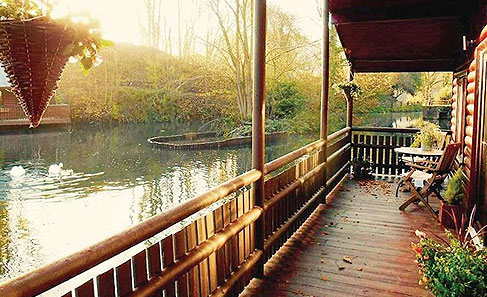 Flintshire
is a county in North-East Wales boasting a lovely coastline and rural countryside. With plenty of mountains and woodland area to explore as well as historic buildings, Flintshire is a great location for your next short break in the UK. Known as the gateway to Wales, this is an excellent base for exploring the very best that Wales has to offer.
Welcome to Flintshire – Rustic Castles, Stunning Scenery … and Cosy Hot Tub Cabins!
Whether you're looking to get away for a weekend break, a fun-packed family holiday or trying to find that perfect luxury cabin for a group getaway, Flintshire has lots to offer. You'll find this charming Welsh county offers both new experiences or a great place to simply unwind in your own private jacuzzi.
Whether you plan a seaside holiday, romantic break, or walking weekend, Flintshire has something for everyone to enjoy.
The Wales Coastal Path features 25 miles of stunning coastline in Flintshire and offers lots for visitors to do. Go birdwatching, visit the ancient ruins of Flint Castle and enjoy coastal walks with amazing views. Flintshire is also close to major cities Chester, Liverpool as well as Snowdonia National Park, an excellent place to explore the great outdoors.
Venturing out of your hot tub? Here's the top places to visit
Get walking! There's routes through this scenic area of Wales for walkers of all levels. You can download some handy route maps here, if you've not been before. They'll help you get the most out of the area. Make sure you sooth those muscles after it all in your lodge's prviate hot tub.
Eat at the… pet cemetery? While it might sound a little 'out there' the Tea Rooms at the Pet Cemetery has been voted the #1 spot to grab a bite to eat in Flintshire 4 years running. This incredible building was opened in 1999 and you literally can't get a better scone if you try. Very popular.
Visit Wepre Park – An absolutely beautiful park that's maintained by Flintshire council. You can download a guide to the park free here. There's lots to see and do here and it's a very relaxing day out. There's also an ourdoor playpark for the little ones to use up some of that energy and get some exercise.
Flint Castle – Another good reason to leave your hot tub lodge is a trip to Flint Castle. Even in it's current ruined state, this is still a commanding sight and a real old-worldy proper castle. Dive into this rich historical site and top it of with a visit to one of the nearby cafes.
Some of The Best Hot Tub Hideaways of 2020
Staying in a self-catered cabin or cottage provides guests with the perfect base for exploring Flintshire. With lodges and cottages in locations throughout the county, you will be able to find the place for your holiday.
Plan a couple's retreat, family seaside holiday or countryside break and make the most of your fully-equipped kitchen, open plan living and dining space, and comfortable bedrooms.
There are several lodges in Flintshire and the surrounding area in Wales. Herons Lake Retreat is a fabulous example of a holiday park in Flintshire.
The site is located in the peaceful countryside and has several lodges with hot tubs, dog-friendly lodges and pods. Sleeping 2 to 6 guests, this is an excellent choice for all group sizes. Make the most of the North Welsh countryside and enjoy relaxing in a self-catered, cosy lodge.