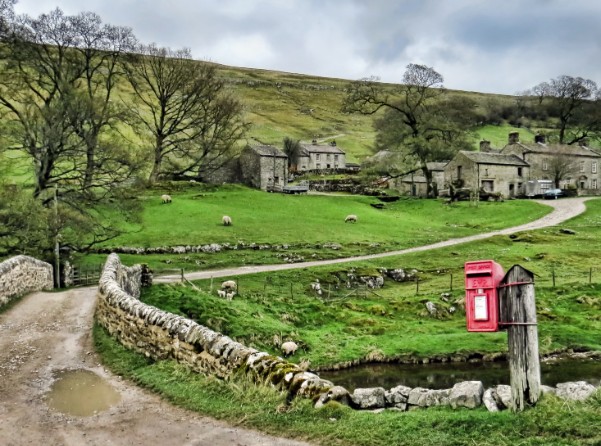 The Yorkshire Dales
are a very popular tourist destination all year round. Thousands of people flock here every year to enjoy the very best that England has to offer, and it's not hard to see why.  With such beautiful scenery you can't help but relax and there is no better base for your holiday than a private lodge with hot tub.
Set in some gorgeous natural woodland or parkland, these lodges will allow you to unwind, feel secluded from the outside world and spend some quality time with each other. Families will find plenty to keep the children happy in the local area.
Don't Miss These Fantastic Town Stop-offs on your Dales Hot Tub Holiday
Richmond
This fasincating ancient town was founded by the Normals in 1071. Today, Richmond is a beautiful place to visit with lots to see and do. Stop in to Easby Abbey or take a guided ghost walk, if you're feeling brave!
Skipton
Another good reason to hop out of your jacuzzi and explore has to be Skipton. This is one of the more popular market towns in the Yorkshire Dales, with people travelling from far and wide to soak in it's rich huistory and picturesuq setting. Make sure you've got plenty of space left on your phone, we promise there's so many things you'll want to snap.
Grassington
If you want to take something special home, or buy some gifts for loved ones on your lodge break, then you'll really like Grasslington. Another classic Yorkshire market town, lined with friendly cafes, restaurants and a market selling the very best local produce and gifts.
If you're looking for a good pet friendly place, the Yorkshire Dales in general has you covered. And Grasslington is no different; there are many fantastic walks, with a warm, cosy pub waiting for you at the end.
Masham
From Star gazing to outdoor activities, this stunning area of natural beauty can be found in the region of Lower Wensleydale. If you have time on your hot tub getaway, definitely add Masham to your list of 'to-do's. You'll discover one of the more scenic towns in the Dales and can experience everything from steam engines to family-run local breweries.
If you're taking the children on your hot tub break, a visit to Swinton Park Birds of Prey is well worth your time. Meet some falcon chicks and see the amazing falconry display.
---
Another good reason to venture from your Jacuzzi, with the kids,  is a trip to Hesketh Farm Park. The 600 acre working farm situated in one of the most picturesque areas of the Yorkshire Dales is fun as well as educational. A trip on the wonderful steam train which runs from Embasy to Bolton Abbey is a great way to enjoy the scenery in style!
---
Our Top Cabins With Hot Tubs 2020
Westholme Lodges are particularly popular among people visiting the Yorkshire Dales. Just a short walk away from the park are the fantastic villages of Aysgarth and West Burton which have both kept their heritage and remain fantastic places to experience the traditional Yorkshire lifestyle.
You'll find some wonderful traditional pubs and great places to eat and of course you have the dales right on your doorstep just waiting to be explored.
---
Spring Wood Lodges continue to be a popular choice. You'll get some of the most incredible views around when you visit Nidderdale whilst your Scandinavian Lodge will ensure that you're in total luxury at all times.
Spring Wood really is the perfect place for a romantic break when you're in need of some quality time with your loved one. There are plenty of places to go if you're looking for somewhere to have a delicious meal or snack, whilst there are historic sights scattered around the area.
Lodges with hot tubs give you the perfect opportunity to combine luxury with adventure without the hassle of a busy hotel. You get the freedom to explore the area as much or as little as you choose and can spend plenty of time enjoying the comforts of your lodge.
Top 5 Things to do in the Yorkshire Dales
The Yorkshire Dales is a national park in North England. Packed full of rugged hills and moors, rural landscapes, and quaint villages and market towns to explore, the Yorkshire Dales is a great location for a short break. Spend time relaxing and soaking up the views or explore some of the many natural landmarks located throughout the national park.
Aysgarth Falls – A beautiful natural landmark, Aysgarth Falls is a triple waterfall in the Yorkshire Dales. A perfect photo opportunity and just a short walk from the village Aysgarth, visitors can enjoy a walk through the surrounded woodland area and spend time in the visitor's centre afterwards for a souvenir and lunch in the café.
Gaping Gill – A natural cave in the Yorkshire Dales, Gaping Gill should not be missed! It is 98m deep which is the largest cave chamber in the UK and also contains a waterfall. For most of the year, the cave is only accessible to experienced cave explorers who have the right equipment and experience to enter the cave. However, for two separate weeks (in summer) there is a winch provided which lowers visitors down the shaft of the cave. If you're lucky to be visiting the Yorkshire Dales when the winch is available to the public, this is worth a visit. At other times of the year, for visitors with no experience of cave climbing, you can still walk along the trails following the surface stream and passing Ingleborough Cave which is another cave that is accessible and a great visit too.
Bolton Abbey – In the heart of the Yorkshire Dales and surrounded by beautiful rural countryside and the River Wharfe, Bolton Abbey is a great day out for the whole family. When visiting Bolton Abbey, you will be able to walk along the woodland trails and across the stepping stones. Plus, your little ones can play in the play area on the Welly Walks. Enjoy a full day out and pack a picnic which you can enjoy alongside the river or visit one of the restaurants, cafes and tearooms on-site.
Wensleydale – Famous for its cheese, Wensleydale is a dale of the River Ure in the Yorkshire Dales. When visiting the Yorkshire Dales, you can enjoy a variety of walks in the valley of the River Ure. So, whether you're a beginner or experienced rambler, you'll find some fantastic routes with beautiful views. For fans of Wensleydale cheese, the Wensleydale Creamery is a must visit. Fun for the whole family and in the heart of the Yorkshire Dales, visitors can watch cheese-making demonstrations, explore the museum, shop in the cheese and gift shops and enjoy plenty of samples!
Malham Cove – A great walking destination in the Yorkshire Dales, Malham Cover is 260 feet high and has an accessible footpath from the road to the foot of the cove. Steps lead visitors to the top of the cove where they can walk on the limestone pavement and enjoy the views across the village of Malham, the surrounding countryside and beyond. Malham Cove is a very popular destination for visitors and has also been a location for a scene in Harry Potter and the Deathly Hallows.