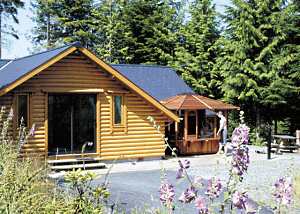 North Devon has much to offer from gorgeous beaches to wonderful towns that could not be more quaint and traditional. You'll also find a wide variety of natural parkland.
Popular with families this area can get busy in the summer months but a lodge holiday will give you a peaceful and relaxing base to return to after a busy day. (Especially a cabin with lovely Jacuzzi all ready to hop into when you get home…)
The area of Southern Devon is one of outstanding natural beauty and there are plenty of ways to enjoy the stunning scenery. A boat trip to Lundy Island which is a haven for wildlife is not to be missed.
For a fun family day out the Milky Way Adventure offers thrilling rides for adrenaline junkies and also has plenty of attractions for toddlers. The Big Sheep is another fun family attraction and is perfect for younger children with pony trecking and animal feeding being among the many indoor and outdoor activities on offer.
North Devon is a dream come true if you love watersports
One of the things this area is most well known for is it's surfing and watersports. Whether you're a seasoned surfer, or just looking to try something new, you'll find plenty to do on the coast with this lodge break. Other water sports you can enjoy include:
Sailing
Kite surfing
Surfing
Kayaking
Boat trips
And if you're looking for something more relaxing, you can sit back and soak in the simply breath-taking North Devon beaches that this area is also famous for.
Our top recommendations for South Devon breaks with private hot tubs in 2020
Upton Lakes Holiday Park is located beside a glorious natural lake and the lodges give you the chance to relax in one of the most idyllic settings you could possibly find in North Devon.
Your private hot tub is the perfect way to unwind after a day spent exploring your glorious surroundings which include National Trust sites and historic towns.
Mullacott Park Lodges are also a good option. The lodges are stylish and luxurious and really make the most of the countryside views.  For days out the surrounding area includes quaint towns and villages and of course the beaches are fabulous all year round.
Activities in the local area include surfing and fishing, whilst there is plenty of wildlife to be explored in the area around your lodge.
With a stunning coastline and Exmoor countryside, North Devon has so much to offer. The award-winning coastline is full of golden sandy beaches that have excellent surfing conditions. Also home to Exmoor National Park, North Devon is perfect for visitors who enjoy exploring the great outdoors. From the coast to rural countryside, there is plenty to see and do in this beautiful corner of the country!
Top 5 Things to do in North Devon on a Lodge Break
Exmoor National Park – A diverse landscape of moorland, woodland, rivers and coastline in the South West of England, the Exmoor National Park is a beautiful part of England. It is a great place to enjoy a walk with the whole family, including the dog! There is plenty to do within Exmoor National Park including Dunster Castle, the South West Coast Path and Tarr Steps.
Lyndon and Lynmouth Cliff Railway is a unique railway experience that will be fun for the whole family. It is the highest and steepest railway in the world that is powered by water. The cliff railway is a fun activity that takes visitors 500 feet above the lowered station where you can enjoy cream tea in the clifftop café. Relax at the top of the cliff and soak up the magnificent views before returning down the cliff. The railway is family-friendly and also dog-friendly so you can visit with all of your family for a memorable experience.
Valley of the Rocks is a unique u-shaped valley, parallel to the sea. Located just ½ mile from the town Lynton, this is a great walk for all abilities. Known for its fascinating rock formations and caves, this is a fab natural landmark to visit in North Devon. There is also a café and picnic area so visitors can enjoy lunch with a view!
Exmoor Zoo – Home to the only pair of black leopards in the UK, Exmoor Zoo is a must-visit! A perfect day out for the whole family, Exmoor Zoo has a wide range of animals including The Exmoor Beast, monkeys, cheetahs, snakes, birds and many more! Visitors can browse the animal exhibits, meet certain animals with meet and greet experiences and learn more from the education team. There is also a playground for the little ones and a café for the adults.
Staunton Sands is a lovely sandy beach which is backed by the beautiful Braunton Burrow dunes. The beach is excellent with families, surfers and dogs! Great to visit all-year-round, and particularly popular in summer, Saunton Sands is a must-visit when you're on holiday in North Devon. Whether you plan a beach day or enjoy a short walk to get the stunning coastline views, Saunton Sands should not be missed. There are also several shops and food outlet for you to pick up some fun beach essentials! Saunton Sands is also the only beach in North Devon to have a Landeez all-terrain wheelchair which allows visitors using a wheelchair to access the beach.