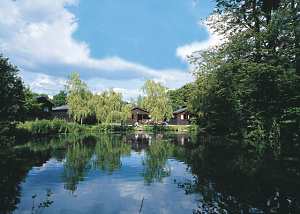 Wiltshire is one of the most naturally vibrant areas of the country. It's full of beautiful scenery and incredible views that will almost certainly take your breath away. If you want a holiday in an area that's been largely unexplored, then you should definitely consider this area.  Wiltshire is a perfect place for a relaxing holiday and an escape from the stresses of daily life.
Families should not miss the chance to explore the amazing Longleat Safari Park. Fun and educational the park has some outstanding features including the major new interactive animal world and a whole range of hands-on animal experiences. Train enthusiasts are sure to enjoy a trip to STEAM, the museum of the Great Western Railway.
Lodge holidays tend to provide a high level of comfort and can be viewed as a home from home.  A hot tub is an added luxury and makes these holidays perfect for couples looking for a romantic getaway. Wiltshire is full of glorious farmland and wildlife that lends itself to long hikes around the area, and other outdoor activities. You'll be amazed at just how much there is to do in such a relatively quiet county, but there's always the option of just sitting back and relaxing. Your lodge will provide you with a huge amount of freedom, peace and quiet that is hard to beat.
Oaksey Country Cottages are a particular favourite among our customers, especially those looking to spend some time playing golf on their holiday. There is a full 9-hole golf course set inside the grounds of this beautiful park so all you have to do is walk out of your luxury private lodge and you can start playing. The park is also situated very close to the Cotswold Water Park, which is a real treat, and generally considered to be a must-see for people who are new to the area. The cottages on offer here could not be more perfect if you're looking for somewhere to simply unwind.
The cottages have been given an award for being eco-friendly, and they give you easy access to villages such as Cirencester. It cannot be stressed enough how fantastic the location of this holiday park is, as you'll be just minutes away from wonderful wildlife, beautiful lakes and stunning woodland.
Top 5 Things to do in Wiltshire
Make the most of your break in Wilshire by visiting some of these top places. Whether you're planning a romantic weekend away or sightseeing holiday with your family, there is something for everyone in Wiltshire. The landlocked is part of the North Wessex Downs, Cranborne Chase and the Cotswold so there is plenty of opportunities to explore the great outdoors.
Stonehenge is one of the most famous prehistoric monuments in the world which attracts visitors from across the globe. The ancient monument is made of a ring of large free-standing stones and its existence is still unknown to this day. As well as visiting the magnificent monument, visitors can explore the Stonehenge exhibition, Neolithic houses, café and gift shop for a souvenir!
Salisbury Cathedral – Home to the Magna Carter, Salisbury Cathedral is a beautiful building in Salisbury. The vibrant cathedral church has the tallest spire in Britain and is just 8 miles from Stonehenge. Visit for a free guided floor tour, book a ticket for a tower tour and don't miss out on visiting the Magna Carter exhibition. There is so much to see and do for all ages at the Salisbury Cathedral as well as a restaurant, tearoom and gift shop for you to enjoy before leaving!
STEAM Museum of the Great Western Railway – For a fun day out in Wiltshire, the STEAM Museum of the Great Western Railway is a must-visit. Learn about the stories of passengers and workers of the Great Western Railway and browse the excellent collections and exhibitions. And don't forget to visit the Platform One café for lunch and the gift shop for a souvenir before leaving.
Longleat Safari and Adventure Park is the first drive-through safari outside Africa and a fantastic day out for the whole family. Visit Longleat House and grounds, the main square where you can explore animal exhibits and experience the drive through safari in the comfort of your car. Animals at the drive-through safari include monkeys, elephants, tigers, lions, cheetahs, rhinos and many more!
Silbury Hill – A natural landmark in Wiltshire, Silbury Hill is the tallest manmade mound in Europe and a great monument to visit on your next trip to Wiltshire. Silbury Hill is another unknown monument that dates back to prehistoric times. Visitors can plan a walk through the Wiltshire countryside to view this extraordinary historical landmark.