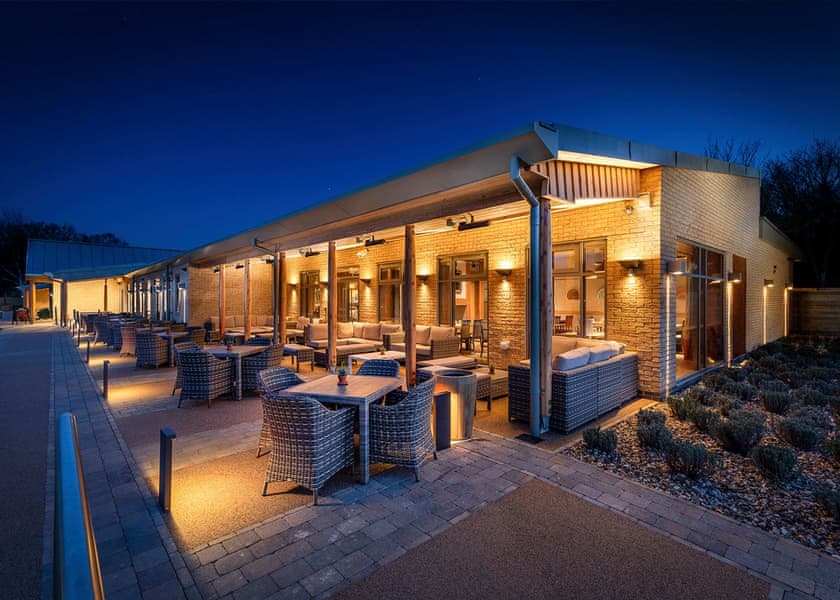 The East of England offers the perfect blend of coast and country, with charming villages, sandy beaches, and a vibrant culture wherever you go. Take your pick from traditional seaside spots, bustling cities, and peaceful countryside with coastal walks – you'll have plenty of places to choose from on your perfect hot tub holiday.
Historic Cambridgeshire East of England
Discover the historical beauty of Cambridgeshire, with bustling market towns, stunning stately homes, and magnificent cathedral cities. One of the highlights of the county is undoubtedly the bustling city of Cambridge.
Take a walking tour down the cobbled streets and learn the history of the city's fascinating architecture.
The city is home to the famed and historic University of Cambridge, originally founded in 1209 and now renowned as a hub of innovation and intellect. Be sure to take a stroll down the beautiful River Cam, or why not have a go at punting? There's plenty to learn in Cambridge, with Fitzwilliam Museum hosting a large collection of antiquities and the intriguing collection of art housed within Kettle's Yard House and Gallery.
The University Museum of Zoology contains a fascinating exploration of a wide variety of animal species, and the Polar Museum is a hidden gem offering insight into polar exploration. Visit Ely for its ancient and magnificent cathedral – perched on a chalk hill, the octagon tower of this ancient building is particularly distinctive, and the interior boasts a décor that is breath-takingly intricate.
Step back in time when you visit Wimpole Estate, an impressive 18th century mansion with acres of land and stunning interior décor, or visit Anglesey Abbey, a stately country house with carefully manicured gardens, and which hosts a varied selection of exquisite furnishings, tapestries, and a rather large collection of unusual clocks. For unspoilt landscapes and stunning waterways, head to Nene Park and enjoy the wonders of England's natural surroundings. There are heaps of walking and cycle routes through the valley, as well as water sports and boat hire at Nene Outdoors.
Explore Beautiful Norfolk on a Lodge Break
Norfolk has an ideal mix of magnificent rural landscapes and thriving towns and villages, with plenty of tourist attractions to enjoy. Admire the picturesque scenes of the Norfolk Broads, a stretch of exceptional rural land and waterscapes with a variety of nature reserves housing some of Britain's rarest wildlife. Discover Norfolk's rugged coastline on the Norfolk Coast Path with dramatic views and twisting routes across sand dunes, cliffs and marshland. The bustling city of Norwich is rich in heritage, containing a wide variety of museums and art galleries to visit.
Explore the ancient Norwich castle with its intricate carvings and tall arches: admire the collections held in the museum and art gallery, or take a guided tour of the castle keep and dungeons. Why not attend a history lesson with a difference? Take the Norwich Ghost Walk for a journey through the spooky side of the city! There are also a wide selection of quintessential seaside towns to choose from in the area: visit Great Yarmouth, a lively seaside town with two piers packed with traditional amusements, entertainment, and a Pleasure Beach fun-fair for the thrill-seekers.
You'll also find the Hippodrome, a historic circus building hosting an array of incredible entertainment and shows. Head to Hemsby for more amusements, an adventure golf course, and a beach café for some local cuisine, or discover delicious fresh seafood in the fishing village of Cromer.
Norfolk is great for adventurers of all ages – explore the great outdoors at Fritton Lake Outdoor Centre, which hosts a range of exciting activities on both land and water, including activity days where you can master tree climbing, bush craft, archery and more. Journey into the trees at BeWILDerwood adventure world, an award-winning forest filled with treehouses, wires and slopes. There's also face painting, crafts and storytelling available, and an enchanting boat ride available across the lake.
Discover the Wonders of Suffolk
Enjoy the natural wonders of Suffolk, with plenty of opportunity for discovery amidst the array of medieval architecture, museums, galleries, and natural playgrounds in the great outdoors. There are miles of cycle routes, including the exhilarating paths through Thetford Forest, the 88-mile Suffolk Coastal Cycle Path with stunning seafront views, or take a peaceful ride along the many secluded country lanes.
There are plenty of water activities thanks to the breadth of rivers and seafront spaces – hire a canoe and paddle down the River Stour, surf the crashing waves of the North Sea, or take a chance at fishing in one of the many well-stocked fisheries. Enjoy Suffolk's varied selection of tourist attractions: for a historical day out, head to Sutton Hoo, an Anglo-Saxon burial site with a full-sized Anglo-Saxon ship sculpture.
These extraordinary burial grounds offer a fascinating glance into the history of the land, and the stately home of Tranmer House walks you through the tale of the Sutton Hoo discovery. Framlington Castle is a looming fortress with a stunning castle wall walk offering breath-taking views of the area. The exhibition space details the history of Framlington and its former residents, including Mary Queen of Scots. Africa Alice is perfect for animal lovers – this walking animal safari is home to more than 80 species of animals, from giraffes and zebra to buffalo and lemur.
If its birds you're looking out for, journey to the RSPB Minsmere Nature Reserve – this stretch of wetlands, woods and coastland is managed by the Royal Society for the Protection of Birds and is host to a varied array of birds to look out for along the easy rural walks.
Lincolnshire Lodges are the Ideal Base to Explore
Head to Lincolnshire for the perfect combination of heritage, culture and countryside, with a long coastline and rolling rural landscapes. Head into the historic city of Lincoln, with plenty of attractions and places to explore. Admire the stunning architecture of the city: stop by the glorious Lincoln Cathedral, a looming Gothic cathedral with detailed design, or take a tour of the impressive Lincoln Castle, an 11th Century fortress which contains a copy of the 1215 Magna Carta. Step back in time at the Museum of Lincolnshire Life, or take a wander down Steep Hill with its charming selection of 12th-century buildings.
Lincolnshire is home to a wide variety of stately homes and country parks rich in wildlife: visit Doddington Hall and Gardens, an Elizabethan manor with walled gardens and acres of manicured land, or Whisby Nature Park with its array of wonderful wildlife and beautiful scenery to discover. The Lincolnshire Wolds is an Area of Natural Beauty with gorgeous grasslands, hidden valleys, and castle ruins, perfect for hikers and nature-lovers.
For adventure-seekers, there are tons of attractions to enjoy: visit Fantasy Island, a family resort with a variety of rides and entertaining live shows, or head to Lincolnshire Aquapark, a family friendly inflatable waterpark with challenging assault courses and water-sport activities. Take a traditional seaside holiday when you visit Skegness, a classic British seaside town with glorious sandy beaches and the bustling Skegness Pier.
There's a wide variety of entertainment, including laser quest, escape rooms, and bowling alleys, and there are plenty of pubs and restaurants to choose from for a hearty meal. Hike up to Gibraltar Point for unspoilt views of the coastline, or visit Natureland Seal Sanctuary, a sea life zoo and rescue centre known for its important rehabilitation and conservation work.
Essex Delights
Enter the wonders of Essex, with glorious coastlines and splendid outdoor spaces. The city of Colchester is perfect for a day trip – head to Colchester Castle, a Norman Keep holding years of intriguing history. The Castle Museum contains a fascinating array of archaeological collections, with interactive displays and a variety of exhibits and experiences. Colchester Zoo has a variety of interesting animal species in many different habitats, including Komodo Dragons, ostriches, sealions and orangutans. Be sure to keep an eye out for the daily public feeding sessions!
For more heritage discoveries, head to Audley End House and Gardens, a quintessential country house set amongst acres of green land. This grand stately home hosts a splendid collection of authentic historical artefacts, including traditional Victorian toys within the nursey suite. Enjoy the great outdoors in Essex when you visit Weeleyhall Woods, a beautiful stretch of ancient woodland with vibrant flowers and fauna, or head to Rainham Marshes Natura Reserve, a haven for wildlife with wonderful walks and bike routes.
For something a little more sculpted, explore the sculpture trail in Gibberd Garden, a distinctive and intriguing route amongst 7 acres of enticing grounds. Clacton-on-Sea is an unmissable traditional seaside resort, with sandy beaches and a pleasure pier sure to bring back the nostalgia of your childhood!
Another seafront adventure is the Adventure Island amusement park: flanking the Southend Pier, this park offers gorgeous sea views, exhilarating rollercoasters, and fun-filled water rides, making it just perfect for a family day out.
If you're looking for retail therapy with a difference, venture down to intu Lakeside, a vibrant retail destination with heaps of shops and leisure activities, perched on the banks of a peaceful lake. After a long day of shopping 'til you drop, enjoy al fresco dining at the array of delicious restaurants.
East of England Days Out and Attractions
The East of England is a wonderful place for a holiday offering everything from gorgeous beaches and traditional seaside resorts to the peaceful broads and areas of national park. Norfolk is a popular choice and is one of England's greatest Norman counties with many historical places of interest. Lodge holidays in the East of England are ideal for families as the provide spacious and luxurious accommodation and offer easy access to the areas numerous attractions.
Dinosaur Adventure Park is one of our favourites. This fun packed park is a great alternative to a typical theme park and has attractions for all ages. The Secret Animal Garden, Deer Safari and Neanderthal Walk are great fun and there is also the Tiny 'Terror'saurs-under 5s play area where the little ones can run off some energy.  The new Giant Tortoises and Fossil Workshop are sure to impress too.
Visit their website for more information >>
Banham Zoo is a firm family favourite and was rated amongst UK's top three Zoos by WHICH? magazine. Set within 35 acres of beautiful parkland and gardens  this modern zoo offers innovative and exciting enclosures and is home to over 1000 animals including big cats, birds of prey, siamangs and shire horses.  A day trip here is educational as well as fun with animal feeding talks and displays to enjoy throughout the day. There is also an indoor soft play area, Tarzan Towers outdoor adventure play area and an Activities & Education Centre as well as several places to eat and drink.
Visit their website for more information >>
If you and your family are interested in nature and wildlife then Pensthorpe Nature Reserve & Gardens is the perfect place for a day out. This beautiful area of national parkland is home to a huge range of common and rare birds from sparrows to Red Crowned Cranes and also has a red squirrel enclosure – part of a conservation programme and now home to a family of adorable squirrels. Other activities to enjoy at Pensthorpe include pond dipping and Landrover discovery tours. Pensthorpe also played host to BBC'S Springwatch in 2010.
Visit their website for more information >>
No visit to this region is complete without spending a day at BeWILDerwood Treetops Adventure Park. This award winning park combines nature walks, tree tops courses, a daring zip wire and boat rides through marshes. Children can meet and learn about many species of wildlife while exploring the parks attractions.