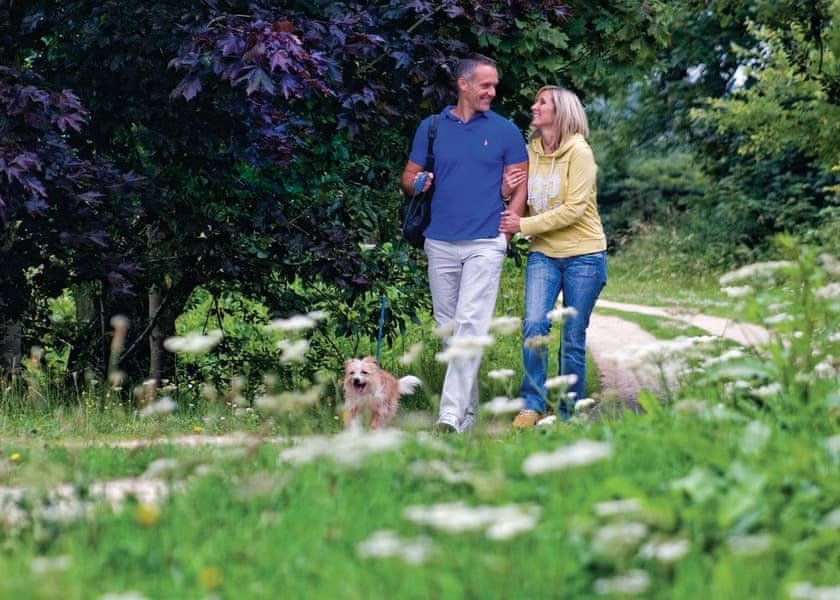 The Heart of England covers many glorious English counties from
Herefordshire
and
Worcestershire
to Shropshire and
Staffordshire
.  This guide will give you everything you need to know to get the most out of your lodge break in central England. This region has a lot to offer – rolling scenery, rich culture, historic towns & cities and superb shopping.
A particularly popular area for traditional holidays is The Cotswolds where you can enjoy gorgeous countryside, quaint cobbled, colourful streets and charming shops and houses.  For days out there are many castles and Cathedrals in the region which are certainly worth a visit.
Lodges with Hot Tubs Heart of England
Lodges with hot tubs can provide a stylish and relaxing base for your stay.  Just a few of our favourites  include Swainswood Park lodges in Derbyshire and Bluewood Lodges in Oxfordshire – highly  recommended for special occasions and romantic breaks.
Swainswood Leisure Park and Spa are an exclusive collection of contemporary lodges close to pretty towns and also the amazing Alton Towers theme park for any thrill seekers out there or families looking for a fun day out. On the park you can enjoy countryside walks and there is even a spa offering beauty treatments – the perfect way to relax.  Pamper packs are available to book in advance for special occasions or if you just want to treat yourselves.  Pamper packs can include Champagne, fresh flowers, chocolates and use of fluffy bath robes.  The Woodland Ultimate Plus is a fantastic choice with private hot tub and luxury interior.
The Heart of England provides a fantastic mix of scenery, culture, sight seeing and shopping and we think it's suited to many types of holidays.  You may want to relax and take it easy enjoying your holiday at your own pace.  Or you may prefer to fill in every moment with trips and days out to really make the most of your stay.
From the awe-inspiring rural beauty of the hills in Shropshire, the beautiful green gardens of Cheshire, the dazzling sights of Leicester to the vibrant city centres of the West Midlands, the Heart of England is a region full of delights for everyone.
Explore the Heart of England on a Lodge Break
A perfect amalgamation of history with modern culture and natural beauty, this wonderful area is full of attractions to visit for those wanting to explore the traditional English culture. Whether you want to explore the bustling city streets of Lincoln and Birmingham or get lost in the rolling countryside with craggy peaks and sweeping hills of Derbyshire or Herefordshire, there is something for everyone.
The perfect holiday destination, Heart of England is a home to fantastic theme parks, magnificent castles, cathedral cities, stunning stately homes, tranquil gardens and beautiful countryside. Fringed by border castles at Goodrich and Ludlow, this region has no shortage of great estates, abbeys and magnificent gardens.
The area catapults you to Elizabethan England at the Shakespeare Houses and gives you a glimpse of Britain's greatest writer. You can also explore the recreated Elizabethan gardens at Kenilworth Castle. Leicestershire, Gloucestershire, Staffordshire, Nottinghamshire, Lincolnshire, Shropshire, Stratford-upon Avon, Skegness, Worcestershire, Warwickshire, West Midlands are some of the stunning English counties in the area.
Each county in this region has something unique to offer visitors including old stately homes, walking and hiking trails to explore the beautiful countryside, rivers and lakes, cafe culture and shopping.
Dubbed as the Robin Hood Country, Nottinghamshire is a home to the legendary outlaw and his adventures amongst the glades and oaks of Sherwood forest. The area, steeped in lore and legend, has numerous attractions like market towns of Newark, Southwell, great houses and gardens like Newstead Abbey or the cave paintings at Creswell Crags. The castles and cathedrals, ancient woodlands and dazzling arts culture add to the charm of this county.
Clumber Park lodges are a stunning collection of high-end lodges with a woodland setting located close to the Sherwood forest. The lodges have been designed with luxury in mind and are tranquil living spaces with outdoor hot tubs, making the stay at this holiday park unforgettable. The city of Nottingham with its fantastic buildings, great shopping and café culture are a must visit. The Bolstover Castle in Chesterfield makes for a wonderful day out for the entire family.
Known for its stunning countryside, spectacular crags and dales, and outstanding beauty of Cannock Chase, Staffordshire is ideal for those wanting to recharge in the wilderness. The wonderful Victorian gardens at Biddulph Grange and Shugborough hall are an absolute delight to explore. For a white knuckled adventure, Alton Towers Theme park and the myriad of rides its offers is perfect to give you a heavy dose of adrenaline.
Rudyard Lake Lodges are the ultimate holiday destination nestled on the banks of Rudyard Lake with luxurious lodges nestled in the Staffordshire moorlands. All the lodges are cosy and luxurious, with some having private hot tubs, ideal to spend an evening relaxing among the bubbles! The surrounding countryside also gives you access to various activities like walking, fishing, sailing and boating.
Dubbed as the "location of the potteries", exploring the pottery in this county at museums in Stoke-on-Trent is highly recommended. There are also a number of great walking and cycling trails to explore the wonderful countryside of this county. Ale enthusiasts will no doubt appreciate a trip to the Bass Museum in Burton-upon-Trent, England's brewing capital.
Gloucestershire is an absolute heaven for all the nature lovers. Home to the Royal Forest of Dean, the county has stunning landscapes varying from lush rolling farmlands, quaint villages and ancient woodlands teeming with wildlife. The area also has historical heritage with cathedrals, historic docklands in Gloucester and regency terraces of Cheltenham. Gloucestershire's villages and market towns are home to impressive churches, antique shops and welcoming pubs serving excellent food.
Tucked away in the beautiful Forest of Dean, Whitemead Forest Park is perfect for a relaxing break or an action-packed adventure holiday. The accommodations are a perfect blend of luxury and comfort, with lodges sleeping 2 to 8 people, some featuring their own decks and private hot tubs. Adventure seekers will absolutely love the various activities on site like body zorbing, archery and fencing. For those looking to relax, a plethora of indulgent treatments in the spa complex or a dip in the fabulous indoor heated pool is ideal.
Tewkesbury, an ancient abbey town standing between the majestic Severn and Avon rivers, is also a 'must see'. The picturesque town of Newent has vast tracts of ancient woodlands and offers a great array of outdoor activities and attractions, including the old iron mines at Clearwell Caves, sculpture trails and steam train trips.
Known as one of the most traditional communities in the UK, Oxfordshire is blessed with an incredible amount of wildlife and natural beauty. Also known for its large farming community, this county has thatched cottages and mellow country towns nestled in a beautiful landscape. Stretching from Oxford to the Cotswolds, The Vale of the White Horse which encompasses the ancient Ridgeway track and the mysterious Bronze Age figure of a White Horse is a must see.
A visit to this county will not be complete without a visit to the city of Oxford, with its famous colleges, fascinating exhibits at the Ashmolean Museum and landmark historic buildings and famous restaurants. The pretty Cotswold towns of Burford and Chipping Norton and the Blenheim Palace, birthplace of Winston Churchill are also highly recommended places to visit in Oxfordshire.
Located on the banks of the river Thames and just 10 miles from the ancient city of Oxford, Benson Waterfront is an ideal park to explore the beautiful area of Oxfordshire. Those who love fishing will have a blast at this park.  Furnished with contemporary interiors and with stunning river you can choose from a range of different sized holiday homes complete with open plan living areas and private outdoor hot tubs. There are many outdoor trails meandering on the banks of River Thames with numerous riverside pubs. The park is perfect for those who love the outdoors but also want to be close to cities and their amenities.
Derbyshire is where rising Tors tower and the Dales descend to where the rivers Wye and Dove follow their winding course. The emerald jewel at the heart of the Derbyshire Dales is the Peak District National Park, where the White Peak and the Shivering Mountain burst forth from the rolling green landscape.
For a luxurious countryside retreat, Knight's Lodges are a group of contemporary and luxurious lodges which provide the guests with everything they need for a stress-free break with breath taking views. All lodges have private hot tubs, and can sleep up to 6 guests, perfect for a family or a group of friends.
The stunning landscape of Derbyshire also host some of England's finest historic buildings like the Chatsworth House and Gardens, evocative Calke Abbey. Heights of Abraham, a hilltop park accessible by cable car is also a must visit.
Encompassing some of the most idyllic parts, Heart of England is the soul of true English countryside and is home to one of the greenest counties in the UK. Whether you want to explore the modern cities of Leicester or Oxford with their old-world charm, want to explore Stratford-upon-Avon, or explore the exquisite countryside and rolling hills, you will be spoilt for choices while exploring the Heart of England. Wandering through the beautiful counties in this area, you will truly understand how these counties are the "Heart" of England.