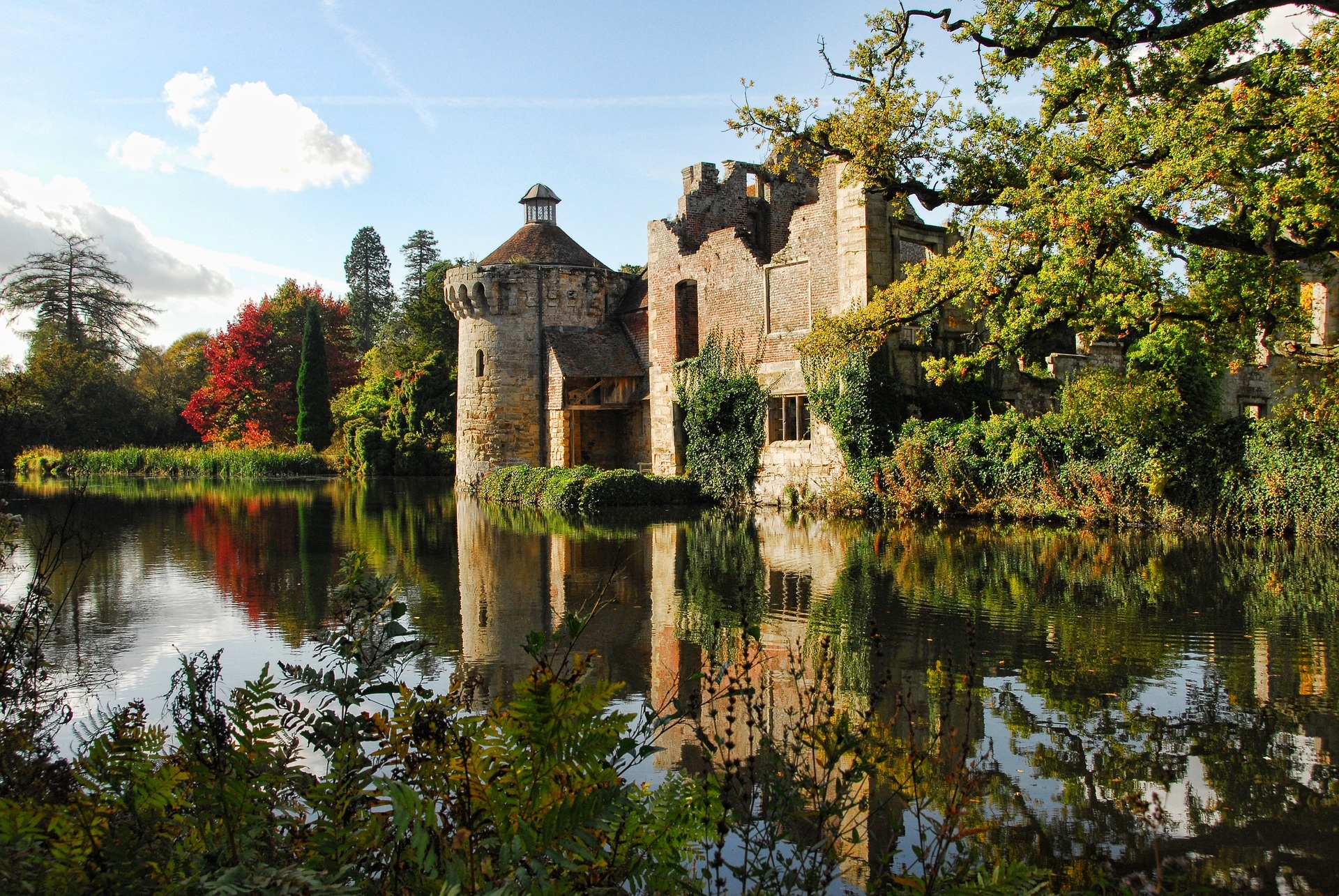 Covering about one-third of the country with a strong cultural background, the South of England is full of charm.  Just a few amazing landmarks and attractions worth a mention include The South Downs National Park in Sussex, the cathedral of Winchester and Highclere Castle in Hampshire (famous for being featured in Downton Abbey).
We also love the beautiful countryside of Kent Downs and the vast expanses of golden beaches in Isle of Wight.  These places are just some of the things that make South of England so unique.
The area also has a wide variety of attractions ranging from sunny coastal resorts, wonderful sports and leisure facilities, theme parks and a vibrant sense of history. From beautiful sandy beaches to dense green national parks, the South of England has something for everyone.
Kent and Surrounding Counties in South of England
Blessed with a coastline boasting not only gorgeous beaches and traditional resorts, but also a line of impressive castles, Kent offers the perfect holiday location.  Conveniently located just one hour from London, the county has sandy beaches, historic castles and family-friendly attractions. So, whether you want a coastal holiday or a countryside escape, Kent fits the bill perfectly.
The coastal towns of Margate, Broadstairs and Whitsable have incredible fish and chips and offer the best views over the sea. Kent is also famous for its sparkling wine and is dotted with vineyards. Britain's oldest brewer Shepherd Neame is located in the area – the perfect place to sample proper British Beer.
Inland, the historic cathedral city of Canterbury offers fine shopping and restaurants, and Surrey provides easy access to many exciting attractions including day trips to London.
Brighton in East Sussex is historic, quaint and fun making it a popular destination for those looking for a vibrant beach-side break in the South of England.
The sprawling countryside of West Sussex is perfect for nature lovers.   For those who enjoy discovering a region on foot, there are various walking trails in Hampshire's New Forest. Kids will especially have fun on the spectacular coastline in Dorset, well-known as a fossil hunting site.
Fun for Families in South of England
Perfect for a family day out, Paulton's park is a popular theme park in Hampshire, with over 70 fun rides and attractions.  Younger children will love a visit to Peppa Pig world and the Lost Kingdom.
For adults and especially gin lovers, the Bombay Sapphire distillery is located in this county and the distillery offers various experiences to discover how Bombay Sapphire gin is made.
The New Forest National Park and South Downs National Park are perfect for nature lovers to explore the beautiful woodlands. Bird Watchers will absolutely love The Hawk Conservancy Trust in Andover which is a home to over 150 birds of prey.
If you like outdoor activities, head to Calshot, which is home to one of the South's biggest outdoor centres, Calshot Activities Centre. Haying Island has one of the best beaches in the county, perfect for a fun day out by the seaside or windsurfing and kite surfing.
Heavenly Hampshire
Quintessentially English, Hampshire is the ideal rural escape, offering visitors a perfect place to relax and unwind away from the city life.
For those looking for a relaxing holiday, short break or a day out with great attractions, beautiful scenery, stunning coastlines and quaint markets, Hampshire is the ideal holiday destination. For nature lovers, the county's acres of beautiful scenery and two National parks are an absolute delight. With a gifted coastline, and castles that tell great stories, Hampshire offers you beautiful beaches and heritage sites.
The county has numerous attractions to explore like the magnificent Cathedral and the Great Hall of Winchester, the 170-metre tall Spinnaker Tower in the naval city of Portsmouth and the Tudor House and Garden in Southampton. Fans of Jane Austen can explore Chawton, the hometown of the writer. Fans of Downton Abbey can also explore the Highclere castle.
Ideal for both family holidays and a romantic retreat, Blackwood Forest lodges is the perfect getaway in Hampshire. Available all year round, the lodges are in a great location for exploring the surrounding area including wildlife parks, Highclere Castle and the coastline. Guests can choose from a wide selection of lodges onsite which all offer modern and luxury interiors with fully equipped kitchens, open planning living and dining space and an outdoor hot tub for relaxing in.
South of England Lodge Holidays
Foxhunter Park near Ramsgate is the perfect base to explore this beautiful county. The park is replete with everything you desire for a memorable holiday. The park has many amenities like an outdoor heated pool, children's pool and play area, a jacuzzi, bar and clubhouse with entertainment, restaurant and tennis courts. The lodges are comfortable and sleep 2 to 8 guests making it perfect for couples, family and friends. Many lodges also have private hot tubs and are dog-friendly so you can bring your furry family members along for the relaxing holiday.
With breath-taking countryside, Kent is dubbed as the "Garden of England". Incredible locations like the White Cliffs of Dover, Leeds Castle, Hever Castle, Canterbury Cathedral, the Historic Dockyards Chatham, Dreamland Margate are just waiting to be discovered. The Dover Castle, largest castle in England makes for a perfect day out exploring the secret tunnels, climbing the great tower and enjoying the stunning views of the surrounding area.
Port Lympne Reserve is another wonderful wildlife park perfect for the entire family. You get to see magnificent animals from giraffes and gorillas to lions and rhinos. The shopping centre in Ashford is perfect for indulging in a little shopping.
Discover the Isle of Wight
The gorgeous Isle of Wight remains a popular holiday destination for families and couples alike. With plenty of sight-seeing opportunities and charming towns, you will want to come back again and again to this beautiful county. The island's most recognizable landmark, The Needles Rocks Lighthouse is a must visit. Children will absolutely love the Tampnell Farm Park or Isle of Wight zoo. The parks like Robin Hill offer activities to enjoy for visitors of all ages. Based just outside of Ryde on Havenstreet, take a ride on a vintage steam locomotive in the Isle of Wight Steam Railway.
The stunning coastline and warm climate mean that this Isle of the perfect playground for those who love the outdoors. Walking, cycling and horse-riding are available along with more than 500 miles of footpaths and established walking routes. A visit to the Isle of Wight wouldn't be complete without visiting some of the famous beaches. We highly recommend beaches of Cowes and Ryde, clean and safe for families with children and also those who want to enjoy a day at the beach.
Isle of Wight Lodges with Hot Tubs
For those looking to enjoy Cowes, Gurnard Pines Holiday park is ideal. Situated among gorgeous landscaped grounds and woodland the accommodations are the perfect place to unwind and relax. Whether you're looking for a romantic holiday or a fun-filled family holiday these lodges are sure to appeal to you. The added bonus of a private outdoor hot tub will ensure you can relax among the bubbles after a day exploring the various delights of Isle of Wight.
Lodges with Hot Tubs in South of England
Swanborough Lakes Lodges, a hidden gem of a holiday park is situated in the folds of South Downs National Park. The beautiful lodges in the park overlook the private fishing lakes on site. The park also offers stunning views of the medieval town of Lewes and its famous Castle. The lodges sleep 2 and have eye catching interior design with contemporary finish complete with private hot tubs.
These gorgeous lodges are brilliant for romantic holidays.
Juniper Country Park is the perfect family holiday park. Having the idyllic High Wald area of Outstanding Natural beauty and National Park of east Sussex as its surrounding and close proximity with beaches, this holiday park is the perfect fit for a family holiday or a romantic getaway. The park is a home away from home with cosy lodges sleeping 2-6 people. The private hot tubs to relax in add an extra touch of luxury to your stay.
Crowhurst Park Lodges are also an excellent choice with an enviable location in East Sussex. The Manor House setting is unique and the lodges are well designed and equipped.  The Country Plus Lodge is amazing with a location within the Victorian walled garden.
So Much to do in Sussex
An adventure seeker, a shopaholic or a nature lover and foodie, everyone will enjoy the beautiful county of Sussex. With 150 kilometres of coastline, rolling countryside and its close proximity to the capital, you will never run out of things to do. The old town of Hastings with its bustling shops and restaurants, old estates, colourful meadows and gardens and other famous attractions in Charleston, Eastbourne, Arundel and Brighton all make a visit to this county a must.  A fun day can be spent at the Drusillas Park Zoo in Alfriston.
The beaches of Eastbourne, Hastings and Winchelsea offer beautiful views over the sea giving the ideal background for a sunset picnic. Various activity centres like Golf Clubs and Go Karting Circuits offer fun activities for the entire family. The Fishers Adventure Farm Park is also a really fun day out for families.
With beautiful countryside, stunning beaches and numerous attractions to explore South of England has something to offer for everyone.
This area is a great choice for UK holidays with milder temperatures than the North of the UK and so many lovely towns, villages and beaches to explore.
Hot tub holidays provide a fantastic alternative to hotels and apartments.  Lodges provide a luxurious and spacious base for your stay and give you the freedom to spend your holiday how you choose.
South of England Attractions
The South of England is a fantastic choice for a family lodge holiday with plenty of fun days out to be had in the area. Lodge holidays in areas such as Kent are also ideal for couples and groups of friends looking for spacious and luxurious accommodation in an area with numerous attractions.
The Hop Farm offers fun for children of all ages and the fun starts as soon as you enter with Giant Jumping Pillows and huge Outdoor Play Area and Frame with Slides, Bridges, Towers and much more. There are also a number of rides including the gentle Victorian Carousel. A ride on a Shire Horse is a great way to explore the park and as you wander around you will find the fantastic Lost World Maze, the Magic Factory and the crazy 3D Great Goblin Hunt.
Visit their website for more information >>
Port Lympne – The Aspinall Wild Animal Experience is one of the regions most popular attractions and should be top of your list if you have animal lovers in the family. The site is home to over 500 rare and endangered animals from all around the world including the beautiful Siberian Tigers and the largest breeding herd of Black Rhino outside of Africa. The park was set up to protect endangered species and while enjoying the experience visitors can learn about the dangers the animals face in the wild and the reasons for their decline. The centre aims to return animals to the wild wherever possible and the enclosures are designed closely match the animals natural habitat.
Visit their website for more information >>
If you have young children and are wondering what to do on a rainy day then Imagine Playcentre – Kent's biggest indoor children's adventure play centre is THE place to head! The huge indoor site is ideal for children under 12 and offers a huge 3 level play structure, a triple storey wave slide, bouncy trampolines, a large padded sports area for football and other games as well as a dedicated  Babies and toddlers soft play areas. While the kids are running wild adults can relax in the comfy seating area and enjoy a tasty meal or snack.
Visit their website for more information >>
Bedgebury National Pinetum & Forest is another very popular attraction and is great for families as there is loads of open space for children to run around. Bedgebury is home to the beautiful National Pinetum and a further 2000 acres of forest as well as an excellent adventure play trail. Families can explore the site via the miles cycling routes and for the more experienced rider there are also 12 km of mountain biking tracks. The specially designed play area features a butterfly climbing wall, a spider's web, a ship wreck and tree stump nest tunnels. Other activities include Go Ape aerial ropes and a brand new zip wire course.