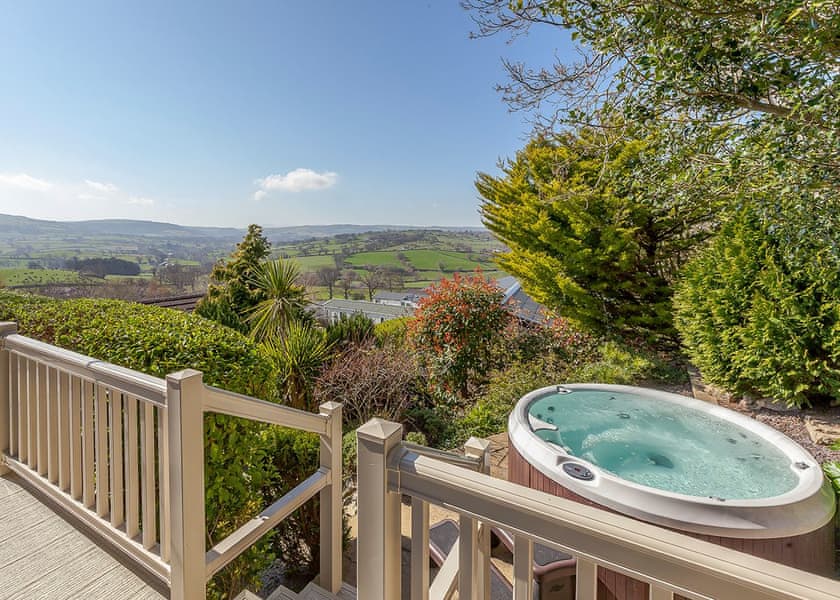 Explore the stunning Welsh country side and relax in one of our lodges with hot tubs in Wales in 2020.  Discover the diverse terrain and sweeping landscapes this region has to offer. With misty mountains, fascinating ruins, and scenic coastal views, you'll be spoilt for choice when you discover the outstanding sites of this gorgeous country.
Pembrokeshire Log Cabin Getaways
Seek out the raw and rugged beauty of Pembrokeshire. This county has heaps of coastal towns, craggy mountains, and picture-perfect walking routes. Take the Coastal Way, a 180-mile touring route stretching around Cardigan Bay, boasting harbour towns, ancient castles, and an abundance of wildlife to meet!
There's plenty of hidden gems to discover, including the sparkling Blue Lagoon which is a perfect spot for coasteering. There are plenty more options for the adventurers – scale the craggy cliffs with some rock-climbing or abseiling, venture deep within the ancient caves, or jump on a kayak and paddle across crystal-clear waters.
Hot Tub Getaways in Pembrokeshire
If you prefer your adventuring to be on solid ground, why not walk the Pembrokeshire Coast Path, which loops through the untamed terrain of Pembrokeshire Coast National Park. For a family-friendly day out, head down to the Heatherton World of Activities, an award-winning attraction with magical rides, a high ropes Tree Tops Trail, water zorbing, and even a paintball zone! Be sure to visit the offshore islands of Skomer and Skokhollm, home to flocks of seabirds, sandstone cliffs, and remote natural space.
Tenby Cabin Breaks & Attractions
Tenby is a charming seaside town with glorious sandy beaches and a welcoming atmosphere: take a walk along the 13th-century town walls and explore the ruins of Tenby Castle. Enjoy the history and culture of the town at Tenby Museum and Art Gallery, or take a boat trip from Harbour Beach to Caldey, a holy island offering tranquillity and heritage.
Why not head further out to sea for a spot of fishing? For a tranquil retreat, visit the sleepy village of Newport, with picturesque coastal views, quaint country houses, and flat stretches of sand.
Getaways near Conwy
The county of Conwy has a wide array of popular tourist sites to visit during your hot tub break.
Explore the medieval walls, tall towers, and dismal dungeons of Conwy Castle, then head to the expansive grounds of Bodnant Garden, with an impressive variety of manicured lands, bubbling streams, and calm lily ponds. There are plenty of independent shops and eateries in Conwy Town – wander down to Conwy's Marina and Quay, the perfect spot to sit back and enjoy the stunning views.
Ideas for a Romantic Lodge Break
Step into nature at Gwdir Forest Park, with dramatic mountains, tranquil lakes, and crashing waterfalls, or venture into the Conwy Nature Reserve for the chance to spot a wide selection of local birds. Take your pick from a selection of quintessential seaside towns in Conwy – visit Llandudno, a charming seaside resort with a variety of shops, eateries and tourist attractions, and the North Shore Beach offering glorious golden sands and beautiful sights of the Irish Sea.
Stunning Welsh lodges near the coast
Wander down the award-winning Llandudno Pier for traditional seaside amusements and rides, and stunning views of the crashing waves.
The Great Orme cliffs are ideal for a hike: jump onto the Great Orme Cable Cars for a relaxing journey where you can enjoy panoramic sea views from the skies, or drop down below ground and explore the ancient tunnels of the Great Orme Mines. Abergale is another quaint coastal town, with sandy beaches and traditional seaside amusements. Take a tour of the Conwy Brewery to discover their local ales or help yourself to a drink at Mash, a brewery micropub with glorious countryside views.
Why Gwynedd might tempt you our of your Jacuzzi
Above: Gorgeous GwyneddDiscover dramatic peaks and imposing castles when you stay in Gwynedd – explore the mountains, woodlands and rivers of Snowdonia National Park, which is home to Snowdon, the highest mountain in Wales. Trek up the challenging paths or take the Snowdon Mountain Railway for a luxurious journey to panoramic and picturesque views of the land.
Gwynedd has a variety of ancient castles to explore, including Caernarfon Castle, a looming fortress on the banks of the River Seiont, Penrhyn Castle, with intricate carvings and stunning stained glass, and Harlech Castle, perched on a rock and gazing down on the rolling waves.
Other things you won't want to miss on your break
Jump on a retro railway car from Ffestiniog Railway, which takes you on scenic tours of the land, or explore Gwynedd underground at Llechwedd, an ancient quarry mine with regular tours of the deep and rocky caverns.
There are a selection of unique cities and villages in the area: head to Bala, a quaint market town which hosts the largest natural lake in Wales; Barmouth, a bustling seaside resort overlooked by high cliffs; or Bangor, a university city with an excellent selection of facilities including a delightful Victorian Pier.
One of Gwynedd's most popular tourist destinations is Portmeirion Village: set in its own private peninsula, the village was converted in the early 20th century from a wooded wilderness to picture-perfect site with fascinating architecture and sub-tropical gardens. Stop by Castell Deudreath for mouth-watering meals in a stunning Victorian setting.
Families will love the Isle of Anglesey
Visit the peaceful and secluded Isle of Anglesey for stunning Blue Flag beaches and gorgeous coastal walks. Head to the medieval town of Beaumaris – step back in time when you explore the 13th century fortress Beaumaris Castle, with impressive fortifications and a water-filled moat. Brave the cells of Beaumoris Gaol, then walk along the seafront and admire the views across the Menai Strait.
Wildlife lovers will have plenty to do on a Welsh lodge holiday
Meet the best of British marine wildlife at Anglesey Sea Zoo, a marine aquarium with regular feeding sessions and talks from the venues' marine biologists. There are several interesting archaeological sites to explore, including the Lligwy Burial Chamber, or the Din Lligwy ruins. Hike up Holyhead Mountain, where you'll find Roman remains including the Caer y Twr watchtower overlooking the harbour.
Enjoy the lush greeneries within Plas Cadnant Hidden Gardens, a walled garden with colourful plant-life, bubbling waterfalls, and quaint cottages. Be sure to keep an eye out for the array of wildlife when you visit South Stack Lighthouse, perched on the rocky South Stack and surrounded by crashing waves, with puffins nesting in the cliff face and seals to spot in the waves. There are also plenty of cafés, restaurants and bistros to enjoy some delicious locally-sourced food and drink.
Delights of Denbighshire
Denbighshire is home to several fascinating ruins, including Castell Dinar Bran, the remains of an ancient castle perched above the Dee Valley. Climb to the hill's summit and explore the beauty of this medieval wonder.
Visit the remnants of a Cistercian abbey at Valle Crucis Abbey, then treat yourself to a warming drink in the café after you explore this intriguing site. Rhuddlan Castle is another impressive fortress overlooking the River Clwyd, or head to Plas Newydd House Museum and Gardens, a converted stately home surrounded by a wide stretch of woodland and gardens.
There are plenty of glorious natural sites in Denbighshire: discover the beautiful landscapes around Horseshoe Falls, a sparkling waterfall crashing into the gorge below, or hike along the Horseshoe Pass, a stunning mountain pass with picture-perfect views and multiple walking and cycling routes to explore. Explore the varied collection of distinctive Welsh towns – Denbigh is a charming market town overlooking the picture-perfect Vale of Clwyd.
You can search all hot tubs holidays in Denbighshire here.
Walk the ancient walls that enclose the town and enjoy the unspoilt views of the area. The spot is close to the Clwydian Hills, making it a perfect base for hikers. The seaside village of Rhyl is perfect for a relaxing day out: head to the east beach for sandy stretches and coves, and check out the Rhyl Miniature Railway, offering rides around the Marine Lake, a hidden gem with sparkling waters and tranquil views. Visit the Seaquarium – this seafront marine zoo is home to a variety of sea creatures from across the globe, including tropical fish, sea lions, crabs, starfish and more.
Perfect Powys in Wales
Powys has a variety of heritage, caves, and scenic peaks, with plenty of rural space making it perfect for hikers. Venture into the great outdoors when you visit Brecon Beacons National Park, with forests, picnic spots, and plenty of walking routes. Hike the Brecon Beacons, a stretch of gentle hills and picturesque landscapes. Reach the summit of Pen y Fan, or drift downstream on the River Wye.
This National Park was Wales' first International Dark Sky reserve, making it a great place for some magical stargazing. Discover Powys by train on the Brecon Mountain Railway sweeping along the length of the Ponsticill Resevoir, or explore the area by bike on one of the various cycle routes.
There's plenty of interesting sites and towns to explore in Powys – visit the historic market town of Brecon, with a variety of local shops and eateries and the 11th century Brecon Cathedral. Discover the history of the British army's most famed regiments at the Regimental Museum of the Royal Welsh, then take a walk down the canal and stop for a drink at the Waterfront Café. Stop by
Hay-on-Wye, the National Book Town of Wales, which hosts the annual Festival of Literature and Arts, then head over to Powis Castle and Garden, a National Trust site with sprawling grounds and panoramic views of the area from the Top Terrace of this medieval castle. Explore three enchanting caverns in the National Showcaves Centre for Wales for a memorable underground adventure, with a large collection of life-sized dinosaur models back above ground.