Luxury and Romantic Lodges With Hot Tubs
Hot Tub Holidays are perfect for couples and families looking to relax and spend quality time together.
Lodges with hot tubs are popular with couples looking for a romantic getaway or to celebrate a special occasion. Some lodges offer extra touches such as four poster beds, jacuzzi baths and champagne on arrival. Many of the lodges enjoy incredible locations surrounded by lakes or countryside so you can relax and enjoy the spectacular views. Hot tubs can be used in all weathers come rain or shine or even snow, making this type of holiday a great choice all year round.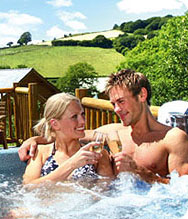 Special Offers

Lodges with hot tubs make fantastic holidays in the Autumn - there's no better feeling than relaxing in your own private hot tub after a day of having fun, exploring or simply relaxing.

The UK is hotting up so it's a fantastic time to celebrate the BIG Sale! There are loads of discounted lodge holidays up for grabs all over the UK. Book Today - Don't Miss Out! With plenty
Latest Blog Posts

Rosewood Stud Park is a fantastic holiday park in the Cambridgeshire area - BRAND NEW for 2015. We love the uniqueness of the location - on a working Stud farm - and within 72 acres of

We have just returned from a fantastic lodge holiday at Westholme Lodges. The Westholme Estate manages to combine peaceful, tranquil surroundings with luxury lodge accommodation.
Christmas & New Year Lodges

Why not add some sparkle to the festive season this year and book a hot tub holiday for New Year's Eve? It's a great time to book as there is still last remaining availability around the

It's always nice to do something special to celebrate the New Year. Going out for meals and to parties are old news! This year why not celebrate in style in a lodge with hot tub. Lodges
Fishing Breaks

Dartmoor Edge Lodges close to the vibrant city of Exeter are an excellent choice for a fishing lodge holiday. The site is located just on the edge of Dartmoor National Park offering easy access

Bulworthy Forest Lodges have and idyllic location within 25 acres of woodland which is abundant with wildlife. We highly recommend Bulworthy Forest Lodges to those looking to enjoy a fishing
For Families

Goose Wood Holiday Park offer spacious lodges and modern holiday homes with a stunning setting within 45 acres of woodland. This peaceful retreat is ideal for relaxing family lodge holidays.

Forest of Dean Lodges offer a simply spectacular setting for a family lodge holiday in the heart of a beautiful national park. The site is very tranquil and is ideal for families seeking a relaxing
Fun Days Out

Holidays in Cumbria are a real delight for the whole family. The area is blessed with wonderful beaches, dramatic scenery, stunning countryside and easy access to the Lake District National Park.

If you are taking a family holiday in the UK this year and looking to ensure that the whole family are happy then Lancashire is the perfect choice. Lancashire is a diverse region with beautiful
Gold Star Holiday Lodges

Piperdam Lodges in Dundee are worthy winners of one of our "Gold Stars". We have chosen Piperdam to receive a Gold Star due to the fantastic setting of the park and the facilities on offer.

When it comes to romance nothing could be more romantic than an idyllic lodge break for two and that's why we have awarded Faweather Grange Lodges in Ilkley Moor a "Gold Star". With a peaceful
Lodge Location Guides

Oxfordshire is one of the most traditional counties in the UK and is well known for having a large farming community, whilst also holding some of the most historical sights in the country. There

Wiltshire is one of the most naturally vibrant areas of the country. It's full of beautiful scenery and incredible views that will almost certainly take your breath away. If you want a holiday
Luxury Lodges

Located in the peaceful town of Brandesburton, Coneygarth Lodges are an excellent choice for a luxury lodge break. The lodges have a magnificent lakeside setting and the Yorkshire coast is within

KP Lodges in Pocklington are ideal for luxury lodge holidays and short breaks, offering a tranquil setting and uber-cool accommodation! The lodges were new in 2009 and have been designed to meet
Our Park Visits

Yesterday we returned from a 4 night break at Ribblesdale Lodges in the Ribble Valley. Instead of staying in one of the lodges we chose to try their unique cottage accommodation, a charming

Here at Lodges with Hot Tubs we like to get out and about and experience the lodges for ourselves so we can pass on valuable information to our website visitors. We have just returned from
Pamper Yourself

Whipcott Water Lodges form part of the Autograph Lodge Holiday collection meaning that they have been specially selected because they offer total luxury, peace and quiet and pampering! This exclusive

The truly gorgeous Sherwood Hideaway Lodges are fantastically located deep within Sherwood Forest on the magnificent Thoresby Estate. This location is perfect for couples and groups of friends
Pet Friendly

When it comes to pet friendly lodge holidays in the UK, then the heart of England is a good option with some holiday parks offering pet friendly lodges with private hot tubs. Hot tub holidays

Lodges with hot tubs are ever popular and some accommodations allow pets meaning you don't have to leave your four legged friend at home. Athelington Hall Farm Lodges - Suffolk These