Everyone loves the cosiness of a cottage holiday – the secluded countryside home, the roaring open fire, the wealth of plants and flowers surrounding the property.
But of course, the best cottages have the best of both worlds, with mod-cons, elegant living spaces, and special indulgences like a hot tub. These open-fire cottages with hot tubs will bring you the perfect blend of style and character to your cottage holiday.
Bank House Barn – Shropshire
Sleeps: 2 | 1 Bedroom | No Pets | Rating: 5/5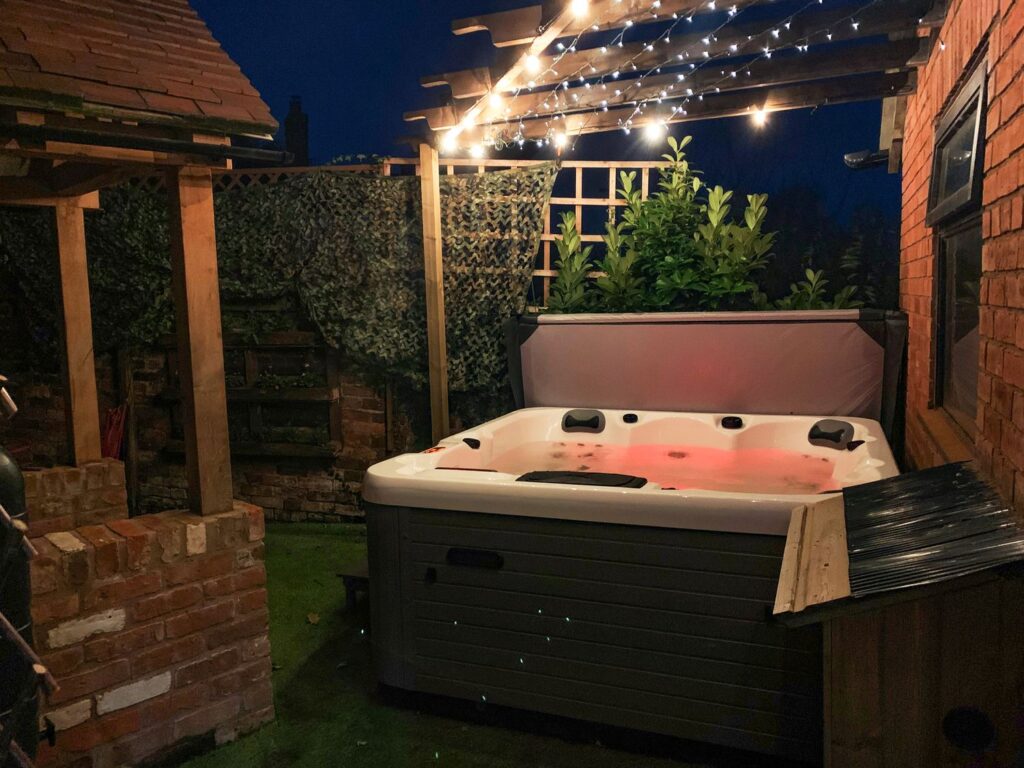 This delightful barn conversion, perfect for couples, is packed with modern charm. The open-plan kitchen diner is carefully decorated to maximise the space and holds a stylish kitchen, a dedicated dining area, two comfortable sofas, and a cosy open fire.
Upstairs is the bedroom, spacious and bright with an en-suite bathroom and walk-in shower. You'll have plenty of opportunity to enjoy the fresh air of Shropshire with this cottage's private courtyard, featuring a large hot tub and a patio area strung with twinkling lights.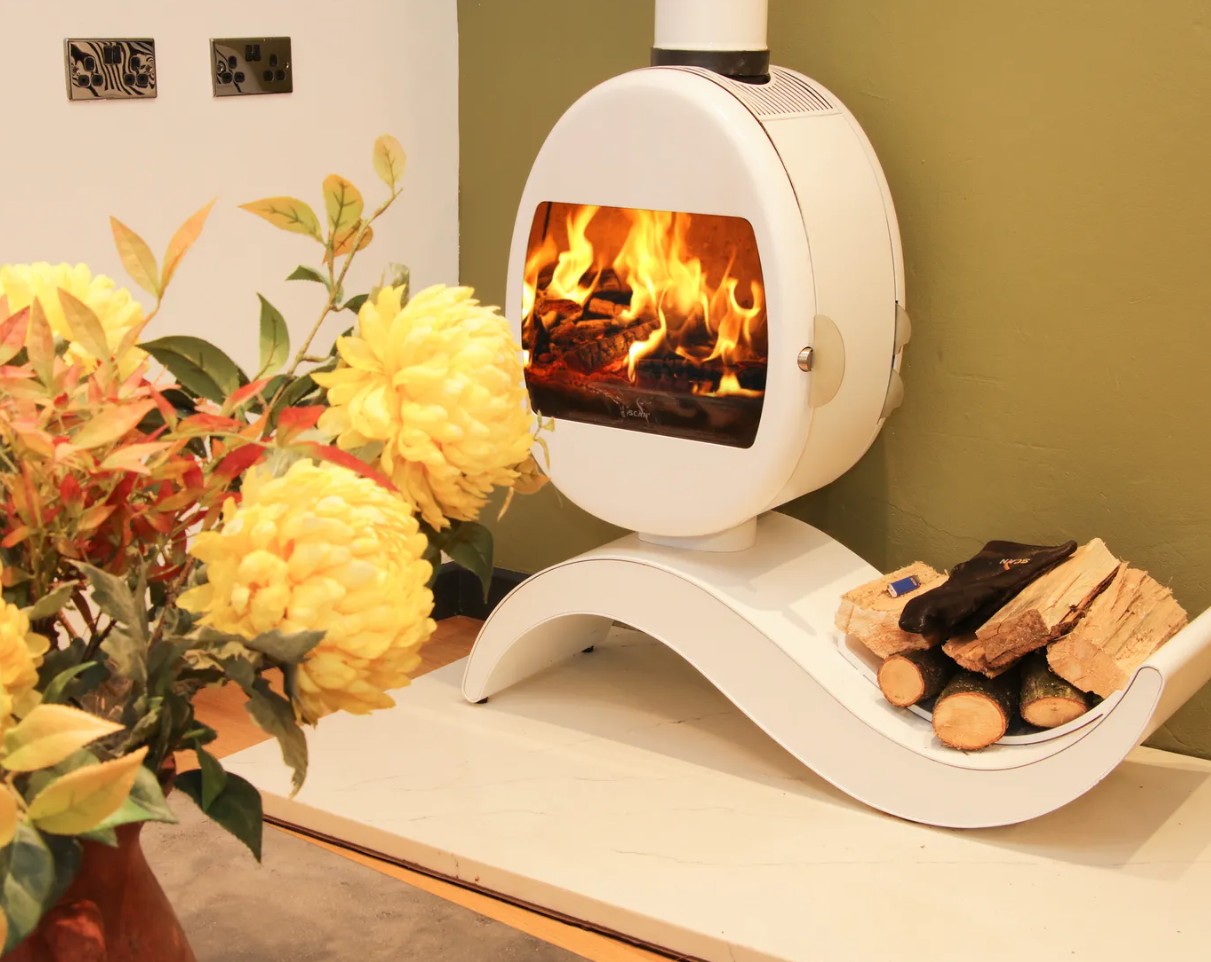 And if you're looking for country living, this property gives you access to the four acres of the owner's impressive grounds. Take a morning stroll along the brook that runs through the land, spend an afternoon fishing, and feed a few treats to the owner's four sheep – they like Rich Tea biscuits!
---
Ralston Bothy – Newtyle, Scotland
Sleeps: 2 | 1 Bedroom | Pets Allowed | Rating: 5/5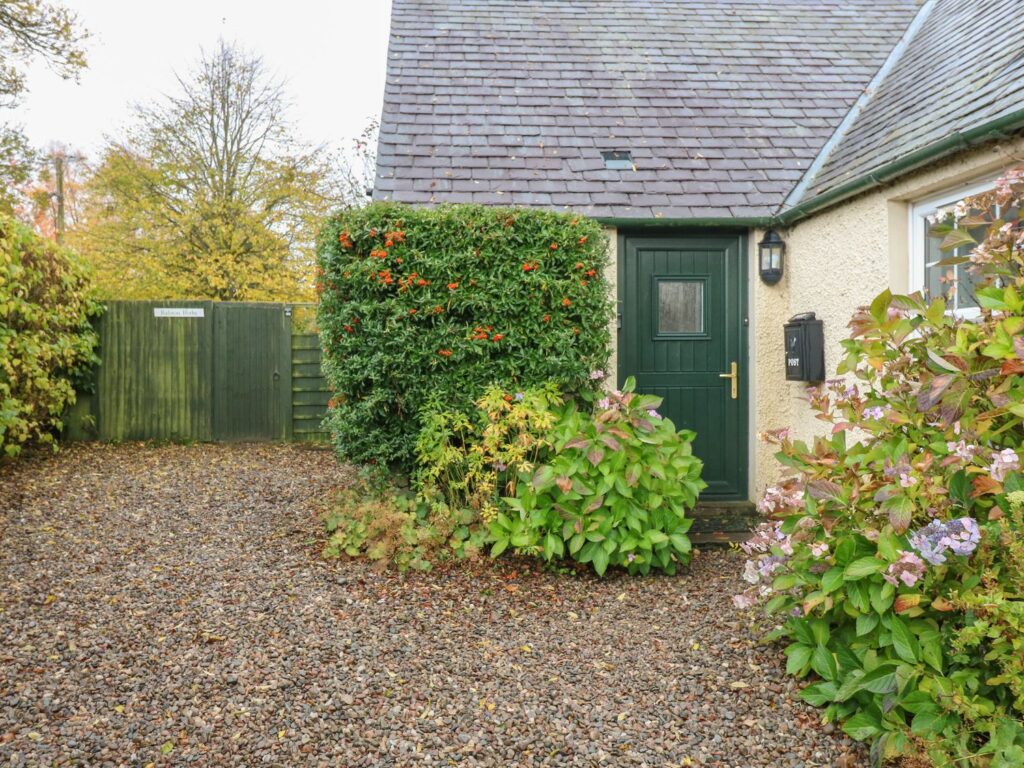 This charming cottage in Scotland provides you a true escape into the countryside. Nestled in a secluded garden, the greenery at the entrance adds wild character from the very start of your holiday.
The living room is full of warmth, with thoughtful décor and welcoming open fire. The kitchen has a real country-living feel to it as well, though it holds all your modern amenities as well, like a sleek cooker, a dishwasher, and a breakfast bar for homemade brunches.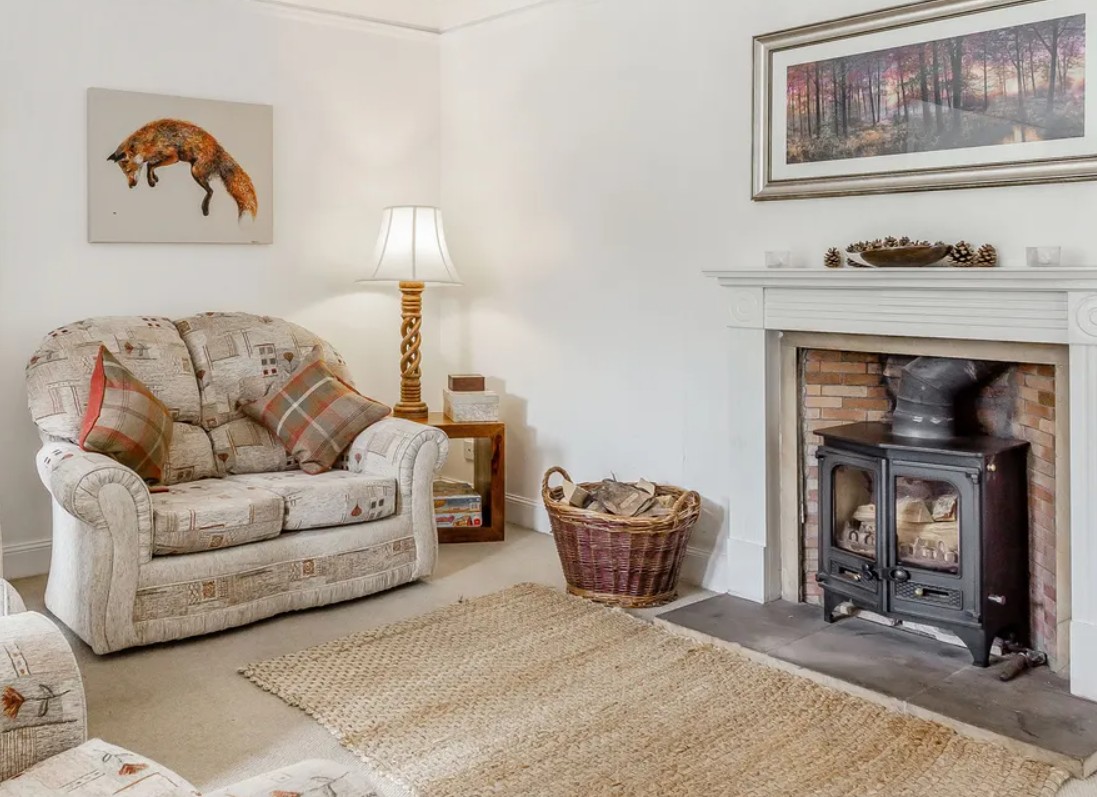 Enjoy a late lunch or a sunset drink on the decking outside, which overlooks the apple orchard and nearby woodland. The skies of Perthshire are perfect for stargazing, so why not take a dip in the hot tub after dark and see which constellations you can spot?
And this accessible holiday let is all on one floor, so at the end of the day, all you need to do is cross into the bedroom, climb into the comfy double bed, and let yourself drift off.
---
End Cottage – Yorkshire Dales
Sleeps: 6 | 3 Bedroom | No Pets | Rating: 5/5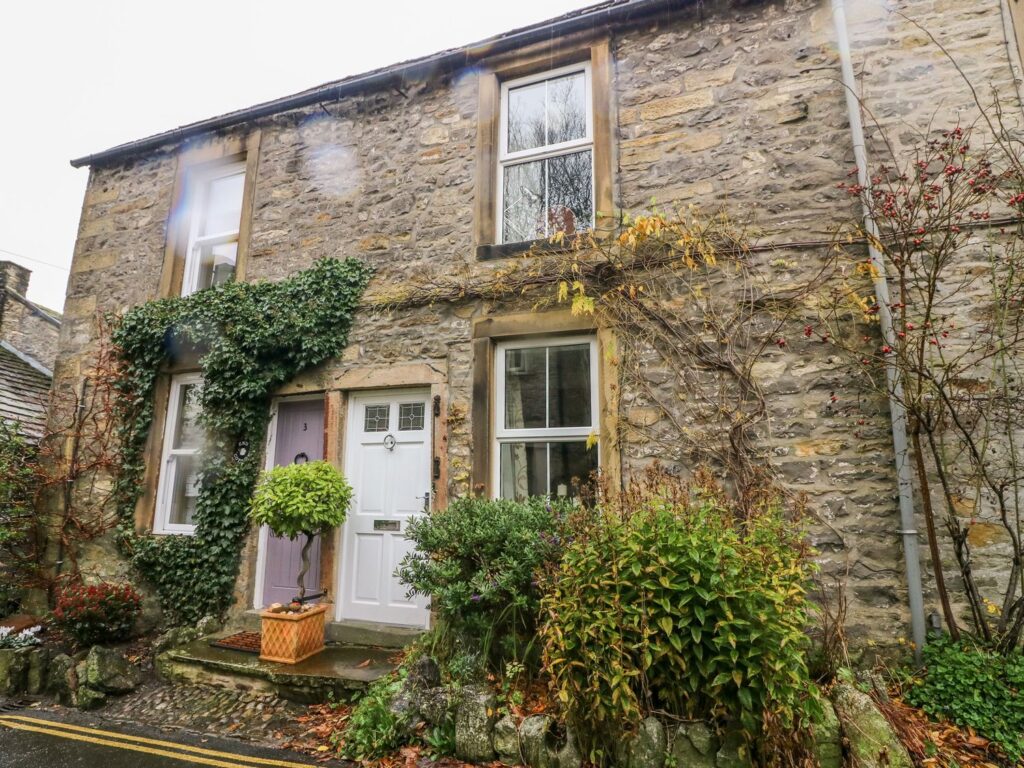 If you want character, this cottage provides buckets of it from the second you walk up to the front door. Swathed in ivy, End Cottage is a wonderful stone holiday home perfect for a family hunting for that rural feel, but still wants the amenities of a village on their doorstep.
The living room is delightfully cosy – take your pick of the three sofas to curl up on and watch the dancing flames of the open fire. Or cross into the kitchen-diner, where you'll truly get that country-living atmosphere, with the contrast between the original stone wall and the character-packed wooden décor.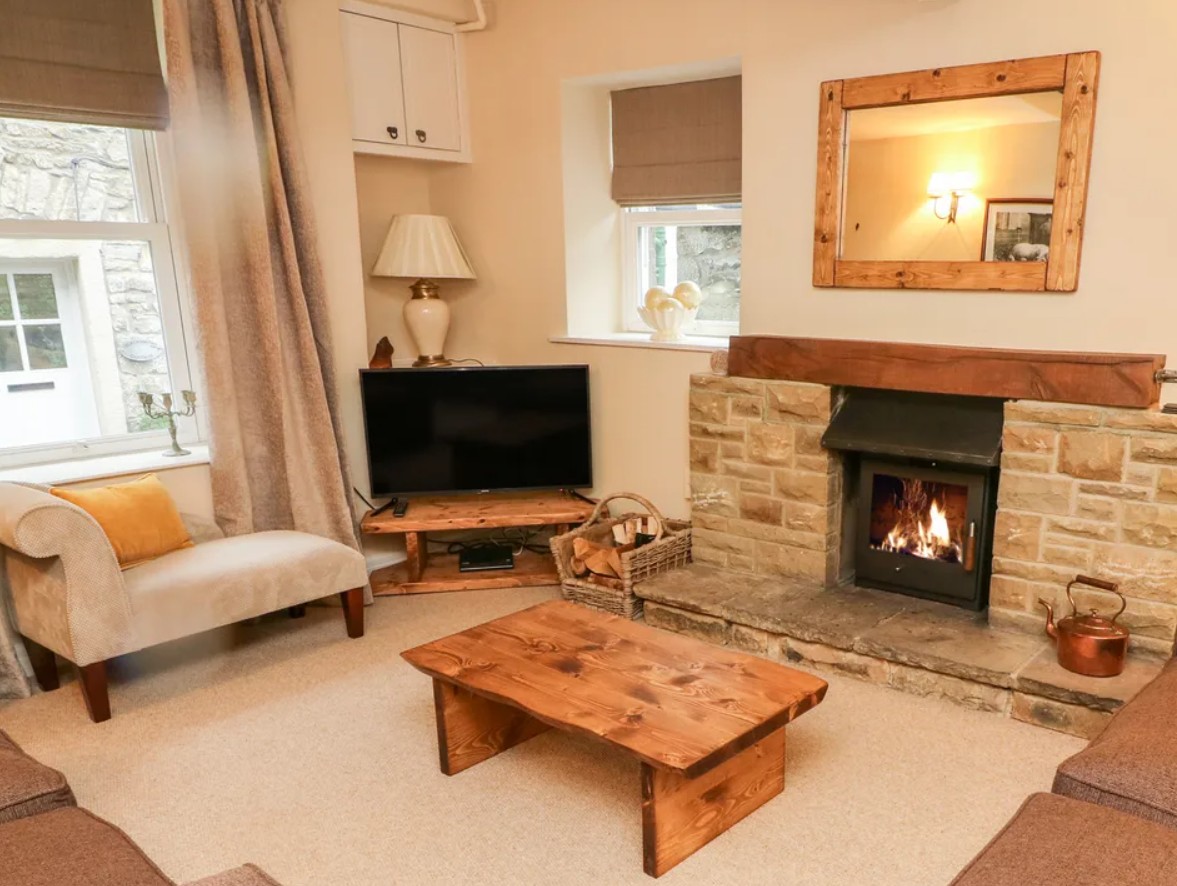 Upstairs are three bedrooms – a luxurious double and two twins, one of which has a bunk bed that's perfect to excite kids.
The back garden holds a stone patio enclosed by a pretty assortment of hanging plants, and a hot tub complete with a cloakroom to change in. And this holiday let has no shortage of day trips to make.
Explore the 12th Century walls of Skipton Castle, cross the Hebden Suspension Bridge, or take a boat tour along the Leeds-Liverpool canal.
---
Yr Hen Llaethdy – Pembrokeshire, South Wales
Sleeps: 4 | 2 Bedroom | Pet Friendly | Rating: 5/5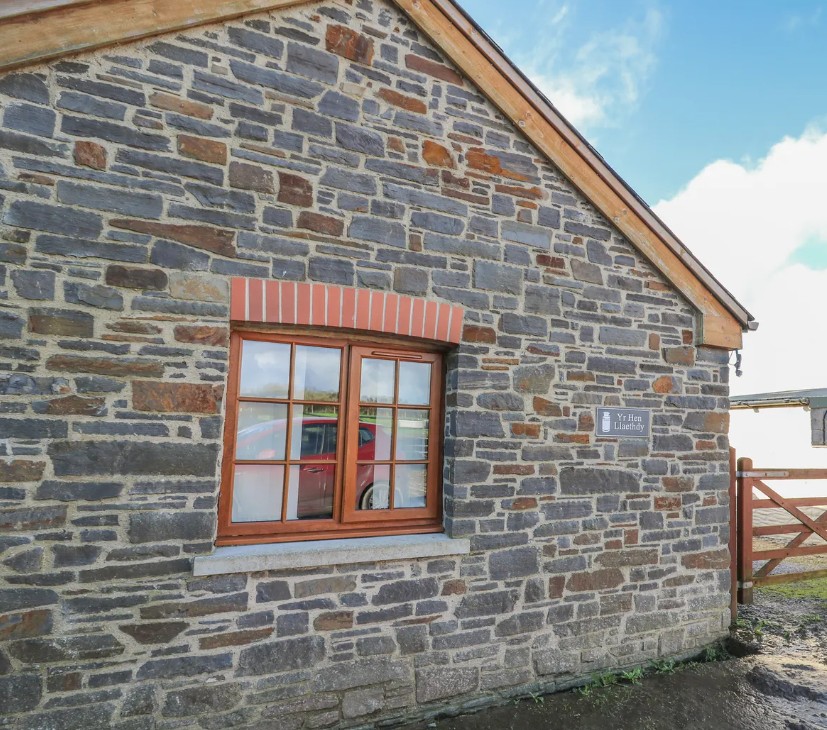 This stunning cottage gives you more than enough room for you to kick back and relax on your Welsh getaway – you'll stay in a spacious wing of this attractive gentlemen's residence.
The classy lounge retains the property's impressive history, with large airy windows, two leather sofas, and a beautiful open fire woodburner. The large kitchen/diner, decorated in tasteful pastel blue, holds the same wealth of character and rustic charm.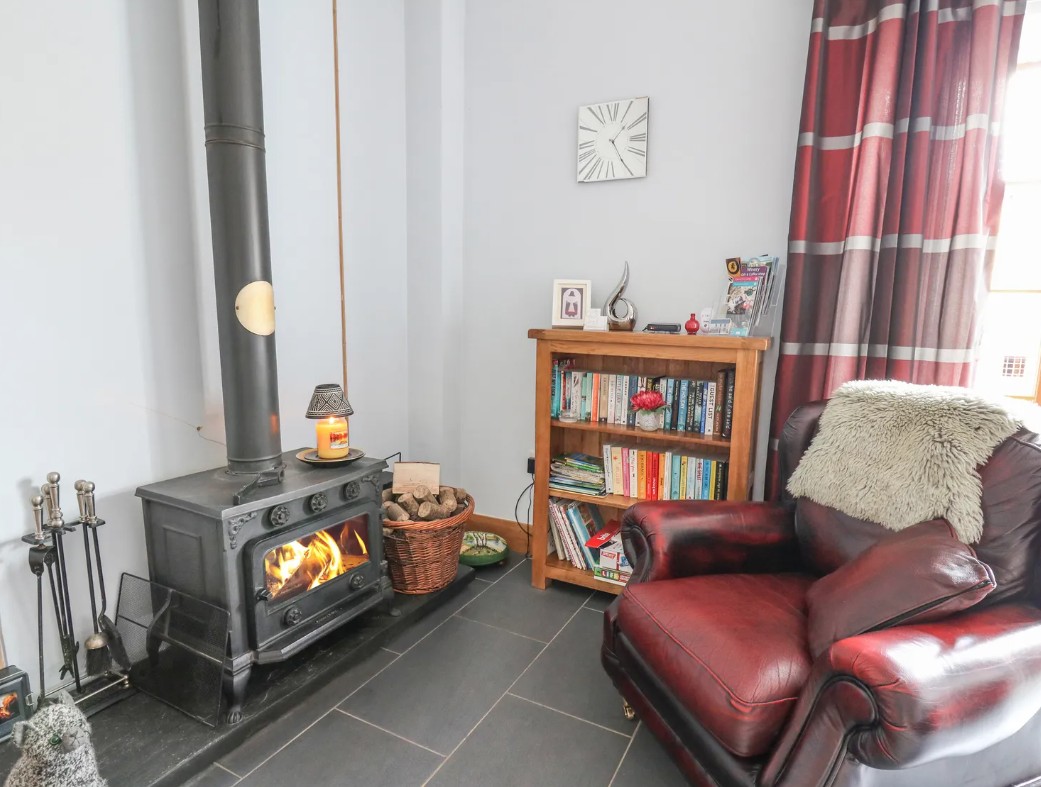 Once you've rustled up a delicious breakfast, you can enjoy it in the dining area, which looks through sash windows out onto a pretty garden.
You'll hold onto this holiday house's opulence as you go up the preserved wooden staircase and enter the master bedroom, complete with a converted fireplace, a traditional dresser, and a gold-mounted mirror.
Outside, you can enjoy shared outdoor facilities including a charcoal BBQ, a wood-fired pizza oven, a large hot tub, and a variety of patio furniture where you can enjoy an evening drink as the sun goes down over Cardigan.
---
The Olde Chapel Schoolhouse – Dorset
Sleeps: 4 | 3 Bedroom | Pet Friendly | Rating: 4/5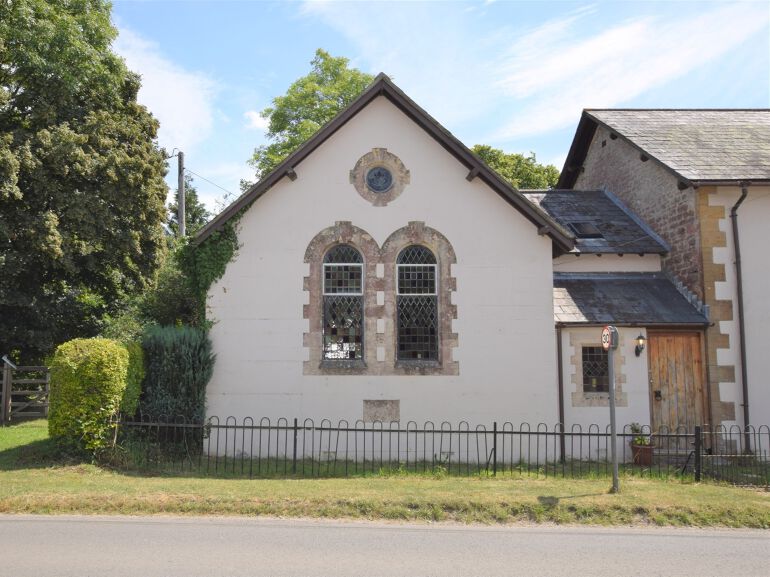 If you want a unique cottage escape, this converted schoolhouse is perfect for you. The whole family can enjoy the fantastic, spacious living room, packed with bags of character that comes from the stained glass windows and the large wood burner.
You'll find more stained-glass windows in the hallway, where a mezzanine landing provides the ideal quiet spot to enjoy a book.
The master bedroom is full of warmth and charm, with a wooden ceiling and pretty arched windows, as well as an en-suite bathroom. And the kids can head up to the gaming den on the top floor, which houses a day bed and a Playstation to keep them occupied while the adults enjoy a dip in the hot tub.
The whole family can enjoy a delicious home-cooked meal in the stunning conservatory, with the dusk light illuminating the beauty of this holiday let.