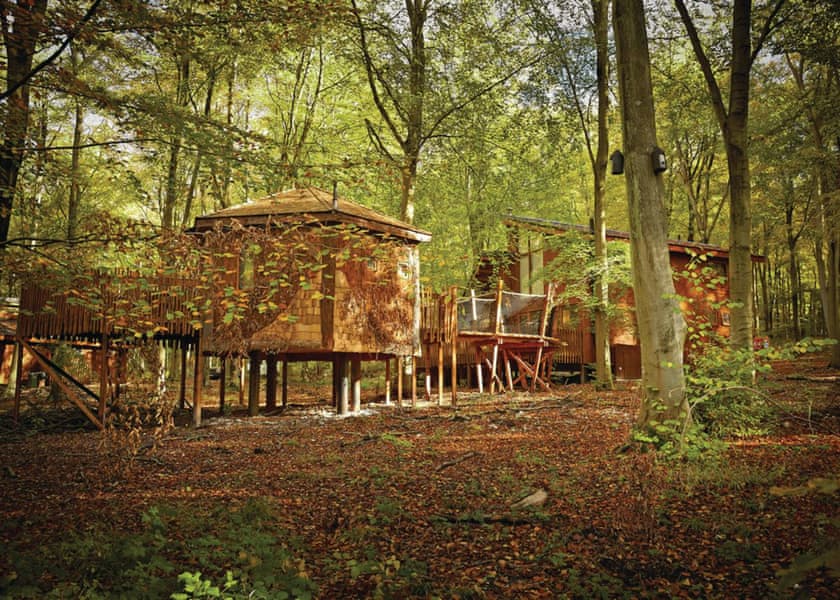 Golden Oak Treehouse – Forest of Dean
Taking you to new heights, this forest lodge offers a unique experience, gorgeous forest views and of course, a bubbly private hot tub.
Stunning Tree House Lodges
Take a magical holiday trip to Golden Oak Treehouse in the Forest of Dean. This incredible treehouse lodge sleeps 10, making it the ideal location for a family getaway or a holiday with a group of friends.
Situated deep in the Gloucstershire forest, retreat into nature without giving up comfort or luxury. And, with ample parking, the accommodation is easily accessible by car.
With spectacular forest views and some opportunities for wildlife-watching through your break, this is an ideal location to get away from it all with your friends, family or partner.
Magical Treehouse Adventures
Feel at one with the wilderness from both inside the treehouse and out, thanks to the stylish and rustic interior, with a focus on wood. Relax in the living area of Golden Oak Treehouse, making most of the comfy sofas and light airy windows.
These provide an excellent view of the forest surrounding the treehouse. In the evenings light the wood burning fire for extra warmth or comfort, the perfect location for a hot drink before bed. Be entertained by the flat screen TV which can be embellished with an additional entertainment pack.
Luxury among the branches…
This includes movies, internet access and TV channels of your choice including sky sports.
There are also options to order food and drinks directly to the lodge, using the TV, if you don't fancy cooking a meal yourself. However, if you do enjoy cooking, the kitchen area is large and well equip to handle almost any culinary masterpiece.
Plus, no need to waste time preparing your morning coffee, the Nespresso Vertuo machine has it sorted.
With huge windows, this lodge is awash with light and makes for some incredible views in the morning.
Cool Rope Bridge to the Master Bedroom!
Retire for the evening to the exquisite bedrooms. Head across the rope bridge to access the en suite master bedroom, allowing some privacy while still feeling connected to the rest of the party.
All master bedrooms come with robes and slippers and all bathrooms are provided with eco-friendly toiletries, leaving more space to pack that extra outfit.
The natural finish throughout the bedrooms act as a reminder of the incredible location this treehouse lies in. Twin rooms are also available for those who prefer them. Each room is spacious and comfortable allowing you to feel at home in this brilliant treehouse lodge.
Woodland walks and Family BBQs
The outside of the treehouse is even more spectacular than the interior. Dine alfresco on a warm summers evening and make the most of the spacious decking area.
Cook up a feast on the gas barbecue before watching the sun set over the forest. Make use of the robes and slippers by taking a dip in the hot tub, ideal for those chillier evenings and after dinner drinks.
Additional hot tub towels allow towels to dry off between uses. If the weather's in your favour it's quite possible to spend more time outside than in, and really return to nature.
Fancy Becoming A Treetop Forest Ranger?
Forest of Dean, the UK's first forest national park, boasts a range of activities for all ages. Book a forest ranger adventure experience to learn more about the mysteries of the forests. Try a survival course or book an adventure tailored to your little ones. Spend the day out walking or cycling through some of the most spectacular forest in the country.
Watersports & more…
There's plenty to see and do outside of your cosy wood cabin up in the trees on this holiday. When you're reafy for adventure, we've got you covered.
Or, try out something new with the range of water sports available, including boat hire and canoeing.
For any animal lovers book a bird of prey experience or see the forest from a different view while horse or pony trekking. And, for a real adventure, why not take a helicopter trip!
Treehouse Holiday Extras
Why not add a personal touch to your stay by booking welcome extras? These include a champagne breakfast or pizza night pack.
Golden Oak Treehouse in the Forest of Dean is the perfect location for any occasion.
Have a holiday to remember in this gorgeous treehouse lodge, made extra special by the forest's wide range of activities and the addition of the excellent welcome packs available.