Avalen Rise
These chic and luxurious-feeling cottages are situated in Newlyn, a coastal town in Cornwall with a great beach and a harbour to discover. The cottages have an outdoor patio, this being the perfect place to sit out and soak up the sun on a warm day. Plus, there is an enclosed garden for the kids to play in during the day.
There's also a tennis table and TV with a full Sky TV package to ensure that they're entertained. At night, once they're in bed, relax in the outdoor hot tub or the sauna. The bedrooms are light and spacious, and the master bedroom opens right onto the garden. In town, try out Cornwall's Great Escape Rooms or walk to Penzance for a dip in the Jubilee Pool on a warm day.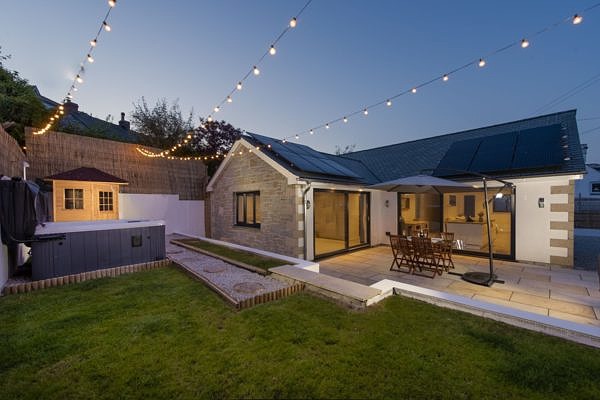 Spindrift
At this accommodation, floor to ceiling windows frame the living area of this stylishly decorated home-from-home, giving an unforgettable view of the Praa Sands beach. This view can be appreciated from the decking directly overlooking the coast, where you can enjoy an evening meal at the chairs and table or take a soak in the hot tub. There's also a barbecue to cook up a rustic family meal.
Inside, the modern design creates a feeling of luxury and elegance, whilst also encapsulating a cosy and welcoming feel. The bedrooms are spacious but comfortable, with plenty of storage. With the beach so close, there are plenty of opportunities for a beach day to swim in the sea and build sandcastles with the kids.
Whealdream
This is a family-run resort with different types of accommodation on offer. For that feeling of luxury, Wheal Jane is the perfect choice. This is a generously sized cottage with an open plan living area and kitchen, as well as a spacious outdoor area complete with a hot tub.
This is ideal for a bigger family on a longer holiday, where more space is needed. The living area comes complete with a cosy sofa and TV for relaxing in the evening after a busy day exploring the local area. The town of Helston is highly recommended, where there are shops as well as the Museum of Cornish Life. Or, spend a day out trying the rides at Flambards Theme Park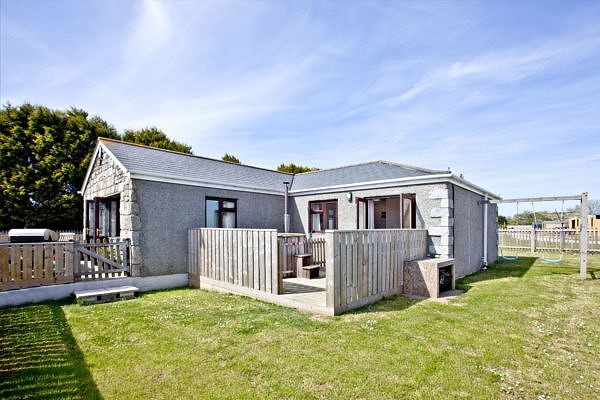 Orchard View
This site is nestled in the idyllic Peak District and is comprised on 14 acres of farmland and Derbyshire countryside. Each cottage has a rustic and homely interior, as well as a modern family sized bathroom with all you need for a short stay. There's also a woodburning stove in the living area for a cosy evening in front of the fire on a chilly night.
Enjoy the surrounding countryside from your private patio and garden, where you will find your own hot tub under a wooden canopy. There are communal grounds on site, including a field for a walk with a canine companion as well as barbecue facilities. Take a 20-minute drive to Gulliver's Kingdom, a theme park aimed at 2- to 13-year-olds. Nearby is the intriguing Great Rutland and Great Masson Caverns, as well as the Matlock Aquarium.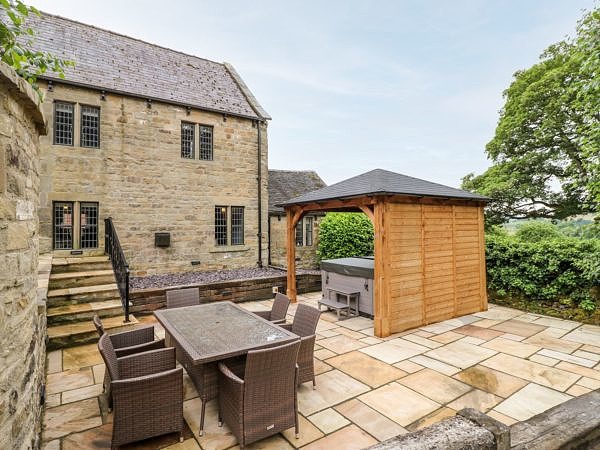 Beekeeper's Cottage
These are two semi-detached cottages in the heart of the Welsh countryside, both with a gorgeous wood timber architecture and a real countryside charm. Inside, furnishings are high quality and comfortable. The bedrooms are framed with a picturesque view of the surrounding lush greenery and are generously spacious.
There's plenty of room to relax outside on a warm day, with a patio and garden furniture to enjoy an outdoor lunch or dinner, as well as a private hot tub. You also have access to a one-acre outdoor area with a fire pit to roast marshmallows on in the evening. Nearby is Small Breeds Farm, where children can interact with owls and other farm animals. 
Read more about Beekeeper's Cottage >>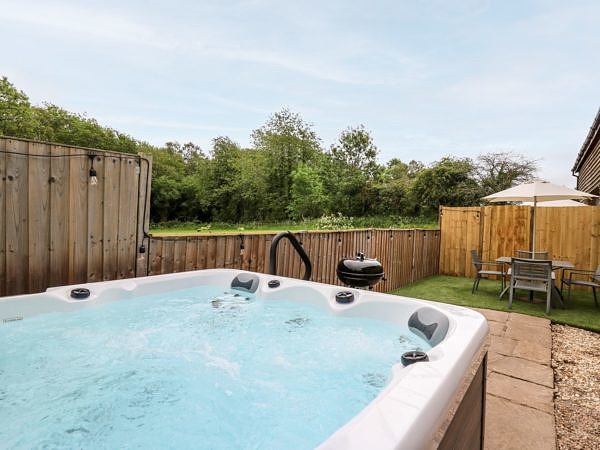 Herriots House
This Victorian manor house in the heart of Skipton has easy access to the incredible Yorkshire Dales. The accommodation has a real boutique and elegant feel, created by the luxurious décor inside. There are two living rooms, so you will be perfectly accommodated for when it comes to relaxing in the evening.
One has a log-burning stove, whilst the other has a smart TV for relaxing in front of a film at the end of the day. There's a covered patio area outside, with ambient fairy lights and an eight-seater hot tub. A lawned area is also situated outside, which is perfect for the kids to play on when it's warm outside. Visit the various landmarks in the town of Skipton, or take the children to see the history of toys at the Ilkley Toy Museum.