Whether you're planning a romantic getaway for two or looking for a family holiday with plenty to do nearby, Muncaster Castle is a fantastic destination which has a number of superb lodges with hot tubs within easy driving distance.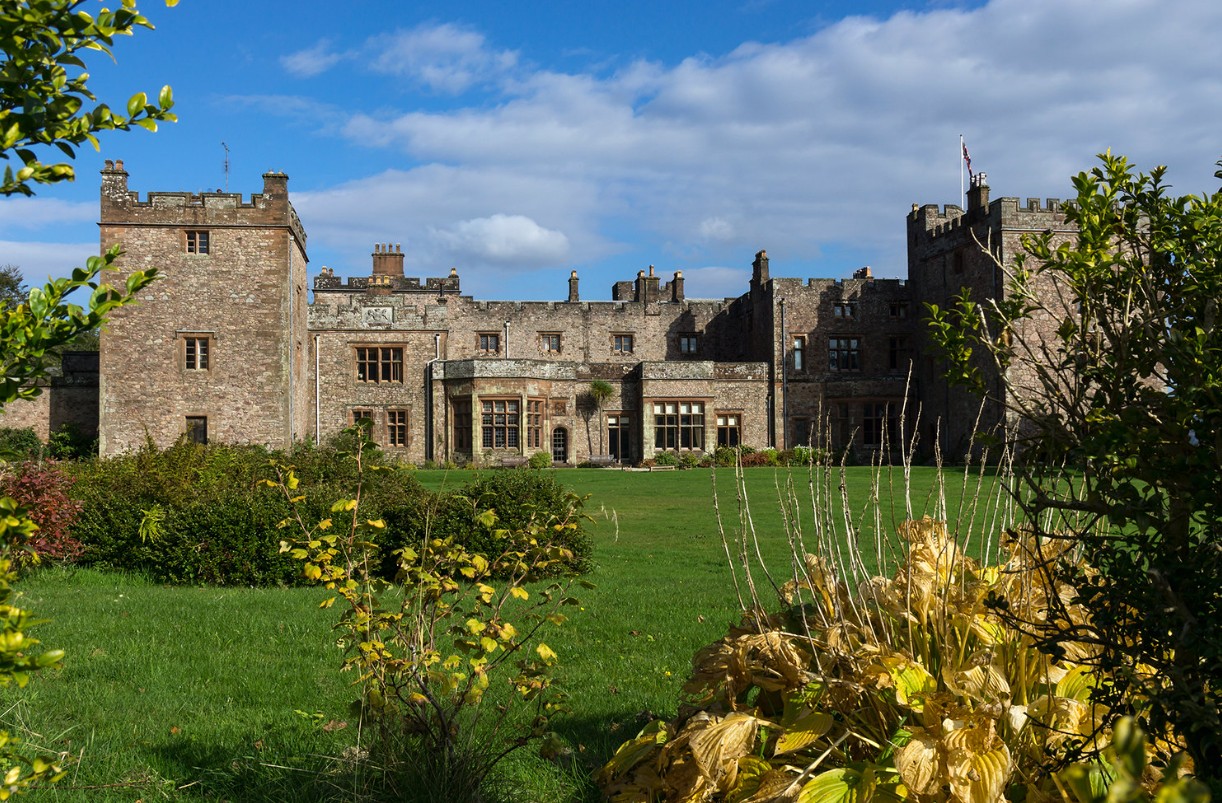 Known for its historical buildings and haunted grounds, Muncaster Castle is situated within the Lake District National Park. More specifically, it is about a mile east of Ravenglass, Cumbria.
The castle is spread across 77 acres and visitors are welcome to tour the buildings with audio guides provided. Along with the educational aspect, Muncaster Castle also has a lot of entertainment on offer. In fact, the popular hotspot has its own 'Hawk & Owl Centre' in which customers can interact with these different breeds!
Top Lodges with hot tubs near Muncaster Castle
If you're thinking about staying near Muncaster (but perhaps without the paranormal activity), why not try some of the following lodge holidays in the area:
Brockwood Hall Lodges, Millom
14.3 Miles / 24 Minutes
Sleeps 2-8 | Pet Friendly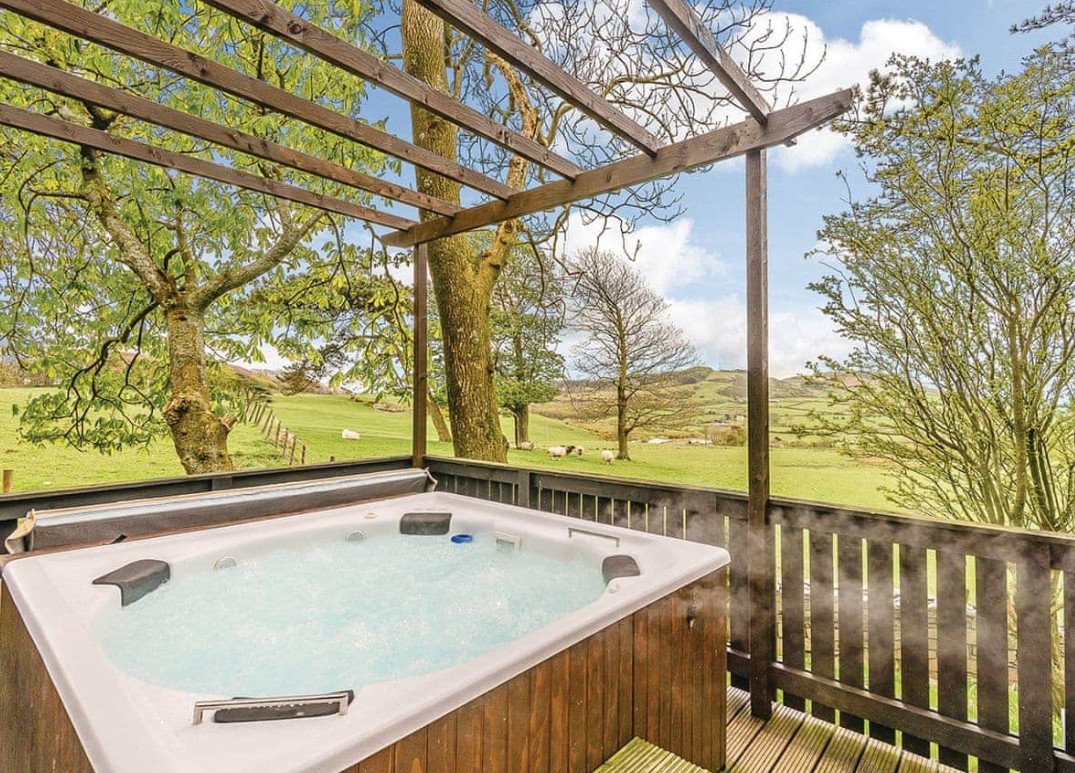 Surrounded by the spectacular Blackcombe and Whitecombe Hills, these Scandinavian-inspired lodges are ideal for couples or families wanting to explore Muncaster Castle and other great days out in the area.
A mere 24 minutes by car to Muncaster, 'Derwent Lodge' has been suggested as the most family-friendly cabin to choose.
We stayed at these lodges and we loved the space they provide and the lovely woodland surroundings. There's a cosy dog-friendly bar and restaurant on site too which serves some really tasty food. The hot tub was out on the veranda, which was really awesome – raised up on stilts with a fantastic view into the forest.
This vibrant two-bed can sleep up to four guests and is within walking distance of the hall's very own nature trail.
---
Keswick Reach Lodge Retreat in Bewaldeth, Keswick
34 miles / 58-minute drive
Sleeps: 2 | Pet Friendly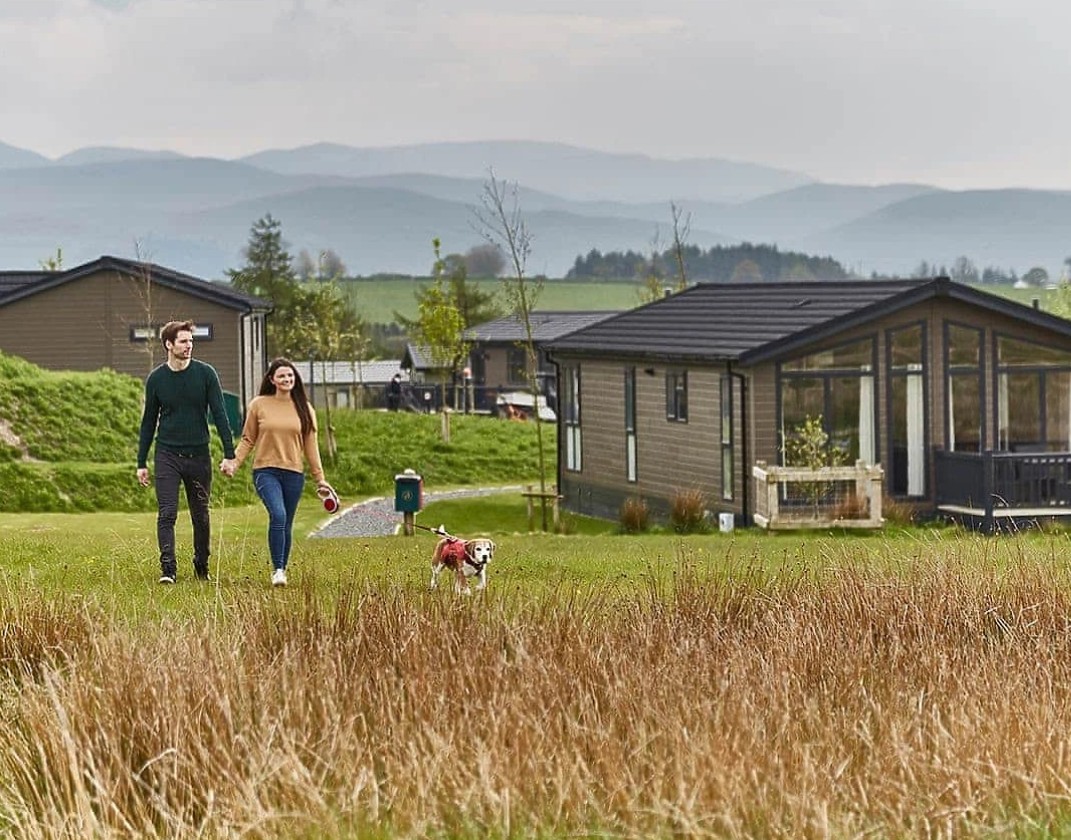 Having been named a 'Five- star Gold' venue by Visit England, these self-catered lodges are nothing short of spectacular.
With a residential spa offering everything from a sauna to aromatherapy sessions, this Keswick retreat is the definition of relaxation. Other notable features include a fitness suite, as well as an award-winning restaurant and luxury hot tubs (dependent on your choice of lodge).
The 'Coleridge' accommodation may be a good fit for the family as it can sleep up to six people and is just under an hour's drive from the castle. Pets are also welcome to stay in this lodge with prior notice.
For those wanting to bring the dog why not check out nearby Derwentwater? This picturesque lake in the nearby town of Keswick offers ramblers an eight-mile hike with some spectacular views. Across the water, you'll be able to spot 'Lingholm Woods'- used as the background for many Beatrix Potter sketches!
---
Blenkett Wood Lodge Park, Allithwaite
32 miles / 1hr drive
Sleeps 2-4 | Pet Friendly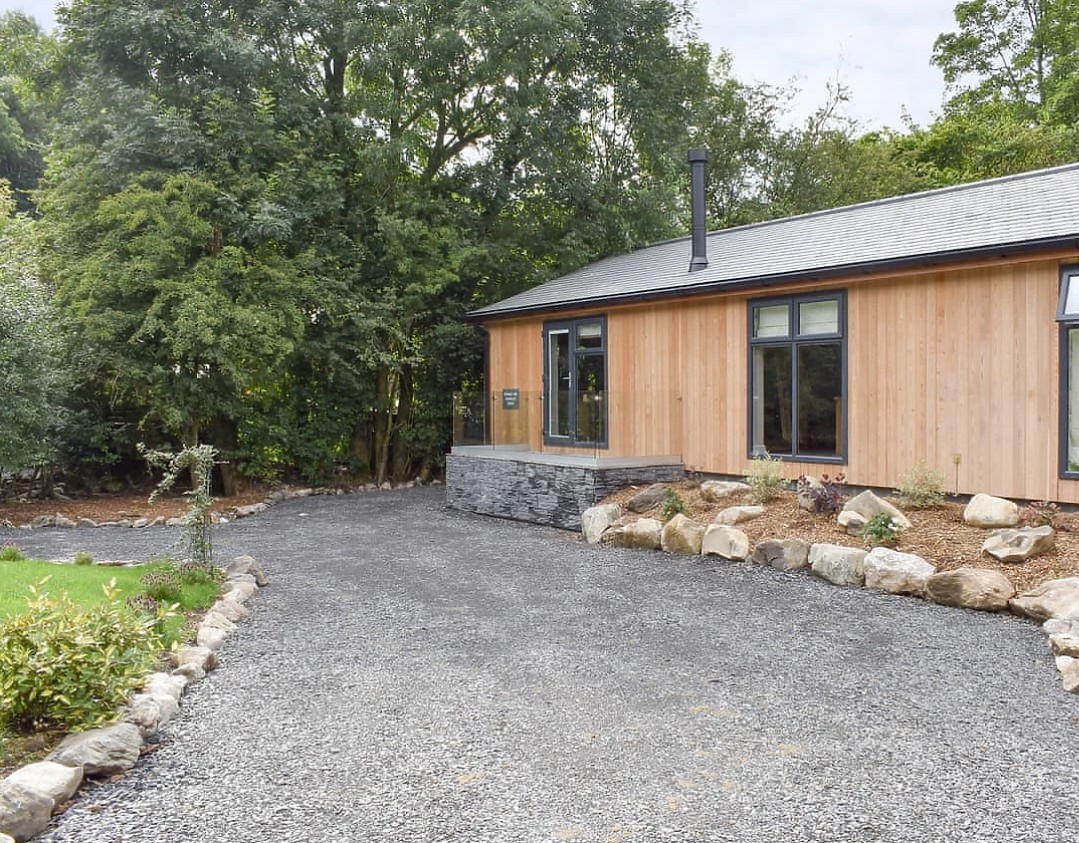 With a choice between three contemporary lodges (all of which are under an hour's drive from Muncaster), Blenkett Wood guarantees a good stay.
'Westmorland Lodge' is probably the most family-friendly of the bunch as it can accommodate up to four people and two pets (for a small additional fee). On top of this, the smart cabin includes a private hot tub and a useful wood burner!
Hidden amongst 15 acres of woodland and located just two miles from the beach, Westmorland is close to some great walks.
Whether you decide to venture along the Cambrian Coastal Way or near 'Humphrey Head', Blenkett Wood is an explorer's dream.
On top of its proximity to the coast, this destination isn't too far from local attractions such as a golf course and the world-famous 'Laurel and Hardy Museum' in Ulverston.
---
Fallbarrow, Bowness-on-Windermere
35 Miles / 1hr drive
Sleeps: 6 | No Pets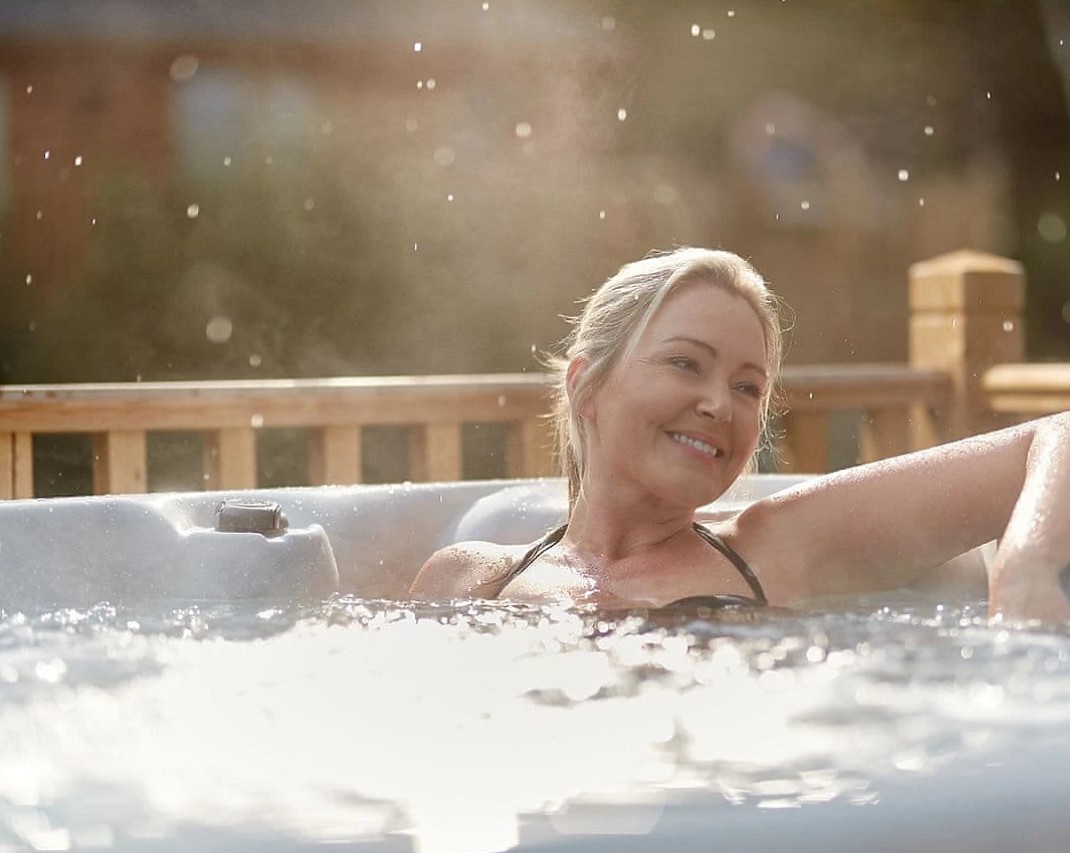 A bit further afield but a good choice nonetheless, is Fallbarrow.
This holiday lodge destination is located on the edge of Lake Windermere and around an hour's drive from the castle and offers luxury cabins with private hot tubs.
Guests can choose between a range of lodges such as 'Calthwaite'- a fantastic four-bed for those families looking for a more 'homely' stay.
Although relatively rural in terms of location, Fallbarrow is still close to some great activities such as golfing, sailing, and even horse riding.
'The World of Beatrix Potter' can also be found a three-minute walk away. A fascinating day out to say the least!
---
Muncaster Castle FAQs
What are the opening times?
Gardens: 10.30am – 4pm
Castle opens: 12p, – 4pm
Does Muncaster Castle have a play area for kids?
If you're bringing kids to Muncaster, there's plenty to keep them occupied. Our two loved the adventure playground and there were a lot of other kid-friendly things to do. Explore the Yeti Adventure Quarry, Giant Swing and Meadowvole Maze. Muncaster's Eco Barn and Bird Hide are a great way to learn about the wildlife and conservation in the area too.
Is there a gift shop?
Yes. The castle has a gift shop where you can buy the usual range of souvenirs with items starting at around £1.75.
Can you get something to eat there?
Yes. Muncaster Castle has a lovely little coffee shop serving freshly baked goodies. When we went there, there was a good selection of hot food and drink.
What's there to do here?
If you've not been to Muncaster Castle on a lodge break before, there are loads to do once you get there. The grounds are absolutely massive so be careful, you could literally get lost in there! It's all on different levels so there's plenty of exercise to be had.
The courtyard is where you'll find the cafe and often pop-up shops and places to get something to eat and drink. There's also a fab gift shop here with some castle-themed gifts for all ages.
It's well worth taking a look around the interior of the castle too. It's massive! And really does look like something from an episode of Scooby-Doo!
Are there any seasonal events?
The Castle typically hosts an annual Halloween event which is really something to see. We visited during this time and we found all sorts to see of awesome things to see and do.
From creepy scenes set up throughout the grounds to weird and wonderful shows inside the castle. There are many seasonal goodies on sale up in the main castle to keep you warm and different shows and things for children to enjoy.