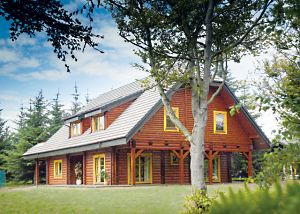 Piperdam Lodges in Dundee are worthy winners of one of our "Gold Stars".  We have chosen Piperdam to receive a Gold Star due to the fantastic setting of the park and the facilities on offer.  If you like active and lively holidays Piperdam is sure to appeal with an array of outdoor activities on the doorstep.
Some of the lodges come with luxury outdoor hot tubs making this a stylish and relaxing choice for a holiday in Scotland.

From Golf to Fishing
Activities at Piperdam are varied with one of the highlights being the 9 hole golf course known as the Wee Piper as well as a top quality 18 hole golf course, practice green and driving range.  If fishing is more your thing then the centre piece of the park – a 40 acre loch – will enable you to enjoy fishing at all levels from novice to experienced angler.  Holidaymakers travel from far afield for the quality of the fishing available at Piperdam.
Relaxing Holidays
If you like to take it easy and enjoy a lodge break with a laid back pace then Piperdam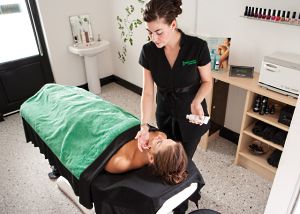 Lodges should suit you perfectly.  With activities on hand for those who want them, it's also a great place to simply relax and enjoy yourself.
The heated indoor pool complex is an ideal addition to the park for all weather relaxation and you can treat yourself to use of the sauna, steam room and spa to really recharge your batteries.
Dining at Piperdam
Eating and drinking are often an important and enjoyable aspect of your holiday.  The lodges are fantastically equipped for self catering but if you feel like eating out there are plenty of options too.  The conservatory restaurant overlooks the golf course and the loch providing quality food within a lovely setting.  You can enjoy top quality meals cooked with locally produced ingredients.  Alternatively for a more relaxed vibe the lounge and bar area are ideal for enjoying a drink or a lighter bite to eat.
Park Setting
The setting of the lodges at Piperdam is simply stunning ideally located for exploring the magnificent Scottish Highlands.  Many come to Piperdam simply for the setting and the scenery to get away from the stresses of daily life and enjoy the fresh air.  Walks in the Scottish Glens and Highlands are very popular.
Days Out close to Piperdam Lodges
If you want to go a bit further afield for days out then some popular options include the Camperdown Wildlife Centre in Dundee and the Activekid Adventure Park in Perth.  Both of these attractions are within easy driving distance of the park and offer great fun and value for money for families.
Accommodation at Piperdam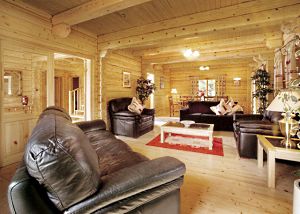 Piperdam lodges are of a very high standard and provide a luxurious base for your holiday.  With many styles of lodge to choose from you are sure to find one to suit your holiday style and budget.
For couples the Muirloch Executive Lodge is perfect.  This is a romantic lodge with a king size double bed and enuite shower rooms and sauna.  There is also the addition of a private outdoor hot tub.
This would make an ideal choice for an anniversary or another special occasion.
For large groups of up to 12 the Vegas Executive Lodge has a real WOW factor.  With luxury in mind this stunning lodge sleeps 12 in six bedrooms.  Some of the highlights include a superb outdoor hot tub, spacious open plan living and the unique Casino room with roulette wheel, card table and snooker table.  Pets are not permitted in this lodge.
Families of 4 or couples may also like the Rainbow Lodge, Rainbow Lodge Plus or the Rainbow Executive Lodge, all of which offer comfortable and stylish accommodation.
Luxury Lodge Break in Scotland
We think Piperdam lodges are perfect for luxury lodge holidays in Scotland with plenty of top quality amenities and a glorious setting close to the Scottish Highlands and Glens.