Cheshire Attractions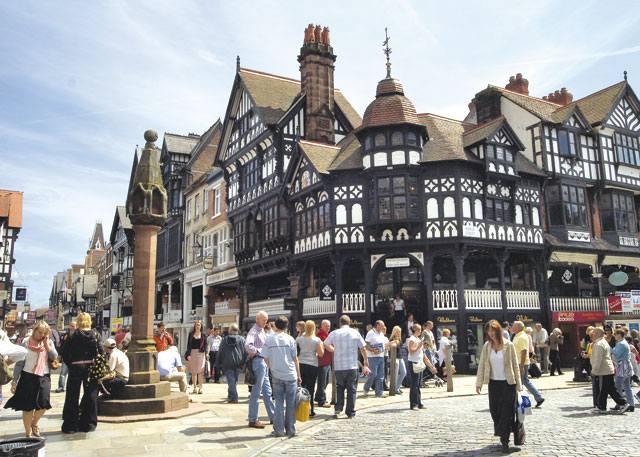 The area of Cheshire is a fantastic choice for a holiday in the UK as it is home to some of England's most diverse landscapes. Whether you are looking for rolling countryside or dramatic Peaks you can find it here. The area is also one of great historical importance with a history stretching back more than 2,000 years. Within the region you will find a range of attractions and experiences to suit all tastes including theme parks, museums, galleries and farms.
Theme Parks
Gulliver's World is one of Cheshire's top attractions and is jam packed with rides, shows and shops to keep the whole family happy. The theme park has an interesting lay out with a number of themed areas including Western World, Smuggler's Wharf and The Lost World. All have something different to offer and ensure that the fun is none stop. Younger children will love the parks resident characters, Gully & Gilly Mouse and 2009 saw the introduction of Dora the Explorer and Diego from Go Diego who are proving to be a big hit with the little ones. Gulliver's World prides itself on being very family friendly and all rides and attractions have been well thought out to ensure they are suitable.
Nature
One of the best zoos in the UK, Chester Zoo is packed with animals ranging from cute and cuddly to big and scary. Indeed, with 500 different species of animals and award-winning gardens to enjoy you will be hard pushed to see everything in just one day! Chester Zoo aims to provide a unique experience where you will use all your senses to learn about the animals you meet. The zoo is also committed to conservation and many of the species here are endangered and even bordering on extinction in the wild. Animal welfare is top priority and you will be able to appreciate the hard work which goes in to ensuring that the conditions the animals are kept in are first class.
Offering an all weather experience you will never forget Blue Planet Aquarium is one of the UK's top family attractions. The amazing under water world features one of the world's largest underwater viewing tunnels and you will be simply amazed at what you can see. Everything from huge sharks, graceful rays and brightly coloured fish can be spotted. New for 2010 is Venom - this fantastic attraction allows you to see and learn about some of the oceans deadliest creatures including Jelly Fish, and the world most deadly fish - the Stonefish. Venomous vipers, spiders and other insects can also be seen.
For a fun day out with a difference Stockley Farm is an excellent choice. The organic farm has a stunning location in the Cheshire countryside on the grand Arley Estate. Younger children in particular will love the opportunity to get up close to some adorable baby animals at the daily feeding time, and the whole family will love the Bird of Prey displays. During school holidays the farm hosts themed weeks such as Cow Week and Pig Week where children can enjoy varied activities including colouring competitions and themed quizzes. Other attractions include the tractor and trailer rides, indoor play area, outdoor adventure area and nature trail. There is also a tea room.
History
Tatton Park is a wonderful place to visit and is particularly popular during the warmer months, when the grounds can be fully appreciated. The impressive estate has 1,000 acres of deer park to explore and children will be delighted to spot the happy deer that live there. The site is also home to a rare breed's farm where you can go along and meet some of the more friendly animals. Children can let off steam on the adventure playground and there is also an indoor play barn so there is no need for the weather to spoil the fun. The 50 acres of gardens are packed with wildlife and beautiful flora and forna and there are picnic areas where you can enjoy an alfresco lunch. Of course a look around the historic hall itself is not to be missed and the site also has a shop and restaurant.
If your children are interested in the paranormal and are not easily spooked then the Ghost Hunter Trail in Chester is a good option for a fun afternoon. During the tour of the historic city you will be told spine-chilling tales of ghosts and ghouls which are thought to go bump in the night there. Your guide will take you to known areas of phantom phenomena and super natural events. Older kids in particular may enjoy this activity and can return to school armed with spooky tales.
Play Centres
If you're looking for a way to entertain children on a rainy day then why not head to Boogle's Barn indoor play centre. This huge centre offers activities to keep kids from 1 to 12 happy and the separate toddler area ensures that little ones can play in a safe environment. There are several floors of fun with ball pools, astra slides, climbing frames and much more to explore. The centre also runs a Holiday Club during busy times when the schools are off, offering a wider range of creative activities.
Ragamuffins is the largest indoor play area in the North West and is an ideal place for children to let off steam on rainy days. Boasting the biggest indoor wavy slide in the UK, the centre is sure to delight younger children and the footi pitch and cargo nets mean that older children are kept busy too. While the kids are having fun parents can relax and enjoy a coffee and tasty cake. Ragamuffins prides itself on its high levels of safety and well trained staff so you can rest assured that you children are safe while they play.
Education
Catalyst Science Discovery Centre is the ideal choice for a fun day out with an educational slant. The aim of this interactive centre is to make science fun and exciting for adults and children alike. The centre features three galleries which are very much "hands on" and take you on an interactive journey of discovery. During your visit you will learn about environmental issues including recycling and also health issues including the advancement in cancer drug development. During school holidays the centre has a comprehensive programme of activities for children of all abilities to enjoy including fabric printing, super bubble blowing and kitchen chemistry.
Other guides you might like
Home »
More Fun Days Out »