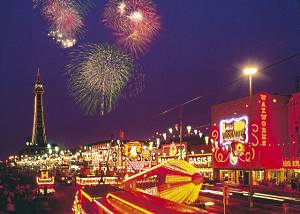 If you are taking a family holiday in the UK this year and looking to ensure that the whole family are happy then Lancashire is the perfect choice. Lancashire is a diverse region with beautiful seaside resorts and stunning countryside offering something for everyone. There are a wide range of attractions suitable for families including theme parks, nature reserves and places of historical interest. Below is a summary of our recommended family favourites.
Theme Parks
Blackpool Pleasure Beach is an excellent choice for a fun packed family day out. The park is crammed with 125 rides and attractions. Some are more traditional and some are brand new. There are thrilling rides for those looking for an adrenaline boost including the amazing Infusion, the world's only looping rollercoaster suspended entirely over water. There are also rides for those looking for something a little gentler including the Beaver Creek Log Flume. 2009 saw the introduction of the Spectacular Dancing Water Show which is a delight for the whole family. Toddler friendly rides include Alice in Wonderland and the spooky Ghost Train as well as several others which can be found in the Beaver Creek children's theme park section. Adventure Golf, Go Karts and Skating are also available at Pleasure Beach Arena.
Camelot Theme Park in Chorley is also very popular. The action packed park has a Camelot setting and transports visitors back in time, creating a magical experience. The 2010 season brings some new attractions to enhance the park and ensure that you have a fun filled day from start to finish. Pendragon's Plunge, the wet and wild water slide, is a good place to start your journey through the time when dragons roam free and knights do battle in the streets!  Land of the Brave is a stomach churning ride on Excalibur 2. Camelot's most famous ride, Knightmare is not one for the faint hearted. Standing 87ft high, the half-mile, two minute long ride is packed with turns, loops and some very steep drops. The whole family will enjoy viewing the park from the Dragon Flyer and little ones have a selection of rides to enjoy including Caterpillar Capers. The park also offers daily shows and a selection of places to eat and drink.
Nature
The Sea Life Centre is the perfect choice for day trip which is fun and also educational. The aquarium is home to one of the largest collections of tropical sharks in the whole of Europe. Children and adults alike will enjoy discovering the magical underwater world where you can see, rays, seahorses and piranhas as well as many types of fish. The newest attraction is "Jellyfish -Phantoms of the Deep!" which is great fun and the whole family can get involved.
Blackpool Zoo and Dinosaur Safari has something for everyone and is one attraction not to miss. Occupying 32 acres of parkland the site is a safe place for children of all ages to run around and explore. There are more than 400 species of animals to see including big cats, gorillas and elephants. The daily talks and animal feeding sessions allow you to get up close to some of the creatures and also learn about how they would live in the wild. The park also has gift shops, picnic areas, restaurants and a Costa Café.