Whether this is your first glamping break or you're a seasoned glamper, the South of Wales offers some breathtaking beauty and some of Wales' most stunning coastlines, scenery and unmissable days out. An ideal location for family holidays or Romantic staycations too.
Experience some of the best places to visit on holiday including Bannau Brycheiniog National Park (formerly the Brecon Beacons) and an absolute wealth of attractions such as Cardiff City, Pembrokeshire Coast National Park and much more.
Whether you're there for a short break like a weekend or a longer family holiday, I'll cover the best things to do during your glamping break in the area.
How long a glamping break should you book for?
If there's one thing I've learned about the South of Wales, it's one of those places you can come back to again and again. If you're planning a shorter glamping break, you can experience much of what the area has to offer in a couple of days or a weekend. But there's definitely enough here to keep families and couples very occupied for a week or longer.
Top days out on your break
It's possible to drive around Wales in a week and see many attractions and well-known spots so if you get strategic with your map markers but you can have a great break in the South of the country for as many or as few nights as you want. Even a one-night break is plenty of time to explore on both days on either side and see at least a few of the highlights the South has to offer.
#1 Bannau Brycheiniog National Park (formerly known as the Brecon Beacons!)
On the 17th of April, the national park began using its Welsh name in case you're as confused as I was when I noticed it on the maps!
This National Park has to be on your list of places to visit during your glamping break. Uniquely different in its landscape and climate from other UK National Parks, the Brecon Beacons feature some truly spectacular mountains, lakes and memorable landscapes that make it well worth a visit.
#2 Cardiff City Highlights
The capital of wales and it's largest city but what's it like to visit and what should you do there? You can see most of what the city has to offer in a day or two. Like any large UK city, there's a wealth of shopping, restaurants and bars to try out and it's got a lively nightlife.
For history buffs: If you're visiting during the day and want to see the main things, Cardiff Castle is at the heart of the city and this massive Norman Castle makes for an impressive spectacle. One of the guided tours will take you through the castle's rich history along with all of the adventure, intrigue and dark tales the castle hides.
For art lovers: The National Museum should be on your list of stop-offs as it contains some fantastic pieces including work by Monet and Turner.
For dining out: Fancy a top day out with plenty of atmosphere and some really nice places to eat and drink? Cardiff Bay might just be worth putting in your sat nav.
Take a morning to explore this fantastic waterfront promenade with plenty of bars and restaurants to choose from. After lunch why not take one of the free tours of the Welsh Assembly? There are a lot of other things to see and do here too including free and paid options.
To get some fresh air: Roath Park is a little way from the Centre but makes for an ideal day out with lots of open space and a good place for families.
#3 Pembrokeshire Coast National Park
At the very tip of South Wales, you'll find one of the real gems of this area that stretches a whopping 240 sq miles. A real highlight of many visitors' trips. Don't miss this day out if you're taking a glamping holiday of any length because you'll see some stunning coastal scenery, sandy covers, weird rock formations and things like ancient cottages by the sea that look like something out of a dark fantasy movie.
The Pembrokeshire Coast Path, a 186-mile-long trail, is a must-do for hikers and nature enthusiasts, offering panoramic views of the sea and abundant wildlife sightings. Animal lovers will find a lot to enjoy here as the Park has its very own seal colony and you can often spot dolphins just off the coast.
There's plenty to do here including organised boat trips, water sports like the ever-popular kayaking and more.
You can really get away from it all here and it feels like you're in another world with vast expanses of grassy cliffs and many hidden-away beaches you can claim for yourself. This is a very beautiful part of the world and. For one of the more scenic places to visit, my recommendation is St. Govan's Chapel, It's in Pembroke, where you'll find picture postcard scenery wherever you look and it's right off the beaten tourist track!
Find out more at the Pembrokeshire Coast website
#4 St Fagans National History Museum
This surprisingly-free day out is well worth a visit for families or couples and always leaves a bit impression on visitors. It consists of a castle, grounds and buildings that were painstakingly removed from their original spot and moved to this location. You can easily spend a full day here and there's loads to see and do for families.(Much of which explains the history of South Wales in a fun, lively way).
Check out the website to see what all the fuss is about
#5 Gower Peninsula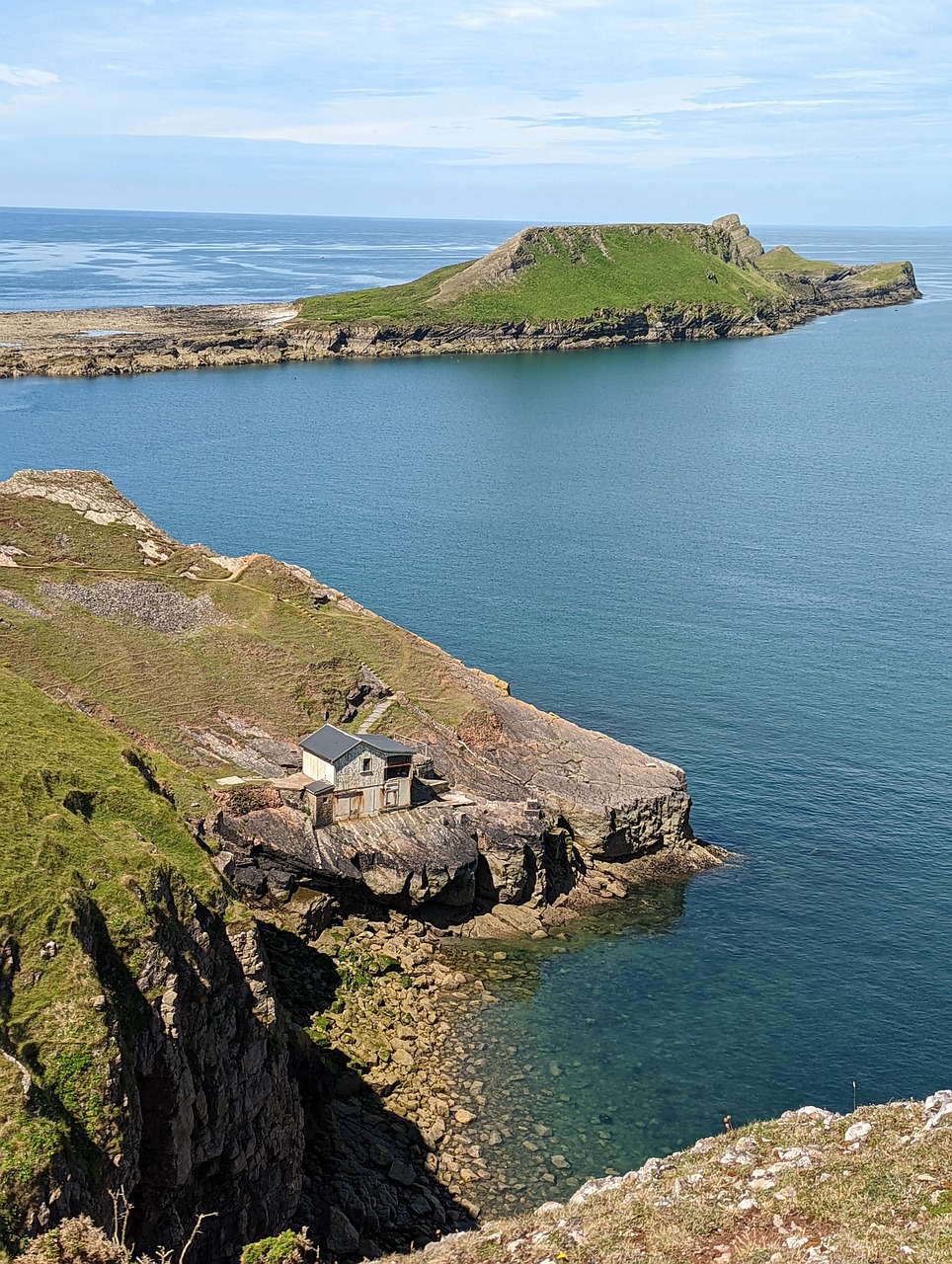 Gower is an Area of Outstanding Natural Beauty and definitely, one to add to your list of places to check out during your holiday. There's something for everyone here from birdwatching to surfing or just getting some sun on the beach.
Think beautiful coastal scenery, ancient ruins, ports, large open beaches with names like 'Three Cliffs Bay, Rhossilli and Worms Head', piers and lots of places to explore. This is what you might call a forgotten corner of South Wales so don't sleep on this recommendation on your glamping break in the area.
Glamping in South Wales – a few quick tips!
Before your cram that last bottle of fizz into the boot and head off to explore the South of Wales, there are a few quick tid-bits that might help make your getaway go smoother! Whether you're a glamping pro or a virgin to this kind of break, here are our quick tips to a heavenly stress-free stay.
Packing your own pillows
While it sounds a bit random, and might prove completely unnecessary, packing your own pillows and cases might be a worthy idea. Whether you always have trouble getting the perfect head height, or you've just got better sleep gear than all but the finest of glamping pods, if you've got room, taking your own pillows can make for the perfect night's kip. If you're the passenger you can always catch a bit of shut-eye on the way in comfort if nothing else.
Can you clamp in the south all year round?
The South of Wales has a milder climate than say the Scottish highlands and as such you'll get milder winters and less snow and rain than other parts of the UK. (Not that bad weather means you can't go glamping, some of the best stays are when it's thick with snow outside, but it does make things hard to get around!) The South has good weather and you can plan a break there any time of year. Obviously, you'll end up paying a lot more during peak school holidays so if you can avoid those times, you'll save a fortune (and attractions will be quieter!)
Will staying in a teeny cabin drive us mad?
OK lets be honest. Glamping isn't going to be for everyone! If this is your first time, I always recommend trying a one-nighter and seeing what you think of the limited space! If you can, go for a luxury pod with nice comfy beds and all the modern stuff so you can decide if it's for you or not. I've stayed in some glamping pods that were so basic they'd probably put any first-timers off for life!
Glamping is definitely different to staying in a full-size lodge but some people absolutely LOVE the cosy nature of it and the feel of being back to nature. You can always view it as a base of operations and just head out and enjoy the South of Wales if nothing else.
Pets and the South of Wales
If dogs could write reviews on trip advisor, they'd likely give this part of Wales 5 stars (or paws) and comment on how much they liked the walking routes, scenery and the abundance of great smells and things to wee on. The point is this location is a dog and dog-owners paradise, with a wealth of attractions, coastal paths and experiences that you can share with your pet.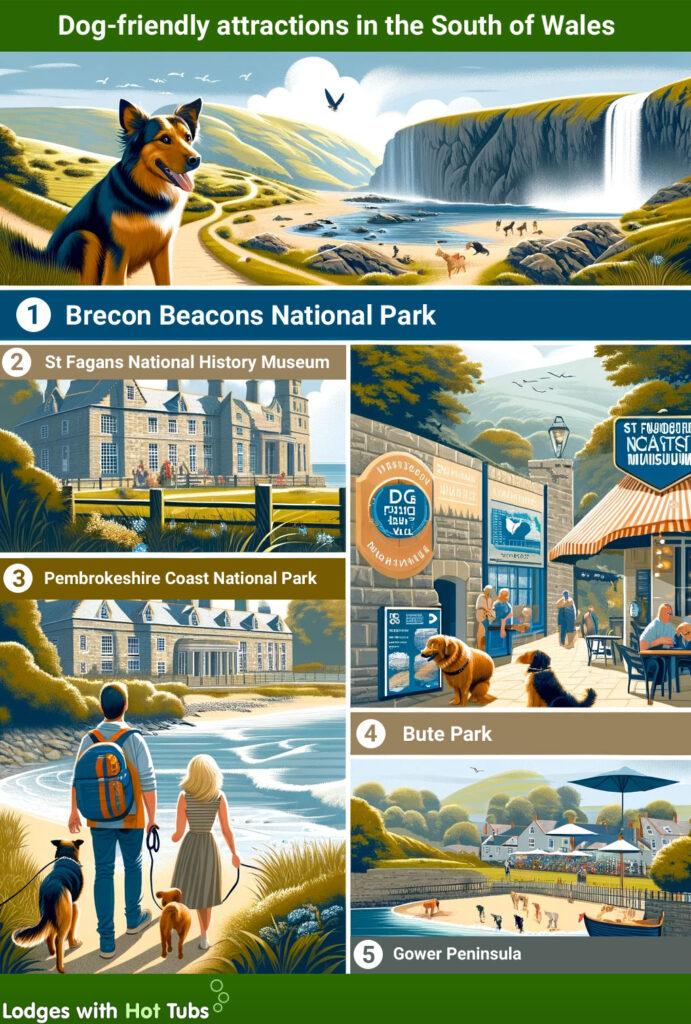 The Brecon Beacons is an ideal place to head with your pooch and offers some well-trodden paths such as Pen y Fan and lots of hikes for adventurous and not-so-adventurous walkers. Also, if you head into Cardiff, Bute Park provides a brill little oasis for walks with your dog.
FAQs
Is it worth booking a break with a hot tub?
You can end up paying extra for a hot tub so is it worth it? We always book somewhere with a hot tub, especially for the glamping breaks. The extra space outdoors to enjoy and the fun of using a hot tub never goes away. Our children love going in these things so I'd definitely say it's worth it. Even if you're out exploring South Wales during the day, you'll still have plenty of time for a soak in the evenings.