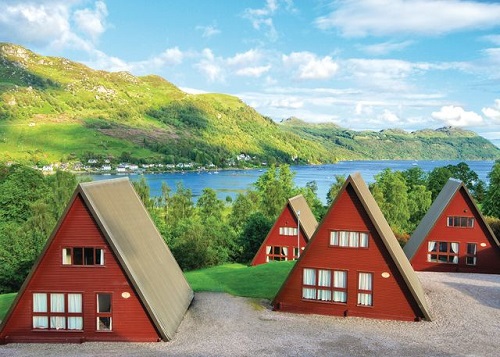 With bank holidays galore as well as a half term, May is a fantastic time of year for a lodge holiday.
Get away with the other half or take the whole family, and re-charge your batteries.
From scenic lakes to stunning mountains, the settings of the lodges are breathtaking.
Choose from an array of lovely parks all around the UK so you don't have to travel too far if you don't want to.  Just book up, pack up the car and go!  All prices are per lodge and not per person, so provide excellent value for money.  With plenty of parks offering May Holiday Deals, there are some really great value holidays around.
Lodges with hot tubs provide relaxing and tranquil holidays and so are loved by couples and families alike.  Some holiday parks combine this relaxing feel with on site activities and entertainment so there is something for everyone.  In half term in particular, some holiday parks offer excellent entertainment programmes. Whatever type of lodge holiday you want – just choose a park to suit you.
Just a few of our recommended lodges this May include:-
Beech Hedge in Perthshire
Gorgeous holiday park close to Perth with hot tubs available. A good choice for exploring the local area and would suit families who like to get out and explore.  The Bracken Log Lodge sleeps 4 and is perfect for families.
Meadow Lakes Holiday Park in South Cornwall
Ideal for families, this idyllic holiday park offers lovely lodge accommodation with family friendly facilities including an indoor pool.  Fishing is also available here.  We like the Willow Lodge Plus which sleeps 4.
Broadland Holiday Village in Suffolk
With a beautiful setting by the water and the benefit of an indoor pool, this park would make a great May holiday whatever the weather.
Devon Hills Holiday Village
Located in the South of Devon, we love this holiday village which sits close to some of the best beaches in the UK.  If the weather is on your side, then you could enjoy a fabulous beach family holiday here. On the park itself there is a pool as well as an activity programme.  The Superior Country Four VIP Platinum Lodge is fantastic.
Heronstone Lodges in Swansea
These lovely peaceful lodges would be ideal for anyone looking to get away from it all this May and enjoy the superb woodland setting.  The lodges are furnished to a high standard and come with private hot tubs – ideal for relaxing.  The Kestral Lodge VIP is good for couples as it sleeps 2.  For a larger lodge we love the Owl Lodge VIP.