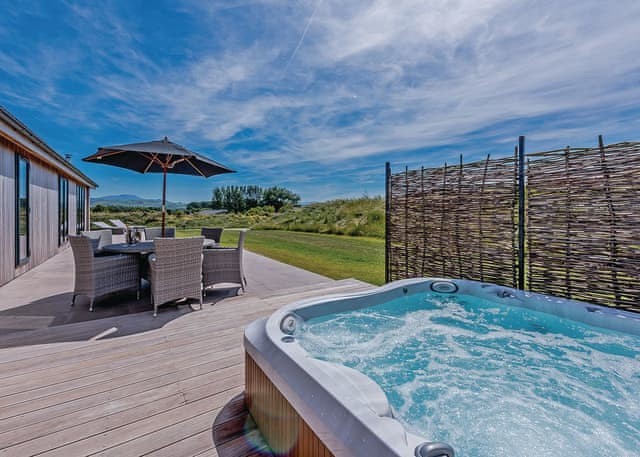 Book your next hot tub holiday early and save money!
There are some fantastic deals on lodge breaks throughout the UK so why not have your pick of the best on offer and book your bubbling hot tub holiday in advance.
Many of the lodges enjoy stunning locations and fantastic scenery as well as providing stylish accommodation with private outdoor hot tubs.
Some of our favourite deals include:-
These are some of the most luxurious and stylish lodges we have within our range and are fantastic for romantic retreats in Oxfordshire. Cupids Lodge is a real delight for couples.  This deluxe lodge really has the wow factor with a double french antique bed and private hot tub. There are plenty of mod cons including a widescreen TV and ipod. This is the ideal choice if you are looking to surprise or spoil someone special.
These lodges offer a luxury base for exploring the Herefordshire region. We especially love the Aymestrey Maple lodge for couples which comes with a four poster bed and private outdoor hot tub.  Other lodges with hot tubs here include the Aymestrey Oak lodge which is a stylish accommodation sleeping 6 and the Aymestrey Elm Lodge – a luxury lodge sleeping 4.
We love these exclusively for adults lodges in Shropshire and recommend them for romantic breaks and special occasions.  We recommend the Wrekin Premier Lodge which sleeps 4.  This is described as a "super luxury spacious lodge" and we certainly agree. The private outdoor hot tub is a real bonus.
These lodges will appeal to those who enjoy outdoor activities and one of the plus points is the amazing local cuisine.  The Exmoor Gate Lodge Plus sleeps 5 and is a fantastic hillside lodge set over 2 storeys and with an private outdoor hot tub.  For larger parties the Withypool Lodge is a great choice – this lodge sleeps 9 and offers a luxury base for your holiday as well as a private hot tub.
With a first class woodland setting within Brecon Beacons National Park, these lodges are the perfect choice for a hot tub holiday in Wales. The VIP lodges come with a private outdoor hot tub and we really love the Kestrel Lodge VIP for couples.  This lodge enjoys an open plan layout and was refurbished in 2010.  The Kingfisher VIP lodge is also a good option.  This lodge was brand new in 2010 and sleeps 4.
For a tranquil getaway in Sussex these lodges are ideal.  They are also close to a beach making them a good choice for families in the summer months. The lodges were new in 2009 and make a fantastic base for your holiday.  The Beech lodge sleeps 6 with 3 bedrooms.  The Oak lodge sleeps 4 with one double and one twin room.  Both of these lodges come with a private outdoor hot tub.
These Hampshire lodges make a fantastic base for exploring the local area.  Families with children will enjoy the facilities on site including the indoor and outdoor pools. The Rhododendron lodges come with outdoor hot tubs and are cosy pine lodges suited to both families and couples.  You can choose from a lodge sleeping 4 or 6.