Perran Sands
This Haven Holiday park is situated just south of Newquay, in Cornwall. With plenty of on-site toddler-friendly activities, this is the perfect spot for a coastal break. Whatever the weather, take the kids for a dip in the indoor pool, or on a hot day cool down at the outside pool. In the day and early evening, there is always a child-friendly show on in the on-site entertainment venue, including science experiments brought to life, the Tiny Tots Singsong, and on-stage fairy tales.
Stay in one of the Beach Houses for a bit of extra luxury, where you'll have a private hot tub on the veranda overlooking the incredible Cornish coast. The interior is cosy and welcoming, perfect for snuggling up in the evening. Cook up a rustic meal on the barbeque and enjoy the coastal views from your living area, where the floor to ceiling windows perfectly frame the gorgeous beach. 
Check Availability at Perran Sands >>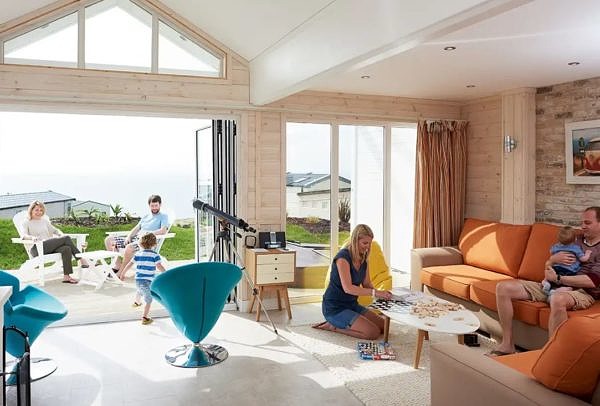 Widemouth Bay Caravan Park
Situated amongst the Cornish countryside, and Widemouth beach only a short walk away, this site has plenty of family entertainment facilities for those with younger children. As well as play areas, both indoor and outdoor, the Park has lots of woodlands to explore with the little ones and an indoor swimming pool. With the beach so close, there is the opportunity to take the children to build sandcastles and swim in the sea.
Widemouth Farmhouse is a chic and slightly larger accommodation, able to sleep eight and has a spacious but comfortable interior. Outside, guests have their own enclosed garden where there is a hot tub and barbeque. 
Book Widemouth Bay Caravan Park Today >>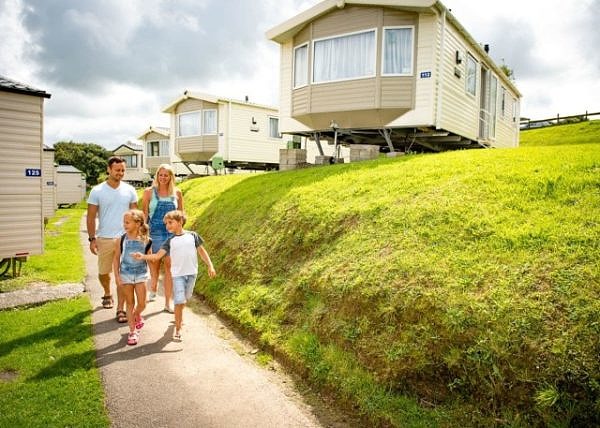 Solway Holliday Village
This Park prioritises families, so is perfect for those with toddlers wanting easily accessible entertainment. There's an outdoor play area and entertainment venues, as well as an indoor heated pool. In the early evening, take the kids to the family clubhouse for a family-friendly show. The beach and Lake District countryside is easily accessible from the site, or alternatively you can explore the gorgeous 130-acre parkland.
The children will also enjoy visiting the resident alpacas, who live on the site and can be found wandering around. There are both chalets and caravans to stay in here, both of which have a private hot tub outside. The chalets are generously spacious, perfect for a bigger family staying for longer. The caravans have a cosy home-from-home feel, making them easy to settle in to. 
Read more about Solway Holliday Village >>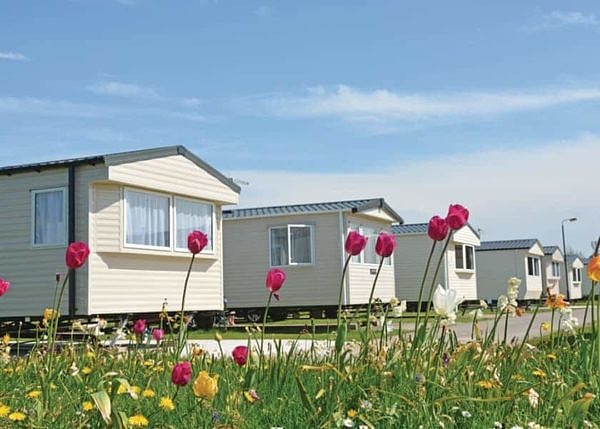 Ullswater Heights
This is another site located in the Lake District, where there are a wide variety of different accommodation types. Choose from a cosy lodge, a more luxurious chalet, or an exciting Safari Tent here, all of which have an outdoor hot tub for your leisure. The chalets are stylishly decorated, with a contemporary and modern feel. The safari tents still have that glamour element, whilst also feeling more adventurous.
There's still plenty of room inside for you to feel right at home. All of these types of accommodation have unforgettable countryside views, and many are framed by panoramas of the surrounding lakes. On site, there is a children's play area and woodland to explore. Also, Chloe Ann's Farm is guaranteed to be a fun outing for all the family, where you can visit the alpacas and other farm animals.  
Best Prices at Ullswater Heights >>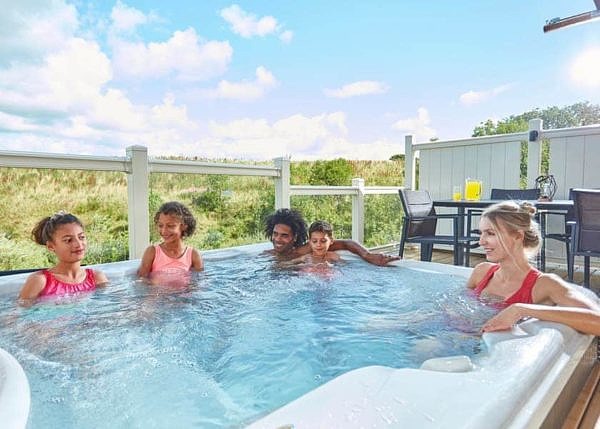 Lady's Mile Holiday Park
Located in Dawlish, South Devon, this site has great family entertainment and facilities. There are paddling pools for the toddlers, as well as a soft play indoor area and entertainment at the clubhouse. The lodges available range in size, depending on the group size, but all are surrounded by the unspoiled Devon countryside. There's a decking area outside where you can sit and take in the view, and in the evening take a soak under the stars in your own hot tub.
Or, stay in one of the rustically cosy safari tents, which are perfect for those wanting to try out glamping. These also have hot tubs, as well as an open plan living and dining area, providing plenty of space to settle in. The front of the tent also has a wooden decking area and furniture for you to enjoy some al fresco dining. 
Latest Lady's Mile Holiday Park Offers >>