A wigwam traditionally was a structure or dwelling used by Native Americans created by draping bark or hides over an arched framework – not to be confused with the conical teepee which has in recent years become misidentified as a wigwam.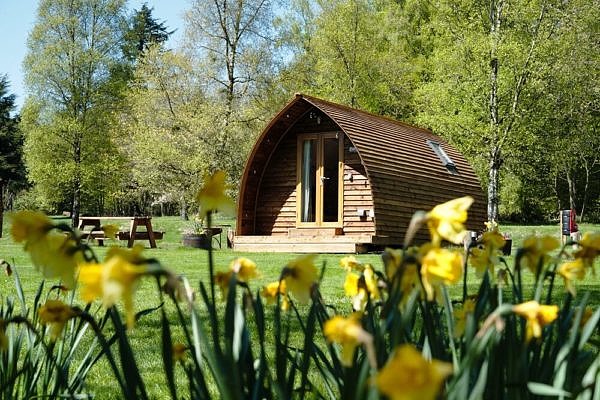 The modern camping or glamping pod has taken on the form of the traditional wigwam with its arched barrel form and has now become a more luxurious alternative to camping in a portable tent.
Wigwam Holidays in Loch Ness
From your wigwam cabin on the shores of Loch Ness you can be sure to spot Nessie when she finally makes an appearance – but keep an eye out if you decide to try wild swimming, a popular pastime for Scots. Set in the Highlands of Scotland, Loch Ness is a great base if you're looking to explore the Highlands, take a tour of a whisky distillery, try some kayaking, or bag any munros. Also nearby are the impressive Falls of Foyers, described as the most spectacular in Scotland.
The site is home to four four-person glamping cabins and four five-person glamping cabins as well as a communal toilet and showering block, farm shop, reception, and seasonal diner. Each cabin includes its own fire pit and outdoor seating area.
Check availability at Loch Ness Glamping Cabins >>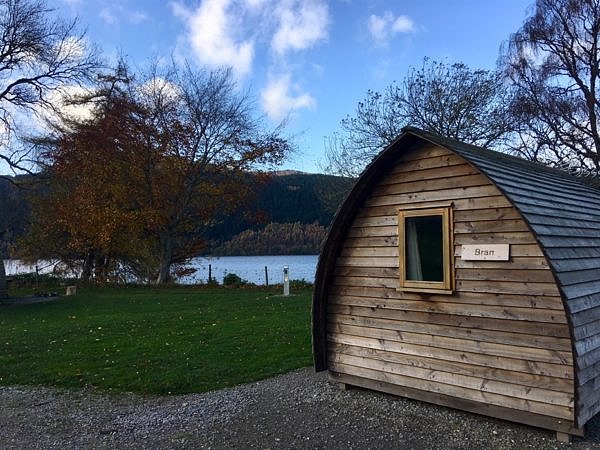 Wigwam Holidays in Charnwood Forest
Nestled in nature, these glamping pods offer the opportunity for retreat and rejuvenation while providing easy access to local amenities in nearby village Newtown Lindford which is within walking distance and home to local cafes and dog-friendly pubs, or the city of Leicester, just 20 minutes drive away. Also, walking distance is Bradgate Deer Park, accessible from Newtown Lindford, and numerous other quaint villages along the railway line, or down a woodland cycle path.
The site includes six luxury ensuite wigwams, three of which have wood-fired hot tubs for an extra special experience. The pods are situated around the wildlife pond which beckons all manner of insects and birds for you to watch while you enjoy your peaceful retreat.
Take a look at Wigwam Holidays in Charnwood Forest here >>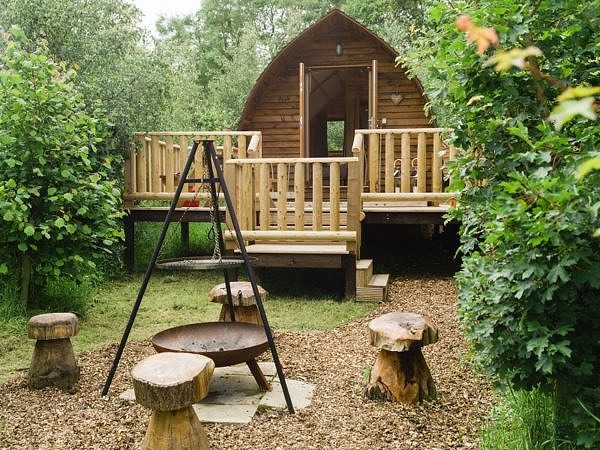 Wigwam Holidays in Brecon
Situated on a working cattle farm, these six luxury ensuite cabins can enjoy the beauty of nature with 80 cattle and 500 sheep for distant neighbours. The family-owned farm also offers freshly laid free-range eggs from their chickens for guests' breakfast to add to the idyllic rural retreat.
Three of the pods have wood-fired hot tubs for guests to enjoy after a long day of trekking through the Brecon Beacons, enjoying beautiful Welsh scenery and visiting quaint local villages before returning to the calm of their cabin for a night enjoying the stunning scenery for the hot tub.
For children, there are lots of local activities including swimming, water sports, and horse-riding. Thrill-seeking guests can enjoy plenty of outdoor pursuits available including mountain biking, mountain gliding, canoeing, kayaking, and more – or for those seeking a quieter pace of life why not simply enjoy the scenery and serenity with a good book.
Book at Wigwam Holidays in Brecon >>