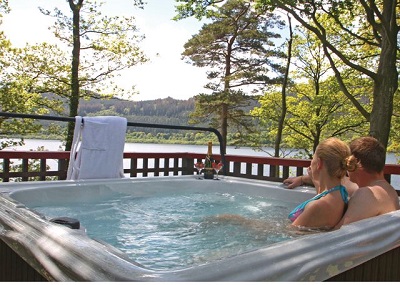 Fantastic deals in the June & July Holiday Spectacular with lodge breaks – and this is for the whole lodge, not per person.  Choose from a wide range of holiday lodges around the UK.
Whether you are looking for peace and quiet or something more active there is bound to be the perfect holiday for you.
Some of the parks have facilities such as a bar, restaurant or play area on site which would suit if you are looking to have everything you need on the doorstep.
If you like to get out and explore then you might prefer a quieter more secluded woodland setting with pubs and facilities within the local area. And of course hot tubs give UK holidays a real sense of luxury, spend your evenings relaxing admiring the scenery from the comfort of your own private hot tub.
Just a small selection of some excellent parks taking part in this amazing spectacular sale are:-
Hengar Manor Country Park in Cornwall
This park enjoys a fantastic setting in one of the best locations in the UK.  The activity programme make it a good choice for families or those who like to enjoy activities and entertainment on holiday.  Families with children of all ages would love it here, especially the fabulous indoor pool.  Accommodation is a selection of great quality lodges including the Hengar Park Lodge Plus which has a private 6 person hot tub and sleeps up to 10 people!
Wigmore Lakes Lodges in Shropshire
These charming lodges offer a peaceful holiday experience and are close to the town of Shrewsbury for days out.  We love the Oxmoor Lodge which is brand new for 2014 and offers stylish open plan living with an outdoor hot tub.  This lodge sleeps 6.
Beach Cove in Devon
These unique beach hut style cabins offer a really different kind of holiday, close to the beach and with private hot tubs.  For couples there is an accommodation called "The Pad" which sleeps 2 and has amazing sea views.  For great value the Driftwood Premier is brand new for 2014 and is a cosy studio beach hut, also sleeping 2, and with outdoor hot tub.
Woodland Lakes Lodges in North Yorkshire
Stunning lodges with hot tubs in a picture perfect setting in North Yorkshire.  With the dales and the moors in this region it's not surprising it's so popular with those who like to explore and enjoy the outdoors.  The lodges will also appeal to those who love fishing as there are fishing lakes on site.  For families, the Birch Waterside Lodge sleeping 6 is a lovely choice, with great views and a private hot tub overlooking the ornamental pond.