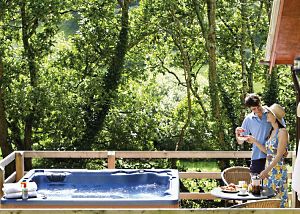 If you want to get away in the next few weeks or months then check out the last minute bargains for all of our lodges with private outdoor hot tubs. There are some amazing deals on offer with big savings to be made when compared to brochure prices.
But these offers are selling out fast so don't delay if you want a last minute bargain.
The Winter is a lovely time of year to holiday in the UK with the scenery more spectacular than ever. Explore woodlands and countryside or set off for lakes and beaches – the choice is yours! There are many unique and stunning lodge locations on offer in all parts of the UK so we are sure you will find the perfect last minute getaway.
Just some of our favourite deals include:-
Westholme Lodges in North Yorkshire are offering massive savings on their VIP lodges over the next few weeks including the Westholme Cedar VIP which sleeps 2 and the Westholme Maple VIP which sleeps 4. All VIP lodges offer a stylish and luxurious base for your stay with private outdoor hot tub and well equipped kitchens. These lodges are perfect for romantic breaks. Some of the on site facilities include a bar and restaurant with wifi and a children's outdoor play area. You will be ideally situated for exploring the Yorkshire Dales.
Cropton Lodges, also based in North Yorkshire, offer a peaceful and secluded location for your last minute holiday. With large reductions in price on their Silver Birch 2 lodge you can pick up a great deal. The Silver Birch 2 lodge enjoys a beautiful setting and sleeps 4 in two bedrooms. Enjoy mod cons including flat screen TV/DVD and underfloor heating. On site there are plenty of forest walks and trails (some ranger led) and a shop and coffee lounge where you can relax.
For a really stylish holiday then we love Forest of Dean Lodges in Gloucestershire which provide a secluded forest location which really has that get away from it all feel. The luxury lodges are ideal for romantic breaks and special occasions and come with private outdoor hot tubs. But best of all there are massive savings on bookings for the next two weeks. The Golden Oak 3 is a luxury and stylish cabin with flatscreen TV and entertainment system. The park location lends itself to outdoor activities with forest walking, mountain biking and ranger led walks all possible.
And if you really want to get away from the stresses of daily living why not try Beaconsfield Park lodges which are exclusively for adults and based in Shropshire. The Chestnut Lodge offers great value for money and there are savings to be made on some lodges such as the Lawley Lodge and the Caradoc Lodge. The Caradoc Lodge is a luxury choice with king size bed and contemporary interior.