A selection of beautiful cottages on the best of Britain's coastline. With sea views to feast on and a hot tub to relax in, these properties have what it takes to make that perfect sea side holiday. Ranging from Scotland to Devon, this array of accommodation offers it all, from remote and secluded, to modern and well connected.
This cottage is ideal for those who really want to get away from it all. Situated on the Dumfries and Galloway peninsula and with the nearest large town, Stranraer, a 10 mile drive, it really is secluded. Views from the garden, and hot tub, look out onto the Irish Sea. Being on the peninsula, this cottage is surrounded by water. Just a short drive away is Ringdoo sands, a perfect place to watch the sun go down before heading back to cosy up.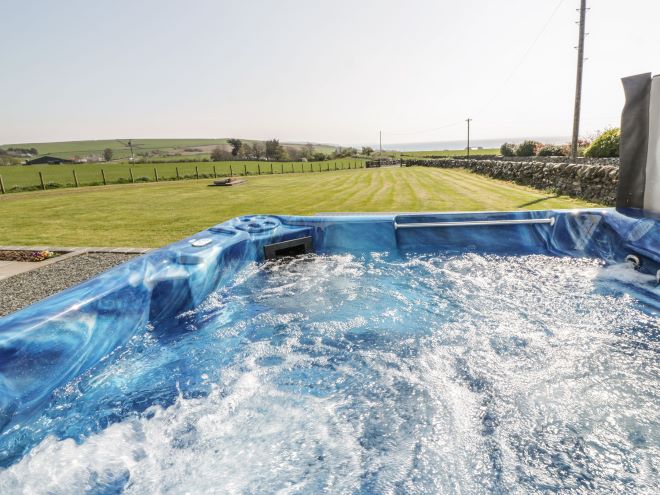 If you're wanting to explore a bit further, Mull of Galloway Lighthouse is a 40 minute drive from Stranraer and gives panoramic views looking out over to Ireland and the Isle of Man on a clear day. You can even catch a ferry to Belfast from Cairnryan! After a long day of adventure or enjoying the local area on foot, come back to this spacious and comfy cottage with its open fire to warm your toes.
Sleeping 4, this cottage has everything you need for a small family but would also be a beautiful location to take a short break with extended family or friends. This is a brilliant property, a stone's throw from the coast, and in one of Scotland's most underrated areas.
Moving now to the opposite end of the country, but an area no less stunning. 'Sunset' on the Isle of Wight has a modern feel yet homely feel. This chalet style property in Totland sleeps 4 and has a large decking with plenty of room for barbeques or somewhere to sit and relax with friends or family. It should be noted that the property is tailored for older families as it is unsuitable for children under 12. Being able to walk down to the coast allows for easy exploration of the beaches, as well as Totland itself.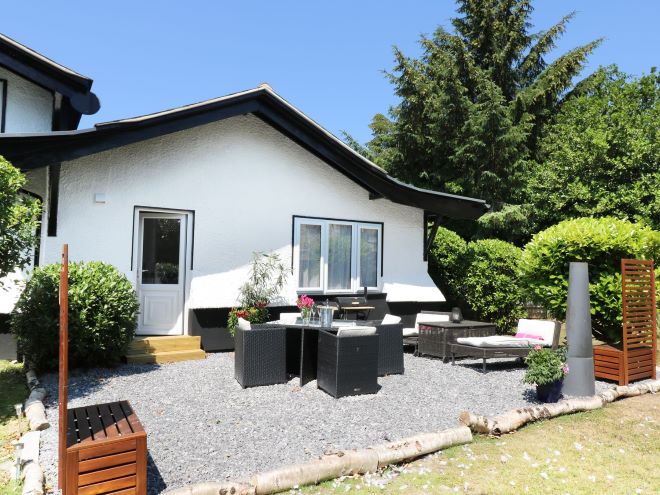 Sample some of the local food at the Waterfront pub, or take the time to cook something from scratch in the well equip kitchen at 'Sunset'. If you can manage to leave the comfort of the hot tub and decking, just a short drive or a relaxing walk away, is the Needles Landmark Attraction. This boasts a cable car with amazing views of the natural landscape, as well as a lighthouse and crazy golf. Totland has good links to the rest of the island, so it's easy to hop in the car and see some of the rest that the Isle of Wight has to offer. With ferry crossings from Portsmouth, Southampton and Lymington, there are plenty of options to access the island, wherever you're travelling from.
Burgh Island causeway is known to be one of the most picturesque places in Devon, if not the UK, and this cottage displays it all. Not only does it have a balcony with views looking straight over to Burgh Island, but it has a hot tub, gym, sauna and swimming pool! 27 is part of an apartment complex which also contains a restaurant and bar. Additionally these can be booked out together, so while apartment 27 only sleeps 4, you're friends or family can be just next door.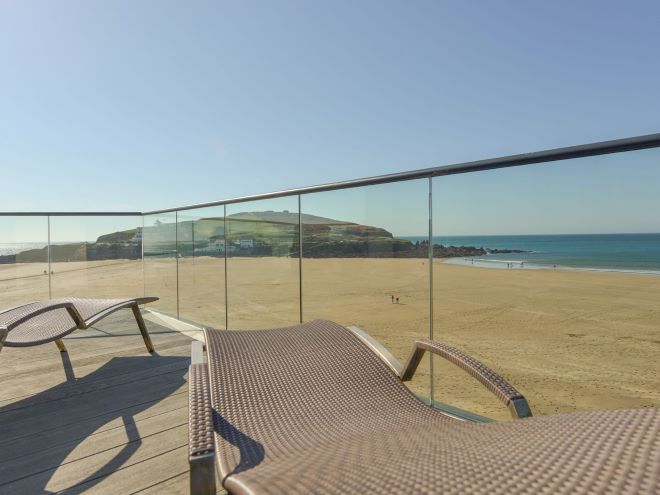 Bigbury-on-Sea is fairly remote from the rest of Devon, but with the beach just a short distance away where you can swim, surf or take a trip over to Burgh Island, there is little need to venture out. The local store offers delivery so you can spend more time enjoying the view and the facilities. If you did want to take a trip out and explore, there are multiple beautiful bays and coves just a short distance away, one of these being the South Devon area of outstanding natural beauty. This property is a little different from the classic cosy cottage, but the views and facilities available make it a favourite if you're after uninterrupted sea views.
Coalhill Farm Byre
This stunning cottage that sleeps 4 is situated on the Ayrshire coast of Scotland. Close to the water this house ensures the views that all sea lovers crave. An in indoor hot tub means that no matter the notoriously rainy Scottish weather, you can enjoy the views in style as opening patio doors and windows look directly onto the coast. This cottage, with modern interior, is only an hours drive from Glasgow, but really retains the remoteness most search for when staying in Scotland.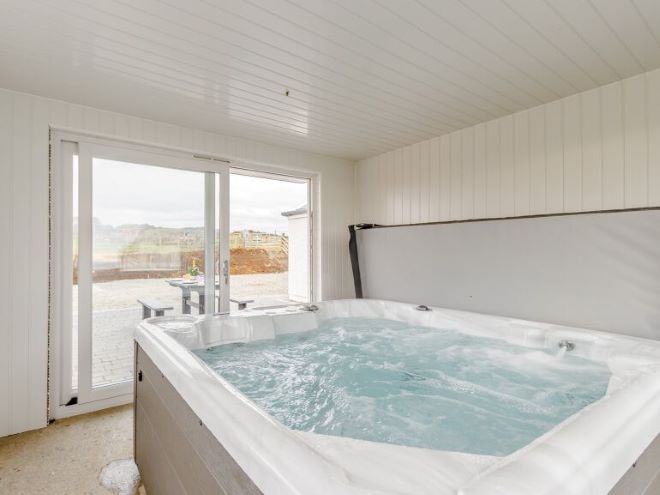 Only 2 miles from a pub, shop and restaurant, and even closer to the beach, this cottage really has it all. When it comes to things to do nearby, take a day drip into Glasgow for shopping and entertainment, or a ferry over to the Isle of Arran to uncover one of Scotland's most beautiful areas. Just like the scenery, no matter the season this property is sure to cater for your needs. The underfloor heating is ideal for the winter and an enclosed garden with summerhouse, decking and barbecue is just right for those warm summer nights.