Booking a lodge with a hot tub in the Cotswolds makes for the perfect holiday for a family, couple or group of friends. Home to some of England's most beautiful unspoiled countryside, it is easy to see why staycations in this beautiful part of the UK are on the rise.
Covering an area of over 700 square miles there is an abundance to see and do, including many historic towns and villages, Blenheim Palace and the stunning city of Bath, there's a metric ton of things to see do and enjoy here.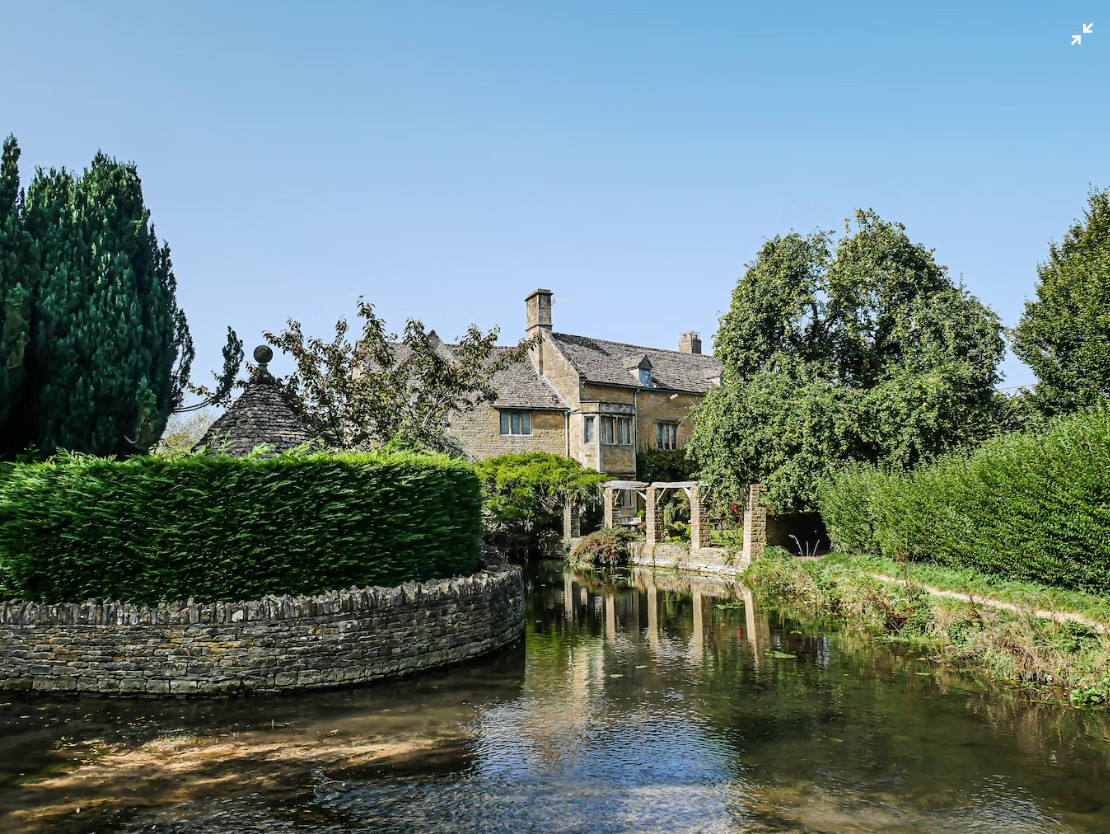 Lodges near the Cotswolds
Bluewood Lodges
Oxfordshire » Cotswolds
Within the Cotswolds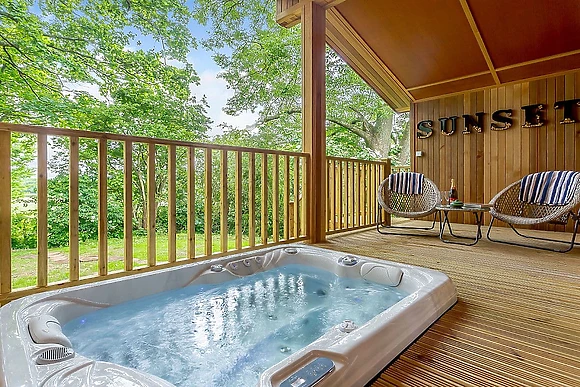 Sleeps 2-6
Pet Friendly
Hot Tub
Forming part of the exclusive Autograph Lodge Holiday collection, Bluewood Lodges are superbly located near to the picture postcard traditional Cotswold village of Kingham, a short drive from the Cotswolds. Surrounded by a peaceful and very beautiful bluebell wood, these lodges offer visitors a tranquil escape.
---
Faringdon Grange
Oxfordshire » Faringdon
8 miles away
Sleeps Up to 8
No Pets
Hot Tub
These luxury lodges have been meticulously designed and boast top-notch amenities. Picture yourself indulging in an al fresco meal on your private decked area, surrounded by breathtaking views. And for the ultimate relaxation, immerse yourself in your very own hot tub.
---
Croft Farm Water Park
Tewkesbury » Cotswolds
18 miles away
Sleeps 2 - 6
Pet Friendly
Hot Tub
Enjoys a picturesque location near the medieval Cotswold town of Tewkesbury in the scenic Avon Valley. A chic blend of space, style and contemporary comfort. An ideal location to explore the Cotswolds
---
When is best to visit?
With most months seeing at least 2 inches of rain, be prepared for wet weather all year round. However, the summer months are the warmest and offer the opportunity to see the countryside at its greenest.
A pet-friendly Cotswolds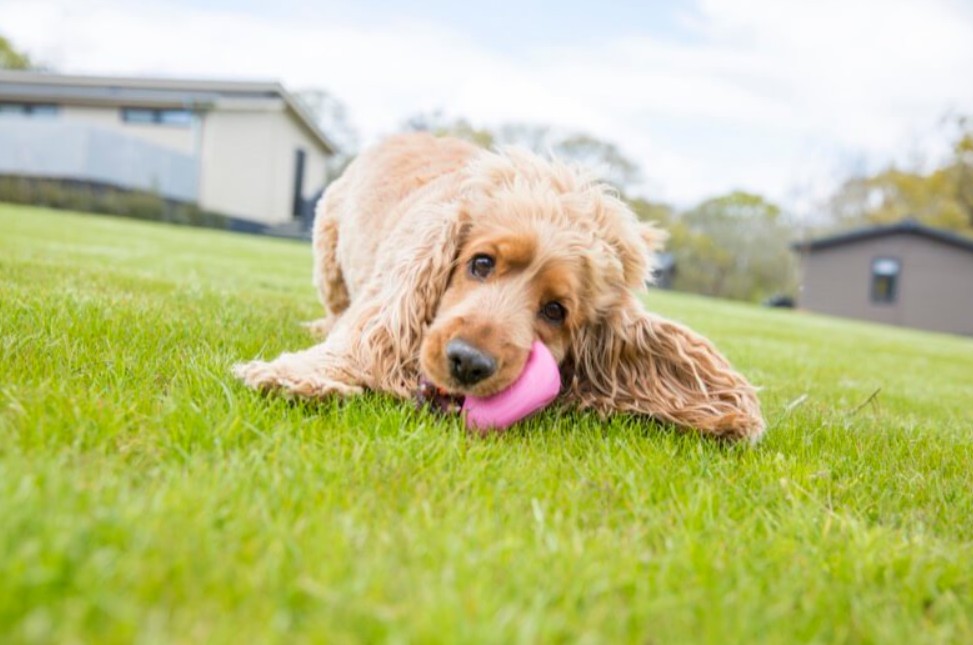 Thanks to its huge size, there is no shortage of pet-friendly attractions and eateries. Some highlights include the Cotswold Wildlife Park where it is possible to see lions, giraffes and more.
The Boathouse café near Cheltenham offers a unique day out with rowing boats to hire and fishing opportunities. When looking for pet-friendly accommodation, Croft Farm Water Park is just one option which is ideal for exploring the Cotswolds, as well as offering Water sports alongside their luxurious lodges with hot tubs.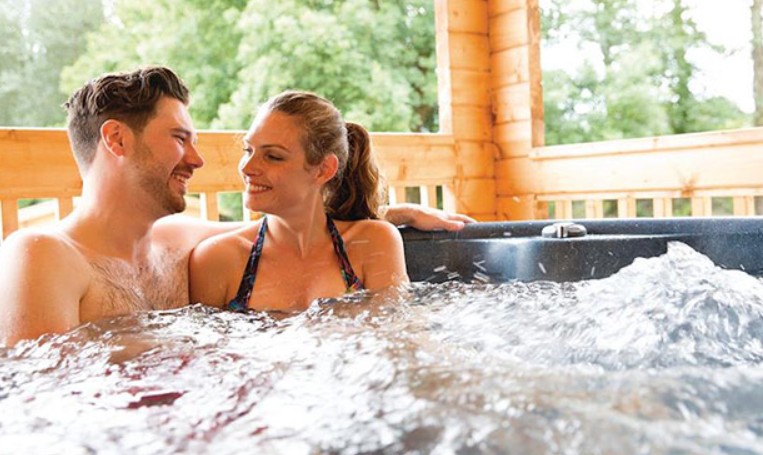 If staying in a lodge with a hot isn't romantic enough in itself, take it up a notch by choosing to stay in the Cotswolds. Visit quintessentially British towns like Tewksbury and Cirencester or head to the Roman Baths in the aptly named city of Bath. Stop off in the idyllic town of Lower
Slaughter to stroll down one of Britain's most romantic streets – Copse Hill.
Then, spend some quality time together enjoying a drink in the hot tub as the sun sets on the charming Cotswold horizon. Bluewood Lodges is just one of the many accommodation options that can make your couples retreat one to remember.
---
Cotswolds – top days out on a lodge break
So what are some top attractions and stuff you can do during a cabin getaway in this area? Here's a quick run-down on the things we recommend you add to your list of places to go with family, friends or as a couple.
The main star of the show and the reason you're booking a cabin is likely to explore this fantastic location in the Southwest of England. The landscape spans around 2000 sq KM in total and is home to some stunning scenery, quaint villages and rich cultural heritage.
There are many ways to enjoy the Cotswolds, from scenic hikes, cycling trails or just finding that perfect picnic spot in your car.
If you love exploring market towns, you'll want to make a point of visiting Chipping Campden, Stow-on-the-Wold, and Bourton-on-the-Water.
The Cotswolds is also famous for its picturesque gardens, such as Hidcote Manor and Painswick Rococo Garden.
History buffs will love visiting the many historic sites such as Broadway Tower and Sudeley Castle. The Cotswolds is also famous for its arts and crafts scenes with a number of galleries you can visit to see the local talent.
If you love a good meal, visit one of the traditional pubs, farm-to-table restaurants, or local food festivals where you'll find everything from good old pub grub to some seriously posh nosh.
A great attraction for those with families, the Cotswold Wildlife Park is home to more than 260 species of animals. Spend a day watching the Rhinos and the Lions, and take the small gauge railway from one end of the park to the other.
One of the UK's most beautiful cities, Bath is a great day out in the Cotswolds. Take a dip in the Roman Baths before exploring the amazing food and drink scene the city has to offer. End the day getting lost in the beauty of the architecture that Bath is known for.
This enormous country house is one of the most famous of its kind in the country. Learn about its history and take a stroll through the manicured gardens. Don't forget to check their events calendar to see if anything takes your fancy.
The Cotswolds is famous for its idyllic 'chocolate box villages'. Castle Coombe is often regarded as one of the prettiest. Used in multiple films and TV shows such as Bridgerton and War Horse, this village is a must-see while staying in the area.
Located in the Cotswolds rolling hills, Broadway Tower offers spectacular views. Alongside the tower itself, the site has a deer park, a small shopping centre and a unique cold war relic in the form of a nuclear bunker.
---
Hot Tubbing in the Cotswolds FAQs
Is it worth getting a lodge with a hot tub?
There's sometimes extra cost involved if you're going for an accommodation with a tub so you might be wondering if it's worth the extra cash. My family and I rarely book a place that hasn't got one these days as it adds so much value to the stay.
Sitting out on a night, going in when it's raining or just letting the kids have a mess around. The hot tub is like the central activity we all look forward to. I'd say go for it. And you can always find some deals on our special offers page.
Do hot tubs get cleaned before your stay?
I'd say it's very rare for a hot tub not to be completely drained, cleaned and refilled prior to your stay. In the properties I've stayed in, reviewed and the ones I've researched, they all clean the hot tub before the new guests arrive. If in doubt, check with the booking provider or owner before booking. But I'd say relax and you can expect pristine, clean and clear water!
Which is the best part of the Cotswolds to stay in?
As the Cotswolds is so huge, it can be daunting choosing an area. If you have any must-see attractions on your list, why not choose a lodge with a hot tub close to that destination? Or, for an ideal jumping-off point, stay at Cotswold Getaway Escape for stunning views and good access to the Cotswold highlights.
Can I spend a weekend in the Cotswolds?
Yes! While many people choose to spend a week or longer in the area, it is definitely possible to have a great weekend trip too. It's the perfect location to recharge and take some time away from the hustle and bustle of city life.
Are there things to do for families?
There are many attractions catered for families. Many of the country houses like Blenheim Palace offer activities aimed at families during the school holidays, and the Cotswold Wildlife Park is a must-visit.
Will my hot tub be ready when I arrive?
I would say 99.9% of the time you can expect your hot tub to be at the perfect temperature when by the time you arrive.
The exceptions to this are if the lodge uses a wood-fired variety where you might have to stoke the boiler yourself on arrival. This is rare however and most of the time it should be just right for your arrival.