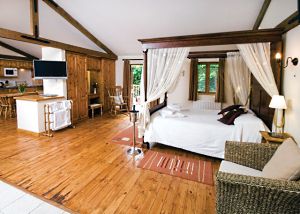 We stayed at Griffon Forest in York as a birthday treat and booked a couple of months beforehand.  We booked a Poachers Lodge as we had read some great reviews and we weren't disappointed.
The Poachers lodges have recently been upgraded since our stay with new leather sofas and furnishings and look even better!  The lodge was really charming and cosy with an open plan feel.
The four poster bed was really luxurious and there was a jacuzzi bath in the bedroom.  The only criticism we have of that is that there was never enough hot water to fill it to have a deep bath as it was so big!  There were "his and her" sinks too which added a modern and stylish touch to the bedroom, and there was a further sink and shower in the bathroom.
One of the best things as we drove up to the lodges was the complete feeling of seclusion.  The lodges are located in a built up forest area and you really felt like you could have been anywhere.  There was no traffic noise or anything like that – just the sounds of the birds singing and other guests around.  The wildlife was really amazing and we saw rabbits and squirrels regularly at our lodge.  There is also a badger cam in the lodge and one day we saw a badger disappearing down his den!
The hot tub was spacious and easy to use but when we arrived on the Friday night we were told it had just been filled and it wouldn't be ready to use until the Saturday morning.  This was a little disappointing as after a busy day we were looking forward to relaxing in the hot tub.  The reception staff were helpful and on the second day we hired bikes from there.  The routes around the park for walks and bikes were great and we really enjoyed been out and about in the fresh air.  Also at reception was a useful shop selling food and drink as well as gifts and books.
On the Saturday night we went to Tykes restaurant which you can walk to in about 5-10 minutes from the lodges.  You have to walk through a quite dark pathway to get there so take a torch and some comfortable shoes.  Despite this the restaurant is ideally located as you don't need to take the car.  Tykes is well known locally for the quality of the food and we had an amazing meal there.  They specialise in steak dishes although there was a good selection of other dishes on the menu too.  The restaurant was really welcoming with a nice atmosphere and a mix of families and couples.

Griffon Forest lodges are also well located for days out in York.  We drove into York on the Sunday and enjoyed a day sightseeing and shopping.  Although after the tranquil feel of Griffon Forest we couldn't wait to get back there on the Sunday evening away from the hustle and bustle and enjoy a drink in the hot tub.
We would say that these are the best lodges we have stayed in, in terms of setting and charm. If you wanted to treat yourself you could opt for the Poachers Premier Lodge which is more luxurious still.  On arrival at our lodge there were fresh flowers which was a really nice greeting.