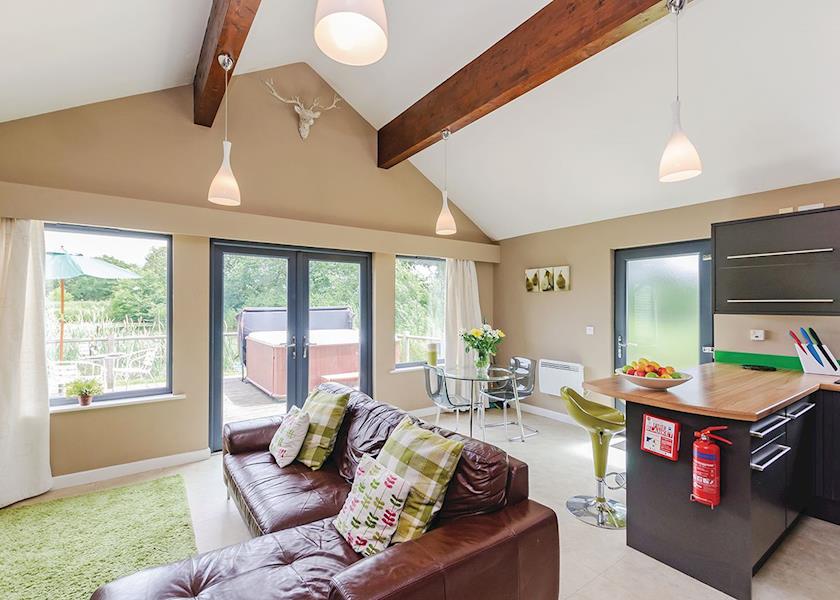 We visited Oakwood Lodges in York recently and stayed for a weekend Friday to Monday (3 nights).  On arrival at Oakwood we were really pleased at how tranquil the site seemed and we were greeted by a friendly receptionist in a small reception building at the entrance.
We were given an information pack and keys and directed to our lodge although we were not actually taken there.
The receptionist advised someone would be along to our lodge shortly to show us how the dishwasher and cooker worked and of course the all important hot tub.
Unlike other lodges we have stayed at the hot tub was ready to use as soon as we arrived.  After a busy day at work and then a 2 and a half hour drive to the lodges we couldn't wait to relax in the hot tub!  It was really easy to use and also very private with a small wall dividing each lodge.
One thing we especially loved was the view of the lake which was right outside out lodge and could be seen from the hot tub.  There is an abundance of wildlife in the area and from our hot tub we saw loads of bats in the evening flying around.
The lodge itself was really impressive with a large open plan living area and kitchen with flat screen TV.  An added bonus is that you can use the large TV for internet access too.  The master bedroom was really luxurious with a massive chandelier and huge comfortable bed.  We also had a bath and sauna in the bedroom.
The site was still under construction when we were there and we were situated in phase 1 – the only phase to have been built so far.  The next phases are being built a little further away although there was no building work going on and we weren't disturbed at all when we were there.
The only downsides were that there is no where to eat or drink on site and there is no-where really in walking distance so you need to have your car and make use of it during your stay.
We can't wait to return to Oakwood Lodges.  Highlights are the luxury lodges, the lakeside views and the hot tubs.  It's also easy to get to York from the lodges for days out shopping or sight seeing.  The lodges also seemed excellent value for money when compared to other luxury lodges in the York area for the same dates.