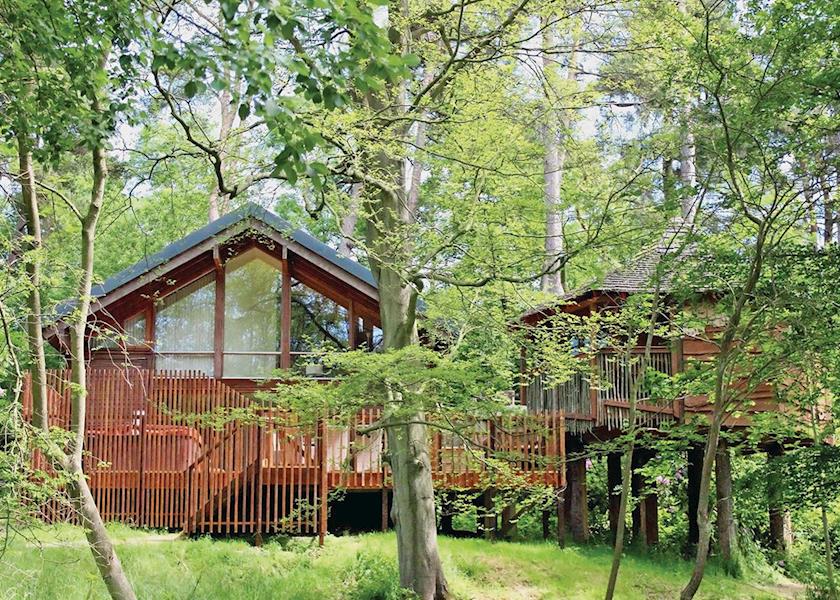 Fresh back from our stay at Keldy Forest lodges, it seems a good time to write about our amazing lodge holiday.  We were staying for 3 nights Friday to Monday.  The drive from our house to the lodges was exactly 2 hours which seemed just a nice amount of time to be travelling for a weekend.
Beforehand I had done some research on places to stop off for lunch about half way there.  I found a lovely farm shop and cafe called Roots.  It was a popular place and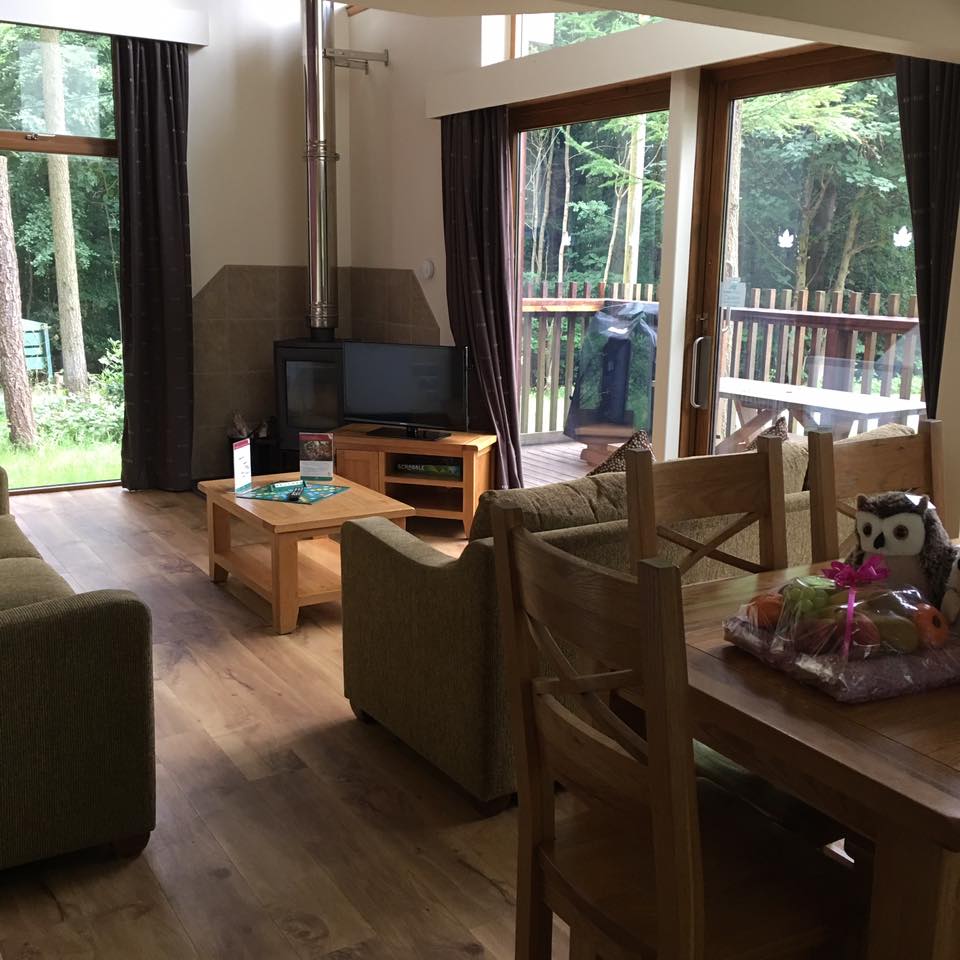 we had to queue and wait a while for a table but we took this as a good sign.  The food was lovely and our 6 year old and 3 year old really enjoyed the setting as they could have a run around in the court yard and see the cows.
After lunch we set off for Keldy which was an hour away from Roots, the drive was a nice one from there,  down a lot of country lanes and through little villages.  We got to Keldy Forest and followed the signs to The Hub/Reception.  The Hub is a lovely little area with the reception in the gift shop, and a cafe/bar opposite.  There is also a bug hotel there much to the delight of our little ones who love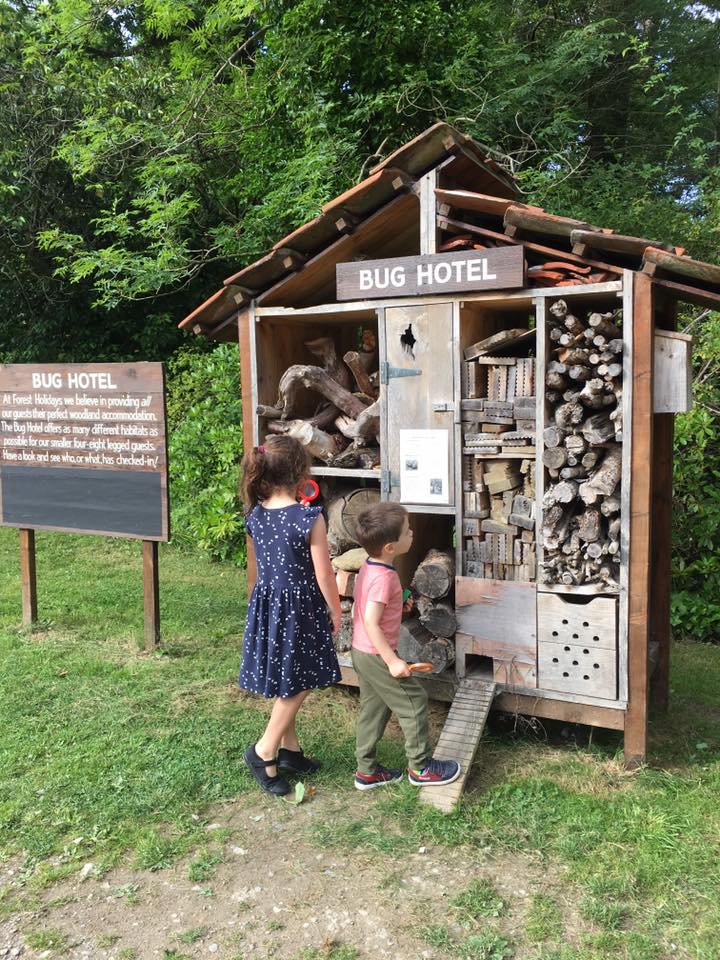 anything to do with creepy crawlies.
We got our key to lodge number 1, and liked the fact that we were on the end and the lodge seemed to enjoy a lot of privacy.  We also confirmed some of our pre-booked extras which were the Pizza Night and the Curry Night Packs.
You can book packs for nights in and have the food delivered fresh to your lodge at your chosen time.  This worked out really well for us, and we found it excellent value for money too at around £30 per night.  We booked Pizza Night for friday night and Curry Night for Saturday.  We chose to leave Sunday free as we were planning on going out for the day and didnt want to be tied to any times or plans to eat.
After collecting our key and information pack we headed straight to our lodge.  I loved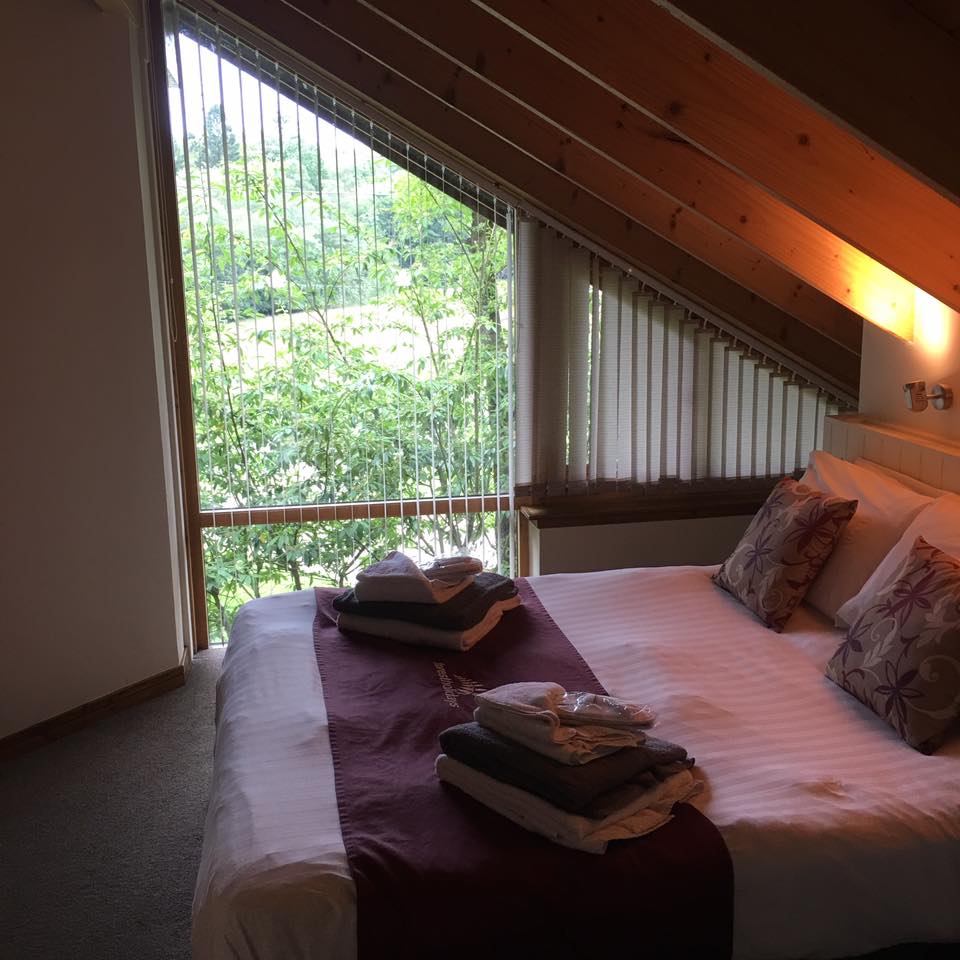 the fact that you can park right outside it, so really easy to unload and if you want to drive out anywhere.  The kids were super excited by this point but I managed to contain them for a few more minutes while I ran around the lodge taking photos before everything got messed up!
Eventually we all explored the lodge and it was fabulous, it really exceeded my expectations.  It was a Golden Oak lodge with 3 bedrooms, one downstairs room and two upstairs.  What really stands out is the floor to ceiling windows with lovely views of the woodland.
The master bedroom upstairs was especially nice with a quirky window and well designed bathroom and bath.  It had a really cosy feel to it.  The twin room next door had a "den" to the back of it, basically an area of storage space you could get to through a little gap and the children loved this.  Another highlight for them were the 2 cuddly toys called Bramble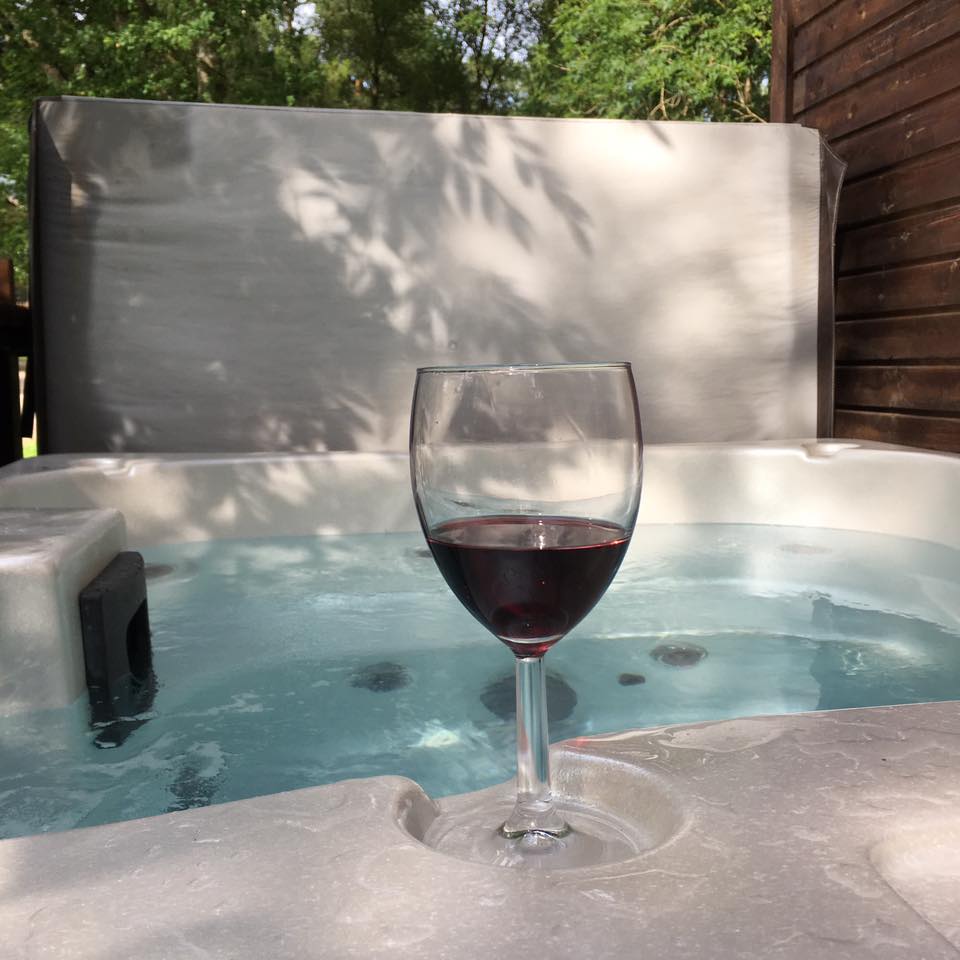 and Oakley which were waiting for them when we arrived.  We had pre-booked them at £12 each and felt they were well worth it as they got to take them home and they still remind them of their holiday.
Our 6 year old was eager to get in the hot tub so this was the first thing we did.  The temperature felt fine but I noticed it was even hotter the next day so it might take a day to get to the full temperature.
After the hot tub we had a walk to the play area to explore.  It was a brilliant space with lots of grass to run about on and swings, climbing frames and a slide.  After a play we went back to our lodge as it was time for the pizza to arrive!
The next day we spent the morning in the lodge and hot tub, and another visit to the play area.  We went to the cafe bar at the hub for lunch which was really nice.  It was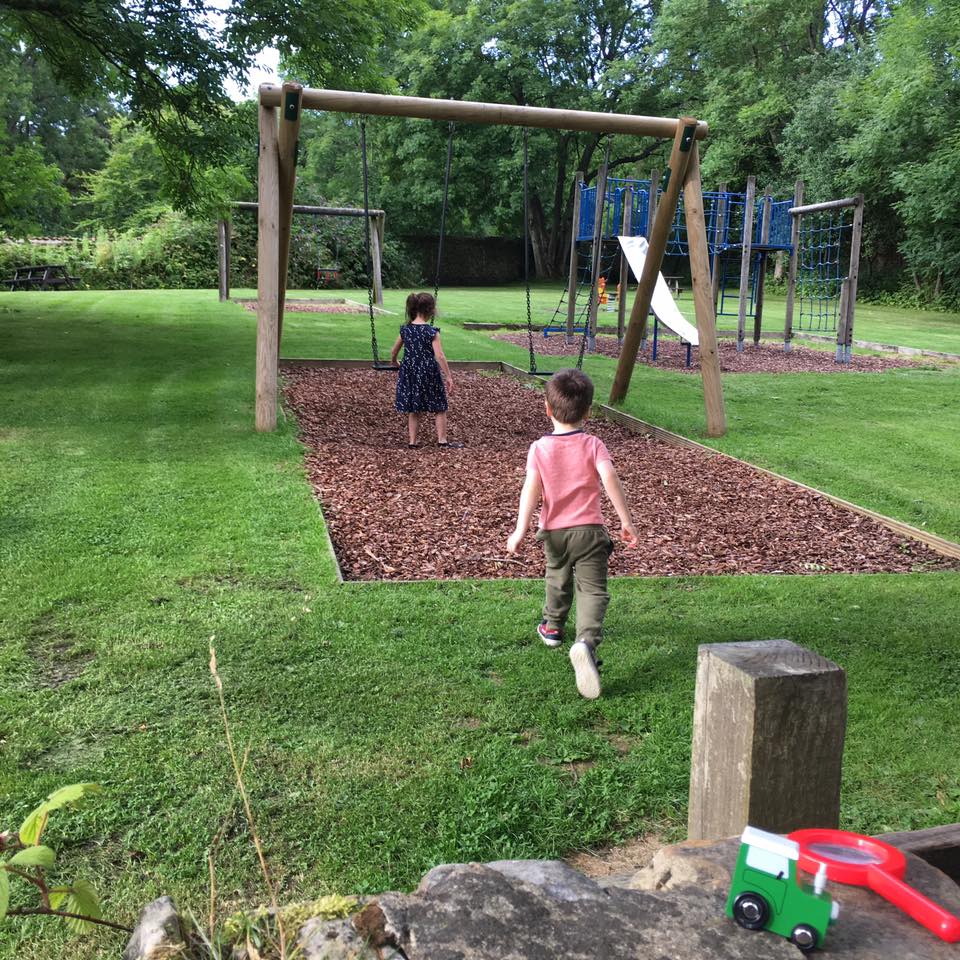 very quiet when we were in there, and had a welcoming atmosphere.  I noticed you could do pottery painting there at certain times too.   They do kids meals such as chicken nuggets, pizza etc and have a good selection of other food on the menu from burgers to curries.
Later that afternoon we had booked the Mini Forest Rangers activity which is a walk around the woodlands with a forest ranger.  Our ranger was called Robin and he was excellent.
There was only the 4 of us booked for the activity so it felt like a one to one, he was great with the kids and we all learned so many new things.  We did the longer walk which took about 2 hours and towards the end of the walk as we were nearly back at the hub a deer stepped out in front of us.  It was a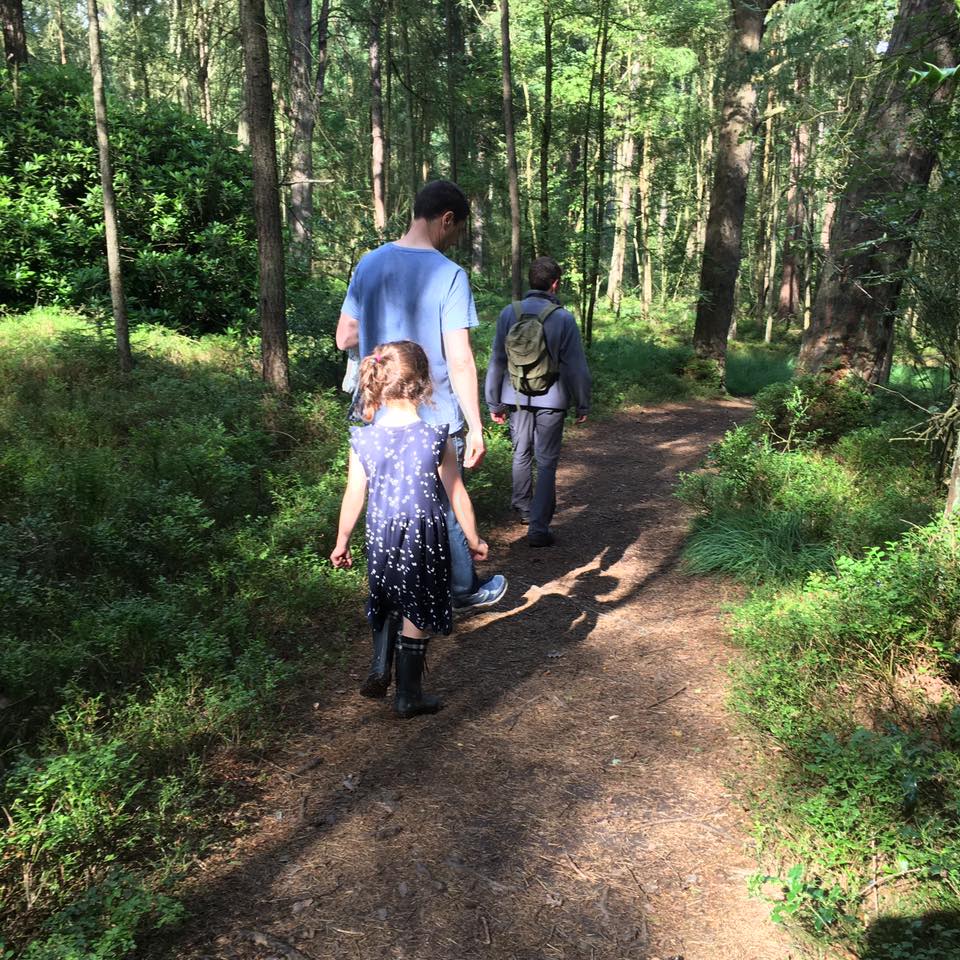 really special experience.
After the mini forest rangers the little ones were given their own ranger packs with badge, certificate and colouring in sheets with crayons.
A lot of people were using the BBQs on Saturday night as the weather was lovely, and the children from different lodges played together outside.  We also saw quite a few people walking their dogs past our lodge, it's a really per friendly park.  The cafe at the hub is also pet friendly with a huge jar of dog biscuits on the fireplace!
On Sunday we decided to venture out and explore the local area.  North Yorkshire is a gorgeous place with some lovely little towns and villages.  We took the steam railway at Pickering into Goathland where some of the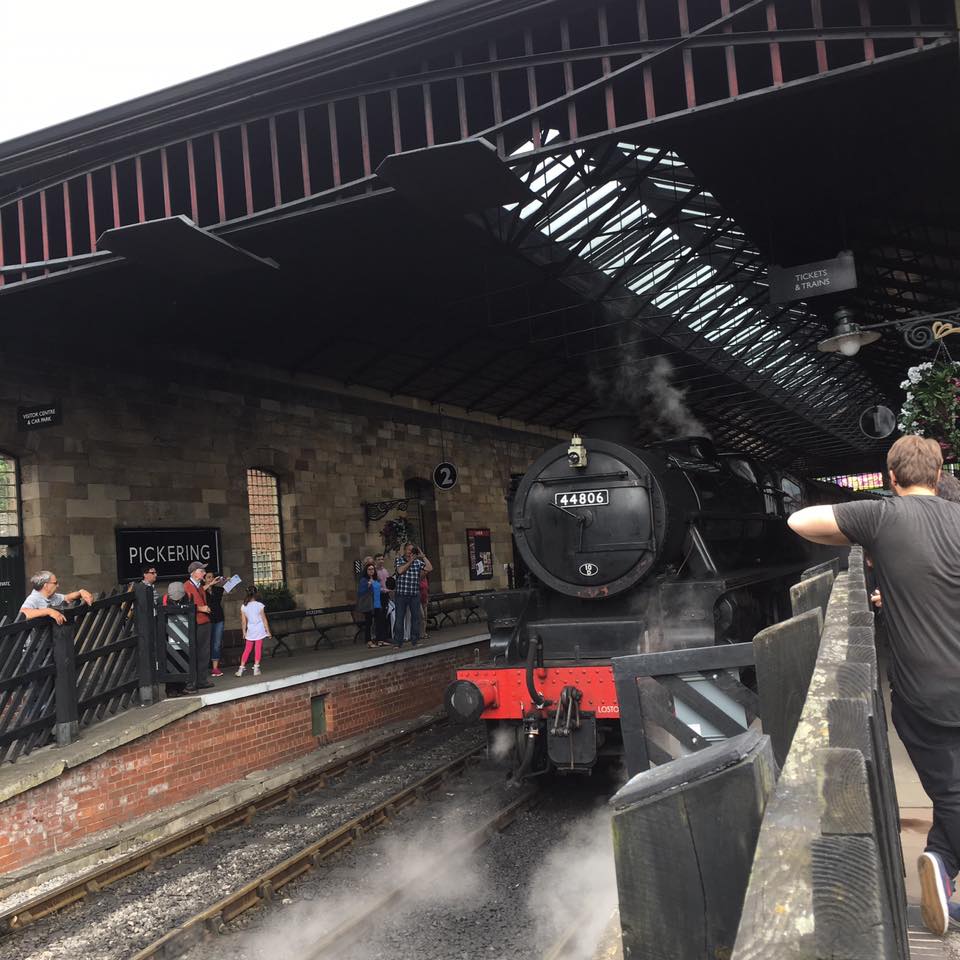 scenes were filmed in the early Harry Potter films.  Goathland station was Hogsmeade station in the films.  There were lots of references to Harry Potter in the area and a Harry Potter themed gift shop at the station.  Our 3 year old boy especially loved the train ride.  I'd never been on a steam train before so it was a new experience for us all.
You could hop on and off the train at different villages but we only really had time to explore one village properly.  There was also a 60s Fest going on so all the stations along the line had classic car displays, 60s bands and market stalls.
Goathland itself was an unusual place with lots of sheep roaming around, some village tea rooms, B&Bs and a children's play area.  We parked at Pickering station on Sunday morning and had an hour before our train so we got to see some of Pickering too, we walked along the main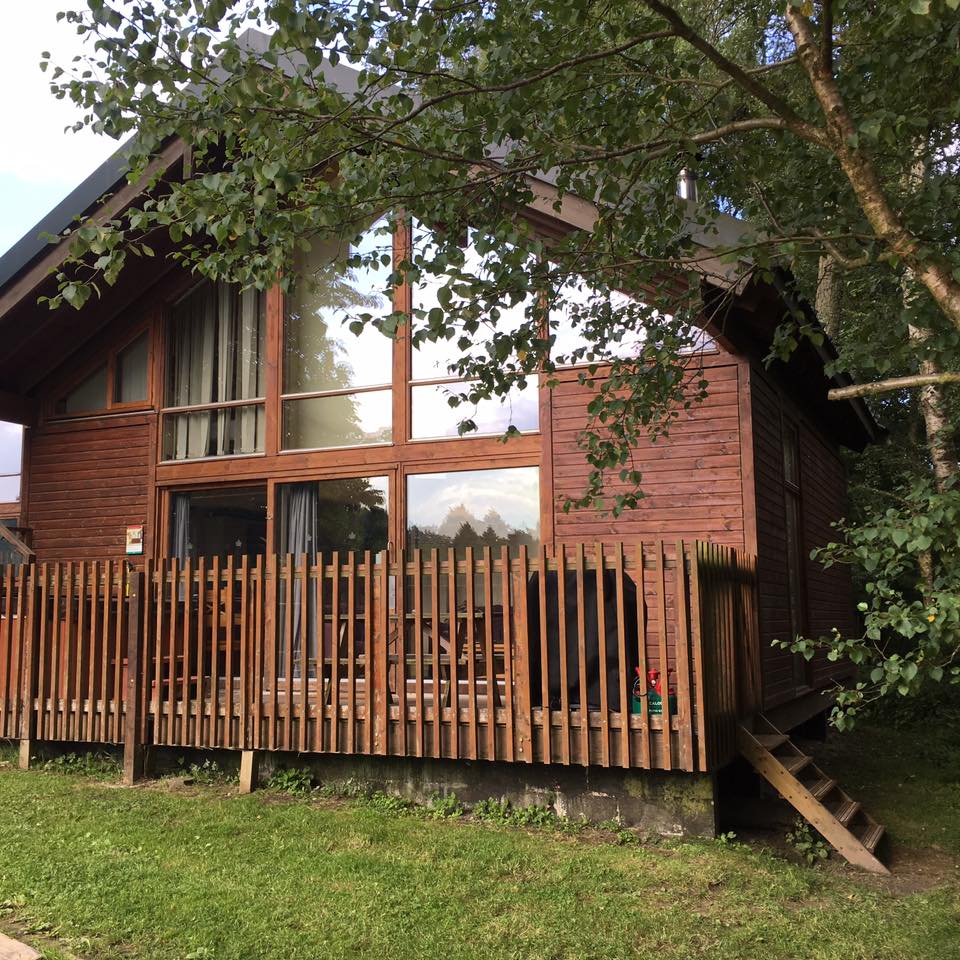 street and visited the Costa Coffee there which is housed in a lovely old building.
We really enjoyed our day out exploring North Yorkshire.
On Monday it was time to go home and we were all sad to leave Keldy Forest. Check out from the lodges is 10am.  It's been a brilliant adventure and we can't wait to go back.
We have already booked to go back in February and stay in one of their treehouse lodges which look amazing!