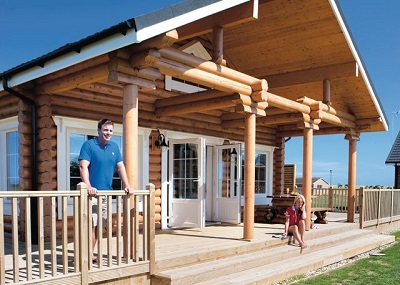 We visited Hornsea Lakeside Lodges for a 4 night mid week break in October and had a fantastic time!
Inside Hornsea Lakeside Lodges
The lodges are out of this world with hot tubs and high spec interiors.  We booked a Sandpiper Lodge which has three bedrooms and sleeps 6 in total.
We were more than happy with our lodge and it's probably the most spacious of any we have stayed in.
When we pulled up at Hornsea Lodges the first thing that strikes you is the design of the lodges which is very unique.  The real log exteriors make them seem like romantic hideaways and I would imagine they would be cosy even in the middle of winter.  The weather was just getting colder when we were there and the heating was excellent which you could control from a dial in the living room.
We found we didn't need to have the heating on for long before the whole lodge felt warm and cosy even at night.  There is also a wood burning stove which we didn't use ourselves but it would be a lovely touch in the winter.
When we walked into the lodge there was a real wow factor with the oak flooring and the leather furnishings.  The mezzanine level at the top gave the lodge a very grand feel.  As the lodge had three bedrooms there were also three bathrooms one of which was open plan in the upstairs bedroom.  There was one bath in the lodge in the upstairs bedroom and the other two rooms had en suite showers.
Lodge Setting
The setting of the lodges round the lake was pretty but there is still some building work going on around as this site is fairly new and more lodges are being built.  This did not disturb us at all as it was going on at the back of our lodge.  Although we could see the work being carried out we couldn't hear anything from the lodge or the hot tub.  The lodges are detached and really well spaced out.
Some thought has been put into the location of each lodge to make the hot tub area private.  This has sometimes been an issue with other lodges we have stayed in but there were no problems with privacy at these lodges and you could enjoy a relaxing glass of wine or beer in the hot tub admiring the views without anyone walking past.
Hot Tub
The hot tub was one of the highlights of the holiday and was accessed via the downstairs bedroom door and so you didn't have to parade around in your swim suit in the cold.  There were also plenty of clean towels provided – very necessary if you're using the hot tub most days or even a few times a day! We have stayed in quite a few lodges with hot tubs but we think this was the largest hot tub we have used.
Child Friendly
We had a baby with us and were pleasantly surprised with how child friendly the lodge was with covers on lower plug sockets and no glass furniture or sharp edges.  Our baby was able to crawl around safely and so I would imagine this would be the same for toddlers too.
Local Area
We found the local area to be safe and nice to explore.  In the local town of Hornsea there was a range of restaurants and these are all mentioned in the information folder in the lodge with telephone numbers etc.  There are also some local takeaways and we ordered from a Chinese takeaway one night.  We also noticed a nice modern bar which we didn't get to go to ourselves but would be great for couples.   Within walking distance of the lodges – about 5-10 minutes up the road – is Hornsea Freeport.  This is a factory outlet shopping centre with some well known shops and also a food court with local cafe serving fresh food.  It's attached to a lovely farm shop where you can buy locally produced food.  If you have children there is also an indoor play area with soft play.
Days Out
When we wanted to go further afield we enjoyed a few days out in Hull and York.  We went to The Deep in Hull, a fantastic aquarium with a nice restaurant up on the top floor.  You can get up to close to many sea creatures and there is a bubble lift which you can rind up in and see all kinds of fish swimming straight passed you.  It was a 45 minute drive to The Deep from the lodges and you can park right outside it in Hull so it's a door to door drive.
We went to York for one of the days and had a lovely time.  We can highly recommend Oscars for lunch.  However we found the journey to York from the lodges a bit far to do in one day, it took around 1 hour 20 minutes to reach York centre from the lodges.
Brilliant Holiday
We were really pleased with the lodges and thought they were better than expected when it came to the interiors.  The shopping centre being a short walk away is also a bonus.  We found the staff to be helpful and polite and we checked into the lodge without any delays or problems.  There is a security gate which reads your car registration plate and automatically opens to let you in and out so you don't need to ask someone to open the gate every time.
On the whole we loved our stay at Hornsea Lakeside Lodges and think this would be a brilliant holiday for families and couples alike looking for a peaceful and relaxing getaway.