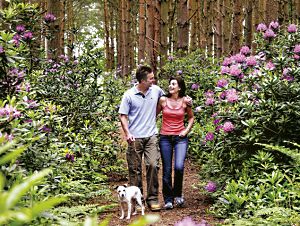 When it comes to pet friendly lodge holidays in the UK, then the heart of England is a good option with some holiday parks offering pet friendly lodges with private hot tubs.  Hot tub holidays are a great way to relax and unwind with many lodges in tranquil surroundings ideal for walking your dog.
Bluewood Lodges – Oxfordshire
These stunning and luxurious lodges are perfect for both couples and families.  With plenty of amenities on the park itself including bike hire, bbq hire and wifi this is a place to relax and spend some time re-charging your batteries. The Kingham Lodge sleeps 4 and is a pet friendly option if you don't like to leave your pet at home.  With a high quality finish, four poster bed, dishwasher and outdoor hot tub, this really is a lodge for the discerning guest. There is a maximum of one pet allowed and small breeds only.
Check Availability and Book >>
Ashlea Pools Country Park – Shropshire
This pretty park is ideal for a relaxing lodge holiday with a small Carp fishing lake and children's play area on site.  The Kingfisher Lodge Plus is pet friendly (maximum one pet) and offers luxurious and spacious accommodation.  There is one double and one twin bedroom with a bathroom and outdoor hot tub.
Check Availability and Book >>
Beaconsfield Park – Shropshire
This holiday park is great for families and couples alike and is particularly pet friendly with a dog exercise area on site.  There is also a swimming pool and steam room making this a great all weather holiday location.  The Caradoc Lodge is a luxury pet friendly lodge with king size bed and a twin room.  Mod cons include a dishwasher making this a real home from home.  The outdoor hot tub is a real bonus and an ideal way to relax and unwind.
Check Availability and Book >>
Quarry Walk – Staffordshire
This peaceful park provides an ideal base for exploring the Staffordshire region and you can take your pet along too as the Fox Lodge 4 is a pet friendly lodge with covered outdoor hot tub.  This timber clad lodge offers two bedrooms, one en suite and a family bathroom.  The park itself is a dog walkers paradise with 46 acres surrounding the park and plenty of nature trails and woodland walks to explore.
Check Availability and Book >>
Redbrick Lodges – Nottlinghamshire
These lodges would suit anyone looking for quality accommodation and plenty of outdoor activities including horse riding, cycling, golf and walking all in the local area.  The Moshannan Lodge sleeps 6 and is a pet friendly accommodation. A maximum of two pets are permitted.  Set over 2 storeys this lodge offers plenty of space as well as luxury.  With two double bedrooms and open plan living space this is a modern lodge and will appeal to many.  The outside decking with private hot tub is an excellent addition.
Check Availability and Book >>
Rudyard Lake Lodges – Staffordshire
These Staffordshire lodges are perfect for luxury holidays with your family including your pet.  The Meadowview lodge sleeps 4 and is a stylish lodge with four poster bed, en suite shower and one twin bedroom.  This is a really cosy and comfortable accommodation with the added bonus of a log burning stove and private outdoor hot tub.  Another option is the Watersview Lodge which is a larger lodge sleeping 6.  This lodge offers a four poster bed, another double bedroom and one with adult size bunk beds.  This lovely lodge also has a woodburning stove and outdoor hot tub. A maximum of two pets are allowed in the Meadowview lodge and a maximum of one in the Watersview Lodge.
Check Availability and Book >>
Please note that these lodges are pet friendly at the time of writing but are subject to change as holiday parks may revise their policies on pets at any time.