With its astounding beauty and endless attractions, it is not surprising that nearly 4 million holidaymakers flock to Cornwall each year. Whether you prefer the stunning rugged north coast or the idyllic paradise of the south coast, this county has something for families, couples and groups of friends looking for an extra-special getaway.
You've got a lot of choice here as there are more pet friendly lodges with hot tubs in Cornwall than most other counties thanks to the areas's huge range of activities, attractions and warmer climate than other parts of the UK.
Booking a holiday cabin, cottage or glamping pod here lets you forget the turmoil of daily life and relax into the easy-going Cornish lifestyle. Lazily sipping your cold pint of cider whilst watching the sunset surfers ride waves into shore after a long coastal walk is the norm here.
With award-winning restaurants like Driftwood and Olivers and famous bars such as The Rising Sun, Turo and The Old Quay Inn, Devoran to choose from, it's a paradise for a night out.
If fun family adventure is what you crave, then take a running jump (quite literally) into the world of coasteering where you will find yourself scaling low-level rocks and taking daring jumps into the sea. There are some incredible attractions here too like the Eden Project, Newquay Zoo and Flambards Theme Park.
After getting lost exploring the magic of Cornwall's charming towns and villages, including Mousehole, Polperro, and St Ives, look forward to heading back to your lodge and soaking that bubbling hot tub while your pet relaxes beside you. In 2023 there is a huge choice of dog-friendly retreats to choose from across the county. To make things a little easier we've listed some of our favourite places to stay below.
Why your pet will love it: There's loads of open space on-site here where dogs and owners can stretch their legs without having to drive out. You're right next to a choice of craggy coastal paths so your pet can enjoy exploring the coast with you. There are some amazing views here too.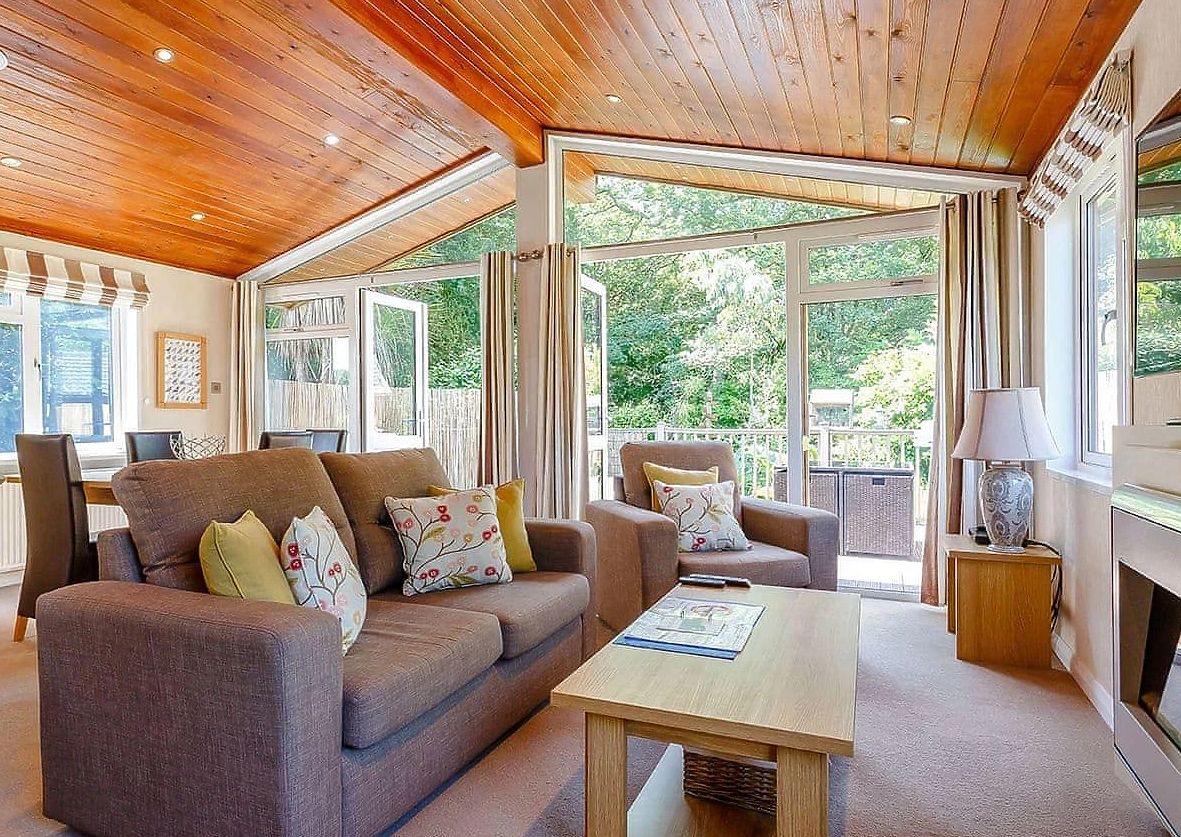 About the lodges
Nestled in amongst the trees, Willow Bay Country Park is situated just below the border between Devon and Cornwall, making it the perfect place to stay for those wanting to discover the striking Heritage Coastline surrounding the area. Just a short drive away is the old quarrying village of Crackington Haven, which is a popular spot for local surfers and tourists alike, making it the perfect beach to spend a happy afternoon on.
There are a number of pet-friendly lodges available at Willow Bay Country Park, including the Signature Spa Pet, the Bungalow Spa Retreat, and the Deluxe Spa Pet. Each lodge is entirely family-friendly with their open plan layouts and private outdoor areas. Better still, all three of these lodges feature a private hot tub for you and your family to enjoy!
Each lodge at Willow Bay Country Park includes a flatscreen TV with access to Freeview, a kitchen with a microwave and fridge/freezer, and bed linen and towels. The pet-friendly lodges accommodate up to two dogs, and with an abundance of beautiful walks nearby, your dog will have plenty of space to roam free.
Pet-friendly activities
Due to the holiday park's excellent location, there are many family-friendly things to do nearby, including visiting Tamar Lakes Activity Centre just under a half an hour drive away. Tamar Lakes provides a whole host of activities such as paddleboarding, canoeing, and kayaking. Why not hire bicycles and cycle around the upper lake?.
Explore Cornwall's rich history and head to Tintagel Castle to discover the legend of King Arthur and Merlin. Wait for the tide to go out and take the walk down to Merlin's Cave to let your children explore the magic within. Dogs are welcome on this historical site; however, they must be kept on leads.
---
Why your pet will love it: Tamar is extremely welcoming to dogs (and their owners!) with extremely dog-friendly policies. The park is situated in an Area of Outstanding Natural Beauty, providing a picturesque setting for you and your pet to explore. There are also a large number of cabins that accommodate canine companions.
About the lodges
Tamar View Holiday Park can be found right in the heart of an Area of Outstanding Natural Beauty, looking over rolling hills and lakes. The views here are stunning, and with your very own private hot tub to enjoy the views from, you will find no reason to leave!
Many of the lodges here accommodate two pets, including The Pentillie, Polperro Lodge, the Edgecumbe, and at a slightly higher price, The Cottage. Each lodge is equipped with a flat-screen TV, a microwave and fridge/freezer, showers, and towels.
Pet-friendly activities
Tamar View Holiday Park could not be in a better location, in fact many attractions are reachable either via short local train rides or by car. For example, take the 10-minute drive to the Tudor estate of Cotehele which features a medieval house, gardens, quay, and mill.
All areas of the Cotehele estate are dog-friendly with the exception of the house and gardens. In fact, there are miles of woodland trails to explore around the estate to keep both your family and four-legged friends entertained. Be sure to check out the National Trust's website for more information.
When your visit to the sanctuary is over, why not discover more of what Looe has to offer by heading into town, grabbing a fish and chips, and taking a walk along the Banjo Pier.
---
Why your pet will love it: …
About the lodges
Situated in equal distance from both the south and north coast of Cornwall, Caddy's Corner Lodges is the perfect place to stay for those wanting to experience all that Cornwall has to offer. Just a 20-minute drive away are secluded beaches, surfing hotspots, and beautiful walking trails waiting to be explored. However, be sure to bring a car, as these lodges are located in a very rural setting!
The six pet-friendly lodges house four to six guests as well as featuring a private hot tub to relax in after a long day of exploring the local countryside. All lodges feature a dishwasher, Wi-Fi, a flatscreen TV, all necessary kitchen appliances, and towels.
Three of these lodges (Bassests, St Mary's, and St Agnes) also feature a Bluetooth sound system, allowing you to further unwind and make your lodge feel even more like a home.
Pet-friendly activities
Hop in the car and drive 20 minutes to the coastal town of Falmouth located on the south coast of Cornwall. This town is famous for being home to the world's third deepest natural harbour and has a rich nautical history which can be discovered further in the National Maritime Museum.
As well as having historical charm, Falmouth also boasts an eclectic art scene which has been attracting art students and creatives alike since 1902. Immerse yourself into this creativity through browsing the free Falmouth Art Gallery which features a whole host of creative talent.
However, if relaxing on the beach is more your thing, there are plenty of beautiful beaches located nearby, such as Gyllnvase Beach, Castle Beach, and Swanpool Beach. Make sure to also visit Lizard Peninsula, the most southerly point of England, where you can climb to the top of the Lizard Lighthouse and view the sea below.
Alternatively, travel to the north coast of Cornwall and stop in the witchy village of Boscastle. This quaint village is home to the Museum of Witchcraft and Magic which plays tribute to magical practise in Britain. From here walk the two miles to St Nectan's Glen, a secret woodland spot which hides a 60ft waterfall.
---
Why your pet will love it: …
About the lodges
Found on the south coast of Cornwall in Helston, Whealdream Holidays and Leisure can be found just a five-minute drive away from Helston, the most southern working port in the UK. The resort itself features a restaurant and bar, children's play area, a golf course, and an onsite shop.
At this resort there are four pet-friendly lodges equipped with a private hot tub and outdoor space. Three of the lodges accommodate one pet, whilst the Wheal Jane Bungalow houses two. Each lodge contains a flatscreen TV, a kitchen and microwave, bed linen and towels. These spacious lodges are great for families and groups looking to unwind in a picturesque setting.
Pet friendly activities
If you feel like investigating the local area, take the 13-minute drive to Porthleven and get lost exploring the art and food stalls in The Shipyard Market. After you have picked up some tasty local produce and a souvenir, head over to Porthleven Harbour to watch the waves bring in fishing boats throughout the day.
This area is well worth a visit even when the weather is stormy as you get to watch the waves crashing in, creating magical scenes across the harbour.
Do not miss Loe Bar Beach, Cornwall's largest natural body of freshwater, as it is here that some believe King Arthur laid his sword Excalibur. This beach features a long sandbar separating the sea from The Loe lake, making it a very unique and scenic place to visit. This beach is reachable by either car or via a 35–40-minute walk from Porthleven.
However, please note that swimming in this area is not recommended as the tide can be very strong, and according to local legend, the water is cursed!
---
Why your pet will love it: …
About the lodges
Landal Gwel an Mor is a multi-award-winning countryside resort featuring an indoor heated pool, a spa and gym, a terrace restaurant and bar, a soft play area and much more! Although slightly more expensive than the other options in this list, Landal Gwel an Mor, which literally translates to 'view of the sea', really does have it all.
What's more, your booking comes with free unlimited swimming, free unlimited sauna and gym access, and one free entry to the soft play area!
At this resort you have a choice between three types of lodges: Luxury Eco Lodges, Lakeside Lodges, or Scandinavian Lodges. The Luxury Eco Lodges have been designed in an extravagant yet environmentally conscious way, which is reflected in both the setting and the lodges themselves.
The Lakeside Lodges are situated just a few meters away from the edge of the lake, with both a private decking and a hot tub, and are the perfect place to relax whilst watching the sun go down. The Scandinavian Lodges are decked out with exquisite wooden features and two private terraces.
Six of the lodges in this resort house up to two pets, and to keep your furry friends comfortable, they will be provided with a dog bed and a tennis ball to play with.
The most expensive of these is the Heligan 4, an eco-resort accommodating up to eight people with two master bedrooms and two twin bedrooms. Both air-conditioning and a Sonos Soundsystem have been subtly fitted in amongst the cosy features, adding to the homely feel of this lodge.
All lodges at Landal Gwel an Mor have their own private outdoor decking and sun terrace with a hot tub from which you can enjoy panoramic views across the park and the fishing village of Portreath below.
If all this relaxing isn't quite enough, make sure to book yourself in for a treatment at the Wellbeing Spa.
However, if you do find yourself needing a break from all this relaxing, then hire e-bikes and cycle around the grounds and surrounding areas, or play a fun family game of tennis on the available courts. Alternatively venture out on a half-hour walk to the four surrounding coves, including the dog-friendly Basset's Cove with its crystal-clear waters and sheer cliffs.