We've been putting together our Top 5 Lodges with Hot Tubs in the Lake District! It's been so difficult to choose the best out of a fantastic selection but we've made our decision and here are the results…
1. North Lakes Lodges
At the top of our list areNorth Lakes Lodges. From the breathtaking views to the fabulous on site bar and restaurant this is a first class base to explore the Lake District.
The holiday experience has been described as "exclusive" and this could be down to the uber stylish lodges themselves or the setting tucked away in the Brayton Park Estate.
North Lakes Lodges would really suit anyone looking for a romantic retreat and there are pamper packs available to order. The pamper pack for couples includes Champagne, flowers and chocolates – sounds delightful, right?
You can also treat yourself to in lodge massages and spa therapies. The ultimate place to relax!
The lodges themselves are spectacular. We love the Dawrin Retreat Lodge which sleeps 2 and has a private hot tub and wood burner. The Wordsworth Lodge is also stunning with a little more space and sleeps 4. This one would be perfect for families.
2. Hillcroft Park
This gorgeous little holiday park has made it so high up the list partly due to the beautiful location close to Ullswater. Ullswater has always been a favourite area of the Lakes.
Lodges at Hillcroft Park would really suit families looking for somewhere upmarket to stay while exploring the gorgeous region of Cumbria and the Lakes. There is a Children's Play Area which is always a hit with the little ones.
Close by there are plenty of great options for days out including the Rheged Visitor Centre and The Ullswater Steamer.
You will also find loads of outdoor activities right on the doorstep of Hillcroft Park including cycling, walking, fishing, sailing and canoeing.
From the lodges you can walk to Pooley Bridge which is one of the most charming villages in the Lake District.
The Clearwater Lodge is a stunning and modern lodge with a king size double room and two twin rooms. Great for larger families. We also love Meadow Croft Cottage which sleeps 6 and comes with hot tub and wood burner.
3. Avon Wood
This holiday park enjoys a quiet and secluded location and overlooks Lake Windermere. There is so much to love about this area and of course the lodges themselves.
With private hot tubs, the lodges would be ideal for romantic getaways in the Lakes.
This place will especially appeal to anyone who loves wildlife and nature as the scenic woodland is perfect for this. One of the fantastic things about Avon Wood is the private lake frontage and guests can even bring their own canoes!
Coniston Retreat is one of the most popular lodges sleeping 2, with a lovely setting and outdoor hot tub. We also love The Retreat which offers amazing lake views from the hot tub.
4. Meadow's End Lodges
Next on our list are Meadow's End Lodges. A collection of luxury lodges nestled in beautiful Meadowland. Even better, this area also boasts a David Bellamy Gold Conservation Award.
Just 15 minutes walk will bring you to Cartmel Village and a top tip is to try the sticky toffee pudding there! This cute village is famed for it's food markets and race meetings.
One of the top lodges with hot tubs in the Lakes, this would be a wonderful choice for a romantic stay. You can book the Deluxe Papmer Package prior to arrival and this includes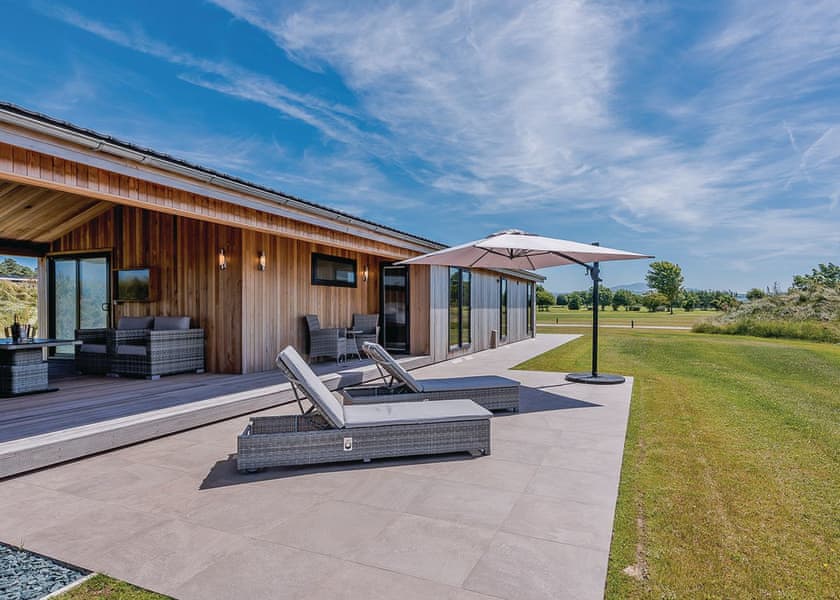 Champagne, fresh flowers, chocolates and bathrobes. A brilliant addition to make your holiday extra special.
Ewe Lodge has received amazing reviews from previous guests and would make a lovely romantic retreat for couples. And of course you have the addition of a private hot tub.
5. Kewsick Reach Lodge Retreat
These award winning lodges have been voted Best in Britain and they are a delightful base for any holiday, whether you're looking to stay with friends, family or your other half.
The lodges at Kewwick Reach Lodge Retreat are all decorated with very stylish interiors with lovely outdoor decking areas and amazing views.
The Coleridge Premier is a luxury lodge sleeping 6 and it's even pet friendly too! The Walpole Premier Select is also a wonderful option as it has one of the best locations on the retreat.
Previous guests have praised the beautiful surroundings and the wild flower fields. There is an on site bar and restaurant serving delicious food.
Although there are other lodges with hot tubs in the Lake District these are our top 5, chosen based on quality, location and guest reviews.
The Lake District is undoubtedly one of the most beautiful areas of the UK and combined with a fantastic lodge with hot tub you can be sure of an outstanding and memorable holiday.