Top 5 Lodges with Hot Tubs Near Edinburgh Zoo 
Woop Woop a trip to Edinburgh Zoo is always an exciting getaway but where is best to stay?  You don't want to be too far and yet you might want somewhere more peaceful than the city centre and if you're travelling with family then you might want to stay in a lodge with a hot tub with plenty of space and with self catering facilities.  We've been looking for the best places to stay if you're looking for a lodge with a hot tub near Edinburgh Zoo.  Read on for our Top 5 hot tub holidays in this gorgeous area of Scotland.
Thurston Manor – An idyllic Scottish setting for a relaxing holiday
Dunbar, East Lothian, Edinburgh
These fantastic lodges are situated within a 175 acre park, nestled at the foot of the Lammermuir Hills. Edinburgh is only a 45-minute drive away, making it the ideal spot for discovering the thriving city and seeing the resident animals at the zoo. The site itself boasts an indoor heated pool and sauna, where guests can unwind after a day exploring iconic Scottish locations. For those wanting to try something new, or practice a well-honed skill, there's a fly fishing lake on site. There's an eclectic mix of lodges, all varying in styles and size. There's guaranteed to be the perfect base for all groups, whether that's a couple on a romantic holiday, or a family's summer holiday. Every lodge has a spacious open-plan living, kitchen and dining area, decorated with care so that guests can instantly feel at home. The kitchen is well-equipped, and home-cooked meals can be enjoyed on the deck outside. Here is also the hot tub where guests can take a relaxing soak in the evening. A good night's sleep is guaranteed in the comfortable bedrooms at the rear of the lodge.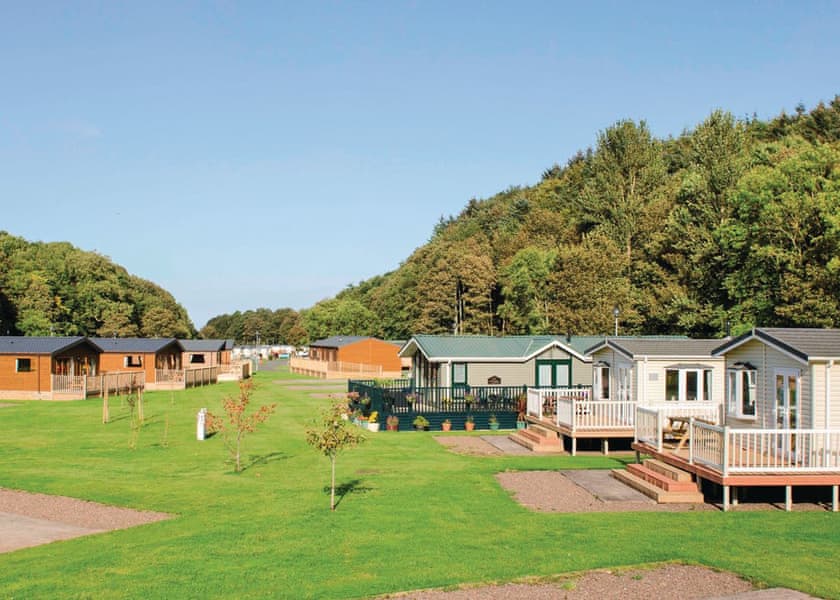 The Lamont at The Airhouses – Luxury meets rustic charm
Situated near the Pentland Hills, this stunning lodge offers a truly stylish holiday. The architecture of the lodge is fantastic, from the vaulted wooden ceilings to the wall-length windows which perfectly frame the country views. Enjoy the breath-taking views from the sitting area, where the windows provide an incredible backdrop to relaxing on the comfy sofas. There's also garden furniture and a hot tub outside for guests to absorb the panoramic view. Just behind the living area is the dining table, ideal for sociable home-cooked meals. The kitchen has everything you'll need to rustle up a good meal, as it's spacious and fully fitted. In this lodge there are three bedrooms, accommodating six guests. All three bedrooms have en-suite bathrooms. There are other lodges available on this site, including The Ramsey for four, and The Lodge for two.
See The Lamont at The Airhouses Deals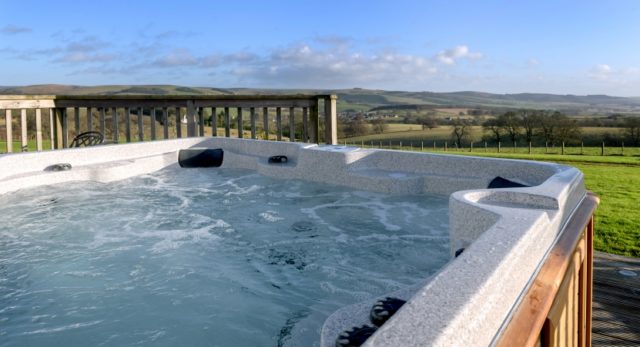 Coldstream Holiday Park – Quirky pods on the border
Coldstream, Berwickshire
This site is right on the Scottish border, but Edinburgh still remains easily accessible for a day trip, being just over an hour away in the car. It's the ideal place for a family wanting to explore an array of Scottish scenery, from its beautiful beaches to the vast forests. There's a mix of pods and holiday homes here, so there really is something for everyone. Mega Pod 2 VIP offers glamping in style; a self-contained modern pod boasting a hot tub outside and veranda. It provides everything needed for a short stay, including a mini-kitchen and bathroom with a shower. Swift S Pod is slightly bigger, sleeping six, and is just as luxurious. For those wanting a bit extra room, Swift Bordeaux is a lovely holiday home featuring a stylish design and a spacious interior. There's two roomy bedrooms, both of which are fitted with modern yet comfortable furnishings. The hot tub outside is the perfect place to relax in the evening after a day exploring.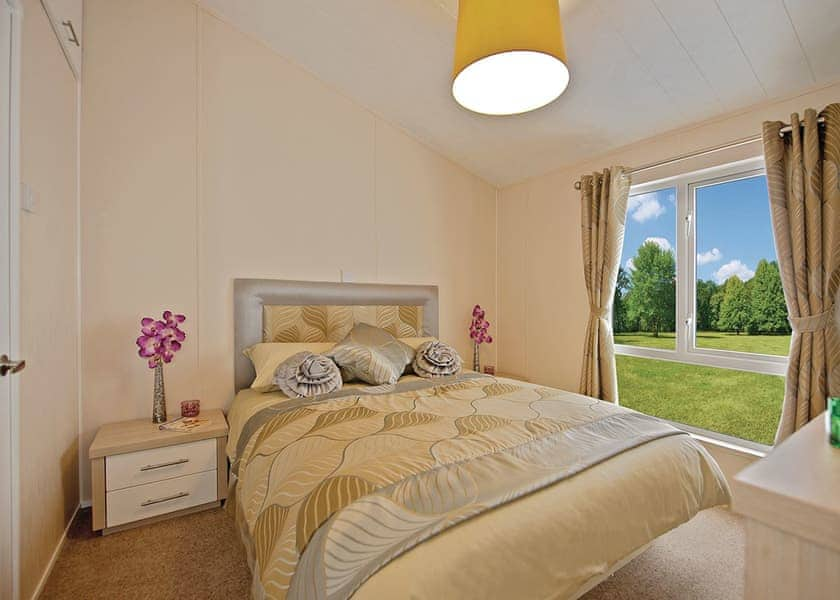 Wee Gem Cottage – A lovely cottage for a family holiday
Edinburgh, Scotland
Edinburgh is only a 30-minute drive from this quaint cottage, so is perfect for those wanting to primarily explore the city when on holiday. Sleeping six, it would be ideal for a family holiday or a getaway for a group of friends. The décor inside has a real rustic charm, the furnishings cosy and homely. It makes it easy for guests to settle in and enjoy their holiday. In the living room there's also a log-burning fireplace for the ultimate cosiness in the evening. The kitchen boasts a sleek and contemporary design, perfect for self-catering. Enjoy an informal meal at the breakfast bar, or eat together in the dining room. The bedrooms have plenty of storage space for its residents, and the beds themselves are large and comfortable for a good night's sleep. The lodge also has two bathrooms, one of which has a bath. Guests also have their own private patio area where there's garden furniture and a hot tub.
Drummohr Lodges – Tranquillity and peace guaranteed
Musselburgh, East Lothian
Situated right by the sea, these lodges have a stunning surrounding landscape for the ultimate relaxation. Edinburgh is also only a 25-minute drive from the site. The lodges available here sleep four to six guests, so it's the perfect site for a family's Scottish adventure. The lodges have been designed with comfort in mind, creating the perfect space for guests to settle into and feel at home. With open-plan living spaces and windows all around, they feel airy and light. The living area is home to comfortable sofas and a flatscreen TV, where guests can snuggle up in front of a film in the evening. The kitchen is situated just behind the living space, where there's everything you'll need for home cooking. Outside, there's a veranda for sitting and soaking in the sun and even enjoying an al fresco meal. This is also where the hot tub is located. Every lodge also has a large bathroom, easily accommodating all guests.