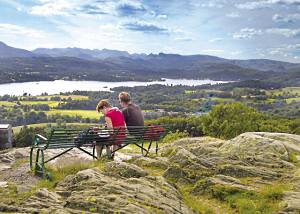 Holidays in Cumbria are a real delight for the whole family. The area is blessed with wonderful beaches, dramatic scenery, stunning countryside and easy access to the Lake District National Park. There are many options for fun family days out too with everything from theme parks to aquariums within easy reach. As well as family fun parks, farms, nature trails and aquariums the area is also one of great historical importance and there are many sites to explore. Museums, galleries, castles and forts are all at your fingertips in this diverse region
Theme Parks
The World of Beatrix Potter is one attraction not to be missed. The park takes you on a magical journey through the 23 Peter Rabbit tales bringing them to life with amazing sights and sounds. Most of the attractions are inside making it a great choice for a rainy day. Children will love to meet Peter Rabbit, Jemima Puddle-Duck and all their friends and on sunny days you can also enjoy the new Peter Rabbit Garden. Why not make a day of it and stay for lunch? The family-friendly Tea Room serves delicious food using only the freshest produce from the garden. There is also a shop which is packed with Peter Rabbit gifts and souvenirs.
Rheged in Penrith is an award wining attraction. The Rheged Centre is a family run business which has really earned its excellent reputation and is now one of Cumbria's top attractions. Inside the centre you will find a cinema and large indoor play area. Places to eat in the centre serve only local produce where possible and the shops are also stocked with local goodies. The pottery and craft room is an excellent addition and you can enjoy crafting as well as buying souvenirs. The outdoor play area is perfect for the warmer months and features turrets, tunnels, a Roman fort, Celtic roundhouse and a giant slide.
Nature
Lakes Aquarium in Ulversotn is one of the areas largest aquariums and is a good choice for a day out which is educational as well as fun! Inside you will find 30 spectacular, naturally themed habitats aimed at showcasing the wonders that lakes have to offer. Within the tanks you can see many types of fish including pike and eels. The top attraction is possibly the adorable otters who have a specially designed woodland home here. Other attractions include a mini-mammals area where you can learn about the nocturnal habits of harvest mice and brown rats and the incredible underwater tunnel which allows you to see the specially recreated Windermere lake bed through a fish's eyes. The children's quiz trail allows children to test their knowledge and see how much they have learned.
Trotters World of Animals Perfect for children of all ages the family friendly park is home to hundreds of animals. There are plenty of species to meet and learn about including some rare and endangered species as well as birds of prey and reptiles. Many of the attractions are undercover so there is no need to let the rain spoil the fun! Children looking to run off some energy will enjoy the "Clown About" soft play and indoor climbing area. Suitable for children aged between 4 and 12 there are two levels of walkways, bridges, slides, and ball pools as well as a separate toddler area. Adults can relax and enjoy a relaxing drink or snack while the kids are having fun.
Walby Farm Park only opened its door in 2008 but is already one of the most popular family days out in Cumbria. Packed with both indoor and outdoor fun the farm is a real treat for children of all ages. One of the best features is the indoor play area which is the largest in Cumbria. Outside you will find several outdoor play areas and of course being on a farm you can expect to meet lots of cute and cuddly animals as well as some not so friendly creatures!  The nature trail is a great option on a warm day and you can get out and explore what the area has to offer in terms of wildlife, flora and forna. Children who still have energy to burn can take advantage of the swings, trampolines and amazing aerial slide. Other attractions include go-karts, an off-road Land Rover driving course and a range of agility equipment.
History and Culture
Honister Slate Mine is a good place for those looking to delve into the regions' history with fully guided tours which take you deep into the mine itself. While exploring the mine you will learn about the history and be able to see first hand some of the amazing feature. As well as looking into the past the tour will also show the current workings of the mine and explain the way in which modern and traditional methods are bought together to extract the slate today.
Muncaster Castle is perfect for families. The site offers a comprehensive program of events throughout the year with many child friendly events taking place during school holidays and at weekends. One event not to miss is the Festival of Fools which offers five days of entertainment. August sees the Summer of Fun event which has different activities taking place each day of the month.  Muncaster is thought to be one of many haunted castles in the UK. Once home to the Pennington family for 800 years it is thought some of their spirits still roam the site today! As well as the magnificent castle there are 70 acres of gardens to enjoy and an indoor children's Meadow Vole Maze. More recent additions include the interactive computers where children can learn of the history of the castle. Muncaster is also home to the World Owl Centre and you will get the chance to really get up close and learn more about these fascinating birds at the daily display.
Nenthead Mines are one of the only remaining reminders of the industry which dominated the area for so many years. You can enjoy a fascinating tour where you will lean about the working of the mine, its history and about the lives of the people who worked so hard there. Features include the underground network of tunnels and the 'Power of Water' exhibit.
Cars of the Stars Museum. This fun Museum is packed with famous vehicles from favourite TV shows and movies including Chitty Chitty Bang Bang, James Bond, and Only Fools and Horses. As well as the cars and motorcycles on display there is a large collection of autographs from famous people. Each of the vehicles is displayed in its individual film set complete with lighting and sound effects which make for a really unique experience. There is also a small selection of children's rides.
South Tynedale Railway Showcases Preserved steam and diesel locomotives from Britain as well as from overseas. The trains run from Alston Station which is dizzying 875 feet above sea level! Along the trail you can enjoy the stunning scenery in style. In recent years the line has been extended there are plans in pace to extend it even further. As well as the delight of the journey you can also enjoy a tasty snack and there is a shop where you can pick up a souvenir.