They say to start the New Year as you mean to go on, so if you're planning to travel as much as you can when restrictions are lifted, why not ring in 2022 in a new place? We've picked out lodges with hot tubs for New Year that your fellow holidaymakers love!
These five lodges all have visitor ratings of above 9.0 and are all perfect for a New Year's escape, whether you want a quiet night in or a base to explore big city celebrations from.
St Andrews Forest Lodges, St Andrews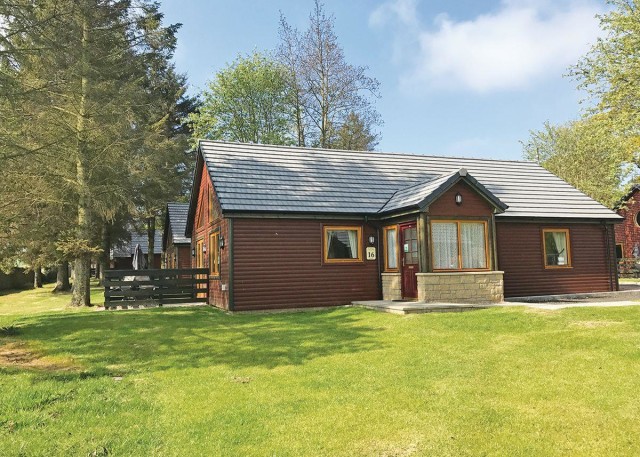 Why not ring in New Year in Scotland, the home of the Hogmanay party? St Andrew Forest Lodges are a countryside escape on the gorgeous Scottish coast. These lodges are perfect for a family getaway, with a choice between two or three-bedroom holiday homes. Each room is spacious and full of light, with rustic wooden panelling to add rural character to your stay. What's more, if you open up the French doors in your open-plan living space, you'll find an enclosed outdoor patio and a private hot tub!
The setting of your New Year lodge is idyllic for a refreshing break in the countryside. Wander the site's tree-lined park with views of the coast right on your doorstep. It's only a five-minute drive to St Andrews' stunning beaches – and their New Year celebrations. If you're looking to spend Hogmanay in a bustling location before escaping back to your coastal paradise, then St Andrews' Forest Lodges are only an hour from lively Edinburgh. And of course, if you fancy a spot of golf on New Years' Day, the revered St Andrews' Links is within walking distance of your front door.
Ardgarten Argyll Lodges, Southern Highlands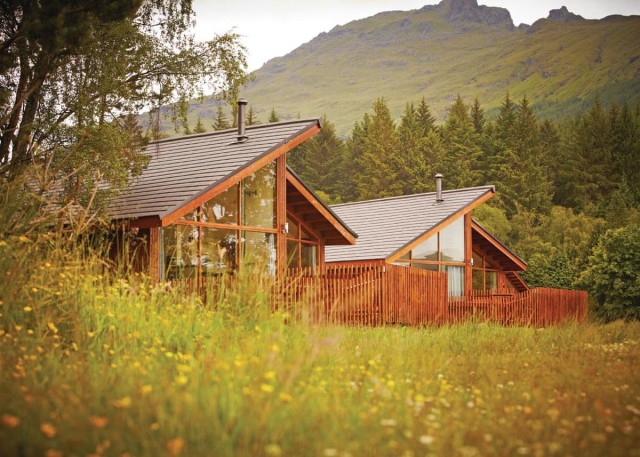 These spectacular lochside lodges are ideal for any nature-loving family looking to ring in the New Year in the paradise of the Highlands. Kick back and relax in your choice of a stylish one, two, or three-bedroom lodge, all self-catered for a holiday filled with freedom. Rustle up a hearty evening meal in your well-equipped kitchen, and enjoy it in the comfortable living room with a favourite show on the flat-screen TV, or escape to your outdoor patio and watch the sun go down over the loch. Don't forget to try your luxury hot tub!
There's plenty of activities to keep you busy on your New Year break. Explore the many forest walks and cycle trails with nature views unique to the Highlands. Check the opening dates for an assortment of on-site activities – why not spend New Year's day fishing in a stunning loch, having some family fun in a canoe, or zooming around the hills on a mountain bike?
Kittys View Country Lodges, Cheshire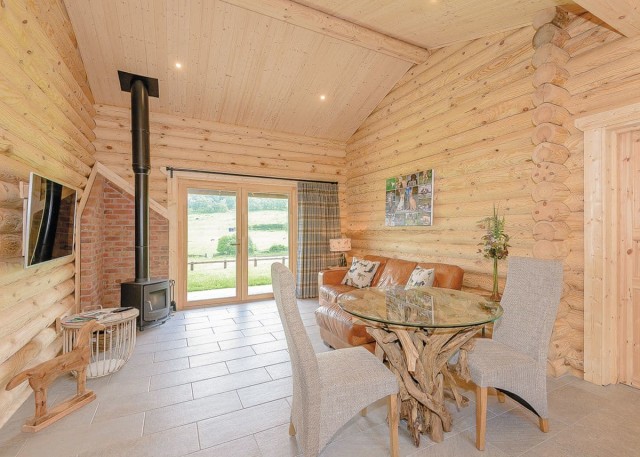 Embrace the beautiful countryside enveloping these boutique rustic lodges. Whether you're planning a little family getaway for New Year or a celebratory romantic escape, Kitty's View Country Lodges offer a choice between one- or two-bedroom lodges to suit your every need. Each cottage is packed with country charm thanks to the thoughtful plaid décor, the sweeping log-fire chimney, and the log cabin-style wooden walls.
Each lodge features a spacious outdoor patio and a lovely hot tub with sweeping views across the unspoilt Cheshire hills. There's plenty of walking routes to explore if you venture into those hills for a bracing New Year walk. Or, if you want to go a little further afield, Delamere Forest's unique restored wetlands are only a short drive away.
Otter's Mead Boutique Lodges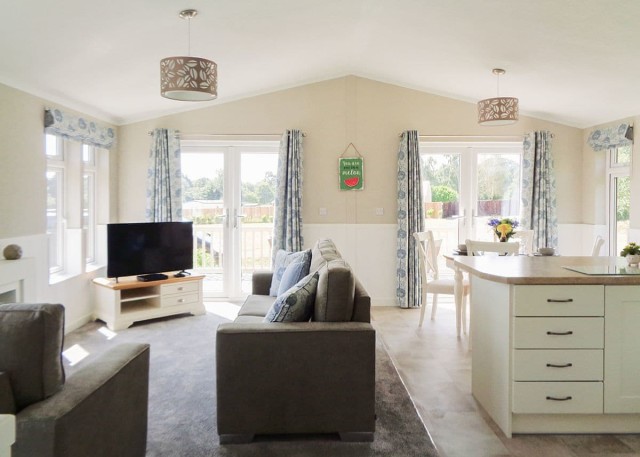 These gorgeous lodges, nestled in the peaceful Norfolk countryside, hold a perfect mix of style and cosy relaxation. Take your pick of the two- to six-bedroom luxury lodges on offer, depending on whether you're looking for a big family New Years or a special quiet night with your loved ones. Relax in the airy living area and enjoy the sun streaming through the large windows and French doors, or sit on the veranda and take in the nature-filled views. Each property boasts its own deluxe hot tub to top off your New Year break.
If you want to explore the surrounding area while you're on your holiday break, these holiday homes are the perfect base for you. Why not take a trip to the long sandy beaches of the Norfolk coast? Or visit the historic city of Norwich for a New Year night out you'll never forget.
Beech Tree Lakes Lodges
Escape to the heart of pretty South Yorkshire for a romantic New Year's holiday in these contemporary lodges carefully decorated with country charm. Each two-person cottage is bright and peaceful inside, with thoughtful touches like a rustic-style kitchen and matching colour notes in the living space. Take your morning cup of tea out onto your private patio to enjoy your garden space, or sink into your hot tub as the sun goes down.
The nearby city of York is a must-see over New Years, with a fantastic fireworks display and stunning covered streets to stroll down. Or venture into the Peak District for a New Year's Day walk over rolling hills and sweeping valleys, before stopping off at a traditional inn for your first pint of the year.