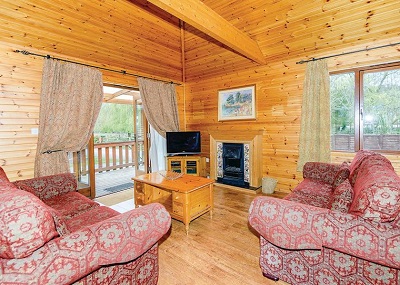 We love this secluded park, set in an Area of Outstanding Natural Beauty and comprises a group of luxurious lodges surrounded by scenic walking trails and natural beauty spots.
It's the perfect spot for a relaxing holiday, and with trains running regularly from the market town of Farnham, you can enjoy day trips to London and the historic city of Guildford.
If you enjoy spending time outdoors spotting wildlife, Tilford Woods Lodge Retreat is for you. It has its own family of ducks that are always ready to be fed and there's even an insect hotel. You can order a pamper pack on arrival and sample locally produced wine, flowers and chocolates – and if you want a relaxing evening on the verandah, simply hire a barbie and stay in.
The Falkner Watersedge Lodge is a luxury lodge with a king size four poster bed. It also has a spa bath with an overhead shower and sauna! It's in a wonderful location, overlooking the secluded pond, and with a good sized wooden decked verandah complete with outdoor table and chairs, it's the perfect spot for enjoying a break in the countryside.
The Devil's Punchbowl is Europe's largest spring-eroded valley and a great local attraction. A day trip to Farnham will keep you busy – there's castles, abbey ruins and museums to visit, not to mention shops, restaurants and pubs. Thorpe Park is only 40 minutes away and Birdworld, one of England's largest bird parks with more than 150 different species, is also easy to get to for a fun day out.