Isle of Wight Holidays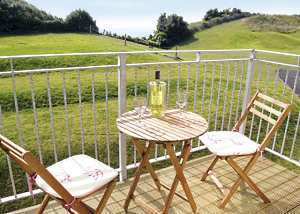 The Isle of Wight is a very traditional destination for people looking for a seaside holiday. Especially busy in the summer, the Isle of Wight can offer a different kind of holiday at other times of the year. With wonderful parkland and greenery to explore you can avoid the summer crowds and enjoy a more relaxing self catering holiday outside of peak travel times.

Choosing a private lodge with it's own hot tub, is the perfect way to do this and a great alternative to hotels and apartments. The Isle of Wight offers plenty of sight seeing opportunities and some charming towns to visit, so whether you like to explore or you just want to relax in the comfort of your own lodge you can enjoy your holiday how you choose.
The area has many attractions for couples and families. Those seeking adrenaline boosting fun should try the breathtaking chairlift rides at Needles lodge or have a go at one of the many water sports on offer including windsufing and jet skiing. Families may prefer a visit to Dinosaur Isle which is an amazing dinosaur museum housed in a spectacular pterosaur shaped building. Blackgang Chine theme park is another option and offers many rides and attractions for adults and children of all ages.

Rookley Country Park Lodges are situated in beautiful grounds with some amazing views. The area surrounding the lodges is a haven for wildlife and those who like outdoor activities will love Rookley Country Park. But if you prefer to spend time relaxing then you can enjoy the comforts of your lodge and also the heated indoor swimming pool. If you enjoy fishing then you'll be in your element with fully stocked lakes right on your doorstep.

Gurnard Pines Holiday Park is also a good choice especially with those looking to enjoy the delights of Cowes, a place that yachting enthusiasts will know well. Set among gorgeous landscaped grounds and woodland your lodge will be the perfect place to unwind and relax. Whether you're looking for a romantic holiday or a fun-filled family holiday these lodges are sure to appeal to you. The added bonus of a private outdoor hot tub will ensure you can relax in style after a busy day.

With so many people turning to holidays in the UK, lodges with hot tubs have become extremely popular. You'll have complete freedom to do whatever you want, and choosing a holiday park will allow you the perfect setting to explore the island whilst also being able to relax at the end of the day.
Other guides you might like
Home »
More Lodge Location Guides »