Lodges With Hot Tubs in Yorkshire Dales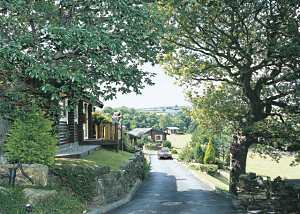 The Yorkshire Dales are a very popular tourist destination all year round. Thousands of people flock here every year to enjoy the very best that England has to offer, and it's not hard to see why. With such beautiful scenery you can't help but relax and there is no better base for your holiday than a private lodge with hot tub.

Set in some gorgeous natural woodland or parkland, these lodges will allow you to unwind, feel secluded from the outside world and spend some quality time with each other. Families will find plenty to keep the children happy in the local area. A trip to Hesketh Farm Park is highly recommended. The 600 acre working farm situated in one of the most picturesque areas of the Yorkshire Dales is fun as well as educational. A trip on the wonderful steam train which runs from Embasy to Bolton Abbey is a great way to enjoy the scenery in style!

Westholme Lodges are particularly popular among people visiting the Yorkshire Dales. Just a short walk away from the park are the fantastic villages of Aysgarth and West Burton which have both kept their heritage and remain fantastic places to experience the traditional Yorkshire lifestyle. You'll find some wonderful traditional pubs and great places to eat and of course you have the dales right on your doorstep just waiting to be explored.

Spring Wood Lodges continue to be a popular choice. You'll get some of the most incredible views around when you visit Nidderdale whilst your Scandinavian Lodge will ensure that you're in total luxury at all times. Spring Wood really is the perfect place for a romantic break when you're in need of some quality time with your loved one. There are plenty of places to go if you're looking for somewhere to have a delicious meal or snack, whilst there are historic sights scattered around the area.

Lodges with hot tubs give you the perfect opportunity to combine luxury with adventure without the hassle of a busy hotel. You get the freedom to explore the area as much or as little as you choose and can spend plenty of time enjoying the comforts of your lodge.
Other guides you might like
Home »
More Lodge Location Guides »